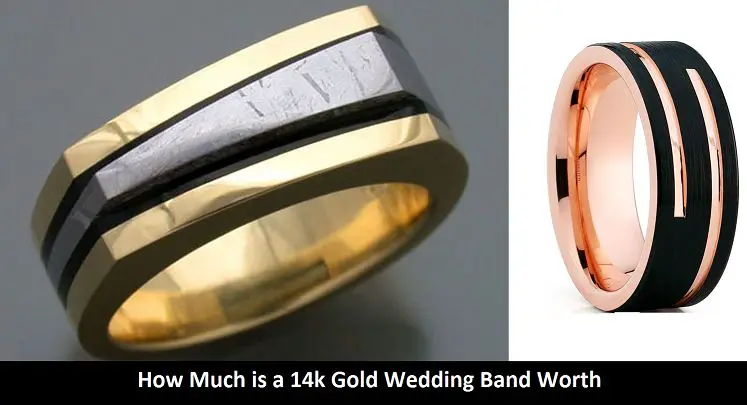 A wedding band is the symbolic representation of the importance of the relationship that two people are going to establish. Every one of us wants to gift the wedding band as much beautiful and expensive as we can. It is just to show the love and respect of the knot we are going to tie.
It is a normal phenomenon that we choose a gold band or ring as a wedding gift. Gold jewelry is a common gift that is being presented for centuries. It was a tradition and still is considered a tradition in many countries to gift gold ornaments as a gift to the bride and groom as well. India and Pakistan are famous to present gold ornaments as an s dowry.
Gold is a very soft metal and e can't use it without mixing some other metal as an alloy to form some jewelry. Gold is found in many forms ranging from purest to minimum pure. It is scaled and calculated In karats. It is purely our choice to get the karats of our gold band. Normally marriage gold bands are made in 14k gold. This gold type suits the stones and other pearls that are fixed in it. The combination of pure gold and some alloy increases its strength to bear heavy stones.
What Does 14k On A Gold Ring Mean & How The 14k Ring Made Of?
Oh! What a classic marriage band it looks when it is set in 14k gold! The use of 14k gold makes the wedding band more strong and durable.
It is our core feeling to buy our beloved with a band that may remain for even live with him/her. This is why we try to choose something very strong and long-lasting. A band of 14k gold has the combination of 58.3% gold and 41.7% other metals. These metals that are added as alloy are normally copper, zinc, and silver.
An interesting fact about 14k gold is that it is more reliable than 18k gold because of its strength and resilience. This is why designers love to use this metal to conquer new and latest ideas in jewelry. This 14k gold can carry heavy gems. It is easy to design and redesign.
Hey guys! One most informative and productive thing you must aware of is gold types. It is still a misconception among many people that yellow, rose gold, and white gold is three different gold categories which is a wrong theory.
When gold is mixed with 41.7% of copper, zinc, or silver in a definite ratio, yellow gold is made. Yellow gold is the most desired and loved form of gold. It outshines s every other metal. The gems or stones look more brilliant and sparkling when it is fixed in yellow gold.
Yellow gold ornament is a kind of tradition that started thousands of years ago. It still has the same worth as ages before. Jennifer Lopez and many other celebrities still use yellow gold in jewelry. So we cant say that yellow gold is outdated or out of fashion. It has its worth and value.
The same is the case of rose gold. When 67.3% of gold is combined with 41.3% copper to that extent that it acquires a bright reddish-pink color, then it is rose gold. Rose gold is a very attractive and sparkling metal when it is used to make wedding bands. The addition of some stones or pearls increases its grace and it can be worn by men and women equally., Here let me also show you the brief description from you-tube as well,
The best thing about rose gold is that it can suit all skin types. Its soft color gives everyone a chance to fulfill their wish to wear gold. It is strong and durable to carry all stones, light and heavy.
14k White gold is a unique type of gold that has the same ratio of pure gold and alloys. The thing that makes it different is the coat of Rhodium metal that gives it a sparkling silver color. This metal is gaining popularity since the early 1920s. People use it to fix their heavy gems and stones because it is so durable that it can bear them easily.
One thing everyone should keep in mind is that 14k white gold is rhodium plated and the excess use of our marriage band can fade the plate out. If you are going to buy a 14k white gold band, you should be ready for the maintenance and re-polish of the ring after some time.
The thing that increases 14k gold importance is it looks the same elegant as a platinum ring looks. This is why people can't afford to buy a platinum ring. They still have an urge to gift their beloved a special wedding band. This 14k rhodium-coated white gold ring can make their wedding a memorable event. The thing one needs to do is just a little bit more care and it's polished after some time.
Guess what! What makes a 14k gold ornament more demanding and appealing is its strength. You will be amazed to know that 14k gold is more used in jewelry items than 18k. It is affordable and looks as elegant as other expensive metals.
We know that a good jewelry company prefers to use copper as the alloy when preparing 14k gold. But some companies or jeweler don't care for the bad consequences of adding allergenic metals as zinc or nickel as an alloy with 14k gold. This is very harmful to people with sensitive skin. It can cause severe allergies and infections.
It is strictly recommended that the jewelry that we are going to use o daily routine must be free from allergenic metals as zinc and nickel. It will make your skin free from any allergies.
If you don't choose wisely when you are going to buy a 14k gold wedding band, you can face a loss of money and trust. So, just a little bit more inquisitive and examine the item carefully with all the necessary tools like the hallmark of 14k and the alloy which is being used in it.
How Much Is a 14k Gold Wedding Band Worth?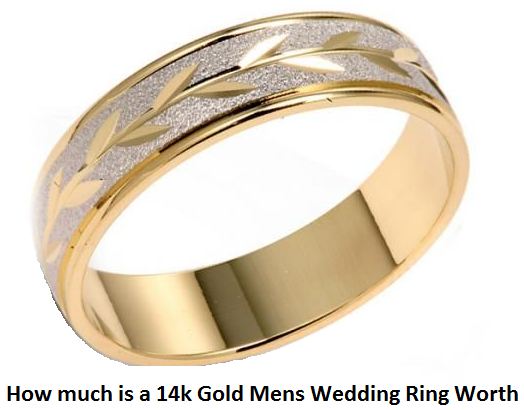 The value and worth of every wedding band that comprised 14k gold in it may vary according to the design, company name, the gem, the stone, and the setting of the band. But there is no need to worry about it. If you are not buying your wedding band from the world's most renowned jewelry companies like Harry Winston, Tiffany & Co, or Van Cleef & Arpels, then it is not going to damage your pocket as much.
If you decide to buy a simple 14k band with no gems on it will cost you only the price of gold that is used in it. As per typical calculation, we know that the pure gold ratio is 58.3% in 14k gold. It means you can value your wedding band easily only by calculating the current worth of gold with 58.3% of total weight.
The alloy used in a band has not that kind of value that it may gain some price. Copper is the most commonly use metal as an alloy in gold products. It is an easily found but god hypoallergenic metal.
So it is easy for us to decide the worth of a wedding band made with 14k gold.
But if you are making a selection of a band that is carrying gems or a line of stones like diamond or other valuable stone, the worth of that wedding band increases instantly. The reason for choosing 14k gold with such a heavy stone is its strong base and firm stature. This makes it help carry heavy stone or gems comfortably.
How to Calculate The Value of a 14k Gold Wedding Band?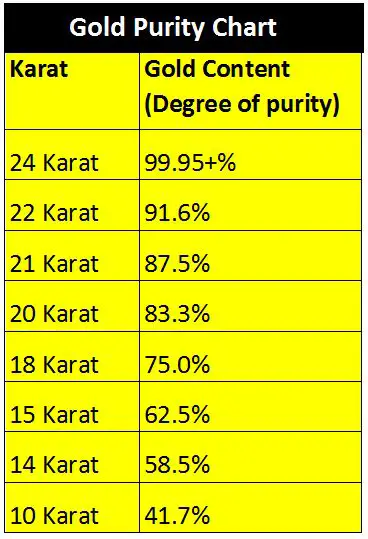 The value of 14k gold is measured differently in different countries. But in America and Europe, It is measured in ounces. If we know the actual value of one ounce of gold currently, all we have to do is to multiply that value by 58.3%. The total sum will be the price of that band you are going to buy.
We can make you understand by giving a simple example. If the value of one ounce of gold is 1,774.7 dollars, it will be multiplied by 0.58 and will get the exact value of gold that is 1,029.32$.
But be careful! It is not the value forever. The value and price of gold vary daily. So you will have to calculate it according to the recent gold-rated market.
Another thing that is noticeable for us. If we are buying a wedding band in 14k gold that is having the name of a renowned company will somehow increase. Reputation matters a lot.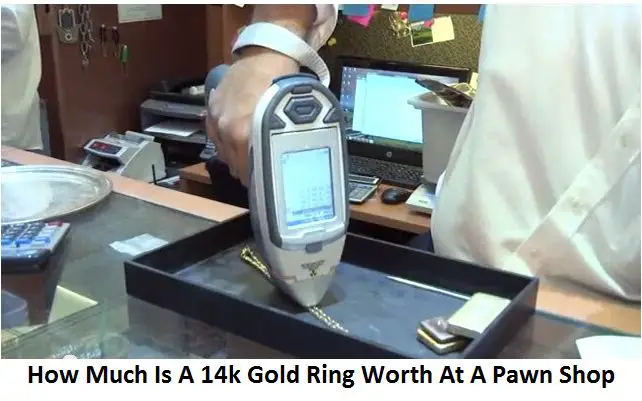 Hello Buddies! We are always much concerned about knowing the value and price of gold in the market. What makes us do so is the history and importance of gold that is old enough with the birth of human beings.
Our love for gold is natural. One feels /herself strong if having some gold with him/her. It is a tradition almost all over the world to gift a gold band or ring on engagement or wedding to each other. In some countries like India, Pakistan, and Bangla Desh it is a custom to give some gold ornament not only to the bride and groom but also to the nearest most relatives of the couple.
When we wear agold ring on our finger, we feel ourselves in a strong bond with our beloved, fiancé', or husband. The thing that makes gold so lovable and in demand is its sparkle and shine that kings and queens of all the time symbolized it with power and strength.
But sometimes we are in a state that we have to sell our gold band or other gold jewelry to some pawn shop. This compulsion makes us take a loan from some pawn shop. But before selling or keeping it as a mortgage, we must be aware of the current value of the gold. It is quite a noticeable thing that while going to a pawn shop, we should have a keen look at the market price of the 14k gold. Doing so will save us from some fraud.
What makes our 14k gold valuable or devalued are some facts and figures we should know about. Let's discuss them in detail.
The demand of Gold and Value of Gold in Current Market
We all love to have gold whether in the form of a ring or the form of a necklace. We give and receive gold bands on our most auspicious day of wedding or engagement. We have an instinct to collect gold as it looks not only elegant but also it persists in its value for centuries.
The worth of our gold depends on the situation and the world's circumstances. If we have gold from old times, it can get more value with the current scenario.
It is a natural phenomenon that when there is a war, pandemic, natural disasters, or some international crisis, the value of gold increases. This happens due to the value of oil and currency that automatically shortens from the market.
All gold ornaments or jewelry gets more value s the demand increases internationally. In this war-like condition, if you are willing to buy some gold band or ring, it will cost you more than usual prices. This is why you should be careful about the world economic situations before buying a band or any jewelry item.
It is also a fact that many areas of the world are famous for their customs where gold ornaments are given on every event from birth to death. They give offerings to their Gods and Goddesses. They adore their marrying couple with lots of gold.
Some people consider wearing gold is a symbol of good fortune for them. All these factors are quite sufficient to increase the demand for gold in the market and consequently the price increases.
All these things are enough to make you realize how and why the value and demand of gold change with time. We know that when the world is playing the symphony of peace, the value of gold gets stability. If the world is getting progress in all walks of life, the gold price comes to normal.
But with the advancement and development of the world, every county has issues with each other. This is why the value of gold is increasing day by day.
The thing one must keep in mind while going to sell his gold band to a pawn shop is that what the current value of gold in the market is. Will the 14k gold band he has got some reasonable price? Will a pawn shop owner could judge and pay the good price of his ring?
The Purity of Gold Plays a Vital Role
All the precious metals are soft enough to add some alloy to make them strong enough to carry the style and shape of the jewelry; Gold is also one of these metals. We are fully aware of the worth and value of gold. It is so soft that no jewelry item can be made with it. There should be a combination of pure gold and some other metal as an alloy.
Gold is measured in karats. It is the scale through not only gold but also silver and platinum are measured. Gold can be found in many categories ranging from 8k to 24k.
It is purely our choice that how much pure gold we want to buy. In Europe and America, !4k, 18k, and 24k gold items are sod. 24k gold is the purest form of gold. It has 99% gold and only 1% alloy just to make it strong and sturdy.
But it is a common observation that people prefer to wear 14k gold. What is the reason behind this wish? The answer is very simple. 14k Gold is very strong and durable. It can hold and carry almost all types of stones and gems. It is the first choice of designers who feel free to design in14k gold. It has 58.3% gold in it.
On the other hand, 8k, 9k, and 10k are less valuable and consequently less appreciated. They have less than 50% gold and people don't prefer such jewelry to gift or to be gifted on their memorable events of marriage, anniversary, or engagement.
Sometimes people think that it is their matter of prestige and honor to add some alloy to gold jewelry. They are unaware of the fact that if there are zero ratios of alloy in gold ornament, the chances of damage and de shaping increases. The ring or bands are too prone to damage and scratch. This is why it is not wise to wear gold with zero alloys. Doing this will increase its life.
The State of the Ring is Most Important Factor
If e want to sell our 14k gold ring to a pawn shop, we should keep in mind the state of our ring. This is the most probable thing a pawn shop owner will notice. If we don't keep our 14k gold rings in a good state and there is no polish remained. If there are scratches on the band and some of its pieces are missing. If the stones are worn out and there is no ideal luster in that band. All these above factors will certainly decrease the value of the ring.
A hopeless thing every one of us is well aware of is the disappointing behavior of the pawn shop owner. They give us a loan on 20% interest only when we offer them a good piece of jewelry. If we have a 14k band and we need to spell it out, the first thing we should do is to make it clean and polished.
The pawn shop keepers have a compulsion to take a good and polished piece of 14k jewelry. They have to resell it after some time. If they take a messy and damaged piece, nobody will buy it without repair. In this situation, they can't rate it well.
Just one thing they will certainly do is value the ring according to the current gold price and divides it with 58.35 of full value. An honest pawnshop dealer will give the exact price of your 14k gold.
But forget to have a good price of your 14k gold band if the state of the ring is poor. In this case, they will also include the repairing and maintenance charges. It can make you face some loss.
 This is why be very careful while having a 14k gold band or some other jewelry item. in case you want to get some instant loans or alter your ring for some new and stylish ring, you can sell it confidently. 
Assembled Ring
Ok folks! The formula is very simple. If you have a simple ring in which no gems or stone are fixed. This will not prove as fruitful as you are thinking it to be. Similarly, if your band had some stone on it, but they are missing now, it will be a negative impression on the pawnshop owner.
It is quite clear that pawnshop dealers never think to spend some money on the repair or polish of an old item. It is a risk to display an old thing and hoping to get a good worth of them.
If there are some repairs and maintenance done with the ring, it is considered an altered piece. All this can harm its value. This is why the pawnshop dealer will not take a risk to spend his money that has very few chances to return with some profit.
Ring With Particular Historical Value
Oh good, Lord! What a pleasant surprise for a pawn shop if the ring you are offering him has some historical background. You can get more fruitful results than you mere thinking if you have a ring with some history.
One thing you should do before going to the pawnshop is to make possible the availability of the documents about the ring. The ring can have the hallmark of some renowned company. It can carry the signature of some king or queen. It can have the background of a celebrity. All these are the elements that can make your ring more worthy than the only 14k.
You will be amazed to know that your 14k gold ring may give you a handsome amount that can reach even 22k to 24k gold values. Just make sure that your documents are complete and are proof of your family's legacy.
The Weight of Gold Rings
Look! If you are trying to get some handsome amount of your 14k gold band or other jewelry, you must be aware of the value and current price of that item. You should know that how much is the weight of your ring.
The comparison of gold type will make you decide correctly. There is a huge difference between two rings of the same weight with 14k and 24k. This is because of the ratio of pure gold and alloy in it. 14k gold has 58.3% gold and 24k gold has 99% gold in it. This is why the value of these rings differs
|   | Size 4 | Size 5 | Size 6 | Size 7 | Size 8 | Size 09 | Size 10 | Size 11 | Size 12 |
| --- | --- | --- | --- | --- | --- | --- | --- | --- | --- |
| 2mm | 1.4 | 1.5 | 1.6 | 1.7 | 1.9 | 2.1 | 2.3 | 2.4 | 2.5 |
| 3mm | 2.6 | 2.7 | 2.9 | 3 | 3.1 | 3.3 | 3.4 | 3.6 | 3.7 |
| 4mm | 3.8 | 3.9 | 4 | 4.1 | 4.2 | 4.4 | 5 | 5.2 | 5.3 |
| 5mm | 5.3 | 5.4 | 5.5 | 5.6 | 5.8 | 6 | 6.2 | 6.3 | 6.9 |
| 6mm | 5.5 | 6.1 | 6.2 | 6.3 | 6.4 | 6.5 | 7.8 | 7.9 | 8.1 |
| 7mm | 7 | 7.1 | 7.8 | 6.3 | 8.4 | 8.6 | 8.8 | 9 | 9.2 |
There is the table given above which can help you differ the value and weight of your gold item. If you have this basic information with you, consider yourself ready for the dealing you are going to make with a pawn shop.
 If someone gifted you that band, you still study the receipt given with. In case you don't have the receipt, make sure that you get it to weigh from some jewelry shop. 
The Actual Condition in the Pawn Shop
Oh Good Lord! What a difference between your expectation and the reality you face. The situation of a pawn shop is quite different and somewhat painful than you might think about it.
Normally you do the calculation of your gold item according to the current worth of gold. But you are shocked to see that you get 30 to 505 less than what you expect from it. This is because the pawnshop always tries to degrade and lessen the actual value of your gold ring as they want the best profit from that ring.
It is the test of your good dealing and nerves when you make your mind to go to a pawn shop. You calculate and estimate the whole item. It depends on you whether you assess the price by dividing the ring into its major pieces or do it as a whole. This can prove to be a hectic task to make a plan and let it execute in your way.
This will give you a clear picture of what your piece of 14k wedding band is and what benefit you can get by it offering it to a pawn shop. The scenes at a pawn shop are different than what you plan them to be. They deal with your item in such a way that you think sometimes that what a piece of scrap you have brought here.
It is a war of your strong nerves to listen to what price they are trying to give you for your band. If you have strong nerves and can resist what they try to impose on you, you can win the battle.
It will be a get a shock for you when a pawn shop will give you 20$ for a jewelry item for which you estimated 40$. But be chill and calm that time. Listen to the points of the pawnshop quietly and try to analyze them.
The state of the ring and the karats may affect the price greatly.
Another thing a wise man will certainly do before selling his band to a pawn shop. He should have proper research and evaluate the current price from the market. Try to visit your nearby jewelry market and check the value of gold. It will help you a lot from being cheated
The second thing you should do is to go to as many pawnshops as you can. It will help you compare and contrast the worth of your gold item. You can make them realize that you have sufficient knowledge of pawnshops and you know what the rates different pawn shops offering are.
This can do the trick and you can get a reasonable price for your piece of jewelry. When the pawnshop owner comes to know that you are going door to door to compare the prices, he will try to catch you and buy your brand at a good price as he will never want to lose one of his customers.
The Best Case Scenario
Yes! It's possible! You can get the nearest most of your estimated price. It will all be done just because of your skill of persuasiveness. If you can assure and agree with the pawnshop that how valuable your ring is, you can get 75% to 70% of your estimated price. You must have good communication skills so that he may get engage with you and will be ready to buy your item at your desired price.
This is how you can create the best case scenario you sell your wedding band or other 14k jewelry.
The Worst-Case Scenario
Alas! There are possibilities that you are caught in a trap of a pawn shop that will agree to buy your jewelry in 50% to 55%. This is because of the panic you feel upon you while going to buy your favorite and memorable jewelry.
The sense of depression may not let you thin sharply and you may get entangled in the flattering talk of the pawnshop. This worst situation will be a loss to your pocket and you can sell it at a very low price.
If you find yourself in a fix and feel that you can harm your estimated plans, lust leave the shop and take some time to think and reconsider things. If you don't have an emergency to sell your jewelry, try not to hurry in selling it and take your proper time to think and consult.
Frequently Asked Question and Answers About How much is a 14k Gold Wedding Band Worth
Question: How much is a 14k Gold Ring Worth with Diamonds?
Answer:  A 14k gold ring with diamond may differ in price. It is not because of the gold that has a similar price but it is due to the diamond that will certainly differ. To make it simple we can make you understand that if gold has the value of 750$ per gram and you have a ring of 4 grams. You can divide it by 58.3 and then make a total by adding the exact price of your diamond and its grammage. If there is more than one diamond and the quality of the diamond is finer, the price can automatically be doubled and even tripled.
Question: How much is a 14k Gold Class Ring Worth?
Answer: A gold class ring has its value and worth. It differs from school to school. It may also differ from class to class. So, we can't say that a 14k gold class ring doesn't have any value. But to decide its price and value is a little tricky. You must have enough knowledge of the current value of the 14k gold in the market. Just estimate how many grams are carrying this ring and multiply it with the original price. It may start from 12$till until 1200$ depending on the stone fixed in them. The class rings have features stones or engravings of stars, swords, pens, or something else.
Question: How much is a 14k gold necklace worth at a pawn shop?
Answer: Pawnshop tries to buy your ring at a much less price than they can. But if you have a good knowledge of the current market, you can get your right confidently. A pawn shop will normally give you 1250$ for an ounce of pure gold that is rarely done. But if you have a 4k gold ring of 5 grams, it will give you 80$ as 16$ per one gram. It can be lesser or higher if you can well communicate with the pawnshop dealer. If you have good persuasive power, you can be benefitted in a good and satisfying way.
Question: How much is a 24k Gold Wedding Band worth?
Answer: 24k gold is purer than 14k gold. A 24k gold ring will contain99% of gold and only 1% of the alloy. This is why a 24k gold ring will certainly cost you more than a mere 14k gold ring. We should know the current value of 24k gold in the market that is for example 65$ per gram. If we are going to buy a simple band of 5 grams with no diamonds in it, it will cost us 325$ approximately. The polish, the make, and the company charges are still considerable. A 24k gold ring is almost 50% more expensive than a 14k gold ring. And if you add some diamonds to it, the value automatically increases and reaches upti500$ or above.
Question: How much is a 14k Gold Ring Worth 2021?
Answer: It is a noticeable factor that the value and prices of gold vary daily. It is because of the daily trade and business that affect the international market. If we want to buy a 14k gold ring in 2021, we should first inquire about the exact value of 14k gold of that day. This may lead you to find a good and reasonable ring in 14k gold. The 14k gold value today is 31.49$ per gram. Now it's purely your choice that how many grams your ring may weigh. It can include some diamonds too. The value and worth of that ring will increase accordingly.
Question: How much is a 7 Gram Gold Ring Worth?
Answer: Ok! The 7 grams ring! It is clearly described that we can evaluate the ring price according to the current value of gold per karat. We know that gold can be found in many forms ranging from 6k to 24k. It is based on the purity of gold that increases or decreases as the number of karat increases or decreases.
If we want a 14k gold ring with 7 grams, we should know the actual value of 14k currently. The current 14k value of one gram is 31.494 per gram. By multiplying this value with 7 we can get the value of a 7-gram 14k gold ring easily. The same is the case with a 24k gold ring. If we know the market value of 24k gold is 57.82$, then we can calculate it with 7 and find the actual value of a 7-gram 24k gold ring.
Question: How much gold is in a Typical Wedding Band?
Answer: A wedding band is a dream knot one is going to tie for the auspicious relation. A wedding band varies in size and weight. But an average wedding band may weigh 3.5 grams to 5.5 grams. It can be more or less according to the width of the stones you are going to set on it.
Sometimes the ring finger is emerging and heavy from the joint, it may lead to an increase in the size of the ring and consequently, it will increase the gold grams in the ring. But if we are in a mood to make some heavy setting by using gems or pearls, they carry weight. It can take the weight to a minimum of 12 grams. But all this will have nothing to do with gold as it will remain the same.
Question: What is the average weight of a Gold Ring in Grams?
Answer: A gold ring for the wedding has a different weight. It depends on your mood and the money you are spending on it. If you feel it good to make an expensive ring, then its grams can teach to 12 grams or so on. But if we consider the average weight of a wedding, it will take almost 3 to 5.5 grams.
This ring weight is suitable especially for women that they will carry it quite comfortably. Men can also feel relax by wearing this weight ring in their routine. If we try to wear heavy rings, we can't feel comfortable in our daily routine. But if we add some stones to it, the ring weight will increase accordingly.
Conclusion
After the whole discussion, we `are at the conclusion that how valuable a 14k gold wedding band is. It is a sensible choice to buy a 14k wedding band that will prove not only pocket-friendly but also prove hypoallergenic. The most beneficial thing about the 14k gold wedding band is that we can sell and resell it. We can get a handsome amount by selling it to a pawn shop.
A good 14k gold band may contain copper as an alloy that is merely 41.7% in it. It strengthens the gold to hold heavy stones. This 14k gold is one of the best choices of jewelers and designers as they can experience difficult and intricate designs on it.
14k gold is found in yellow, rose gold, and silver colors. It has huge options to select from. We can buy a wedding band of our own color choice. All three colors have their importance. 14k gold looks as brilliant and sparkling as the 24kk gold.
 So hurry to buy your share of the 14k gold wedding band and make your day memorable and historic.