Jewelry Guide
How to Clean Oxidized Metal Jewelry? Complete Guide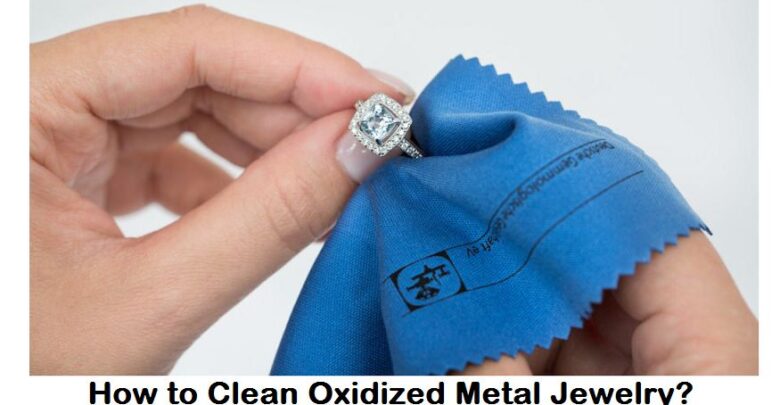 There is an easy and simple to clean your oxidized metal jewelry. Here we have out up in-depth guide for you. If you think that your metal jewel items have started to become oxidized and lot more tarnished, then have a look at this guide.
We know that metal jewel pieces have turned to be the favorite piece of jewelry so far. They are loved by men and women. You can wear such pieces both casually and formally. But the sad part comes when the metal jewelry loses its shine and spark.
It is true that metal jewelry often becomes discolored and dull if they are properly taken care of! Furthermore, they get scratches as well as nicks on their surfaces. To get rid of this tarnishing and oxidation process, have a look at this guide plan now.
We have come up with these DIY home cleaning methods that can give new look to your metal jewelry. There is no need to wear oxidized and tarnished jewelry now. You can instantly spruce up this bling if you follow these jewelry cleaning methods:
What Does it Mean When a Metal is Oxidized?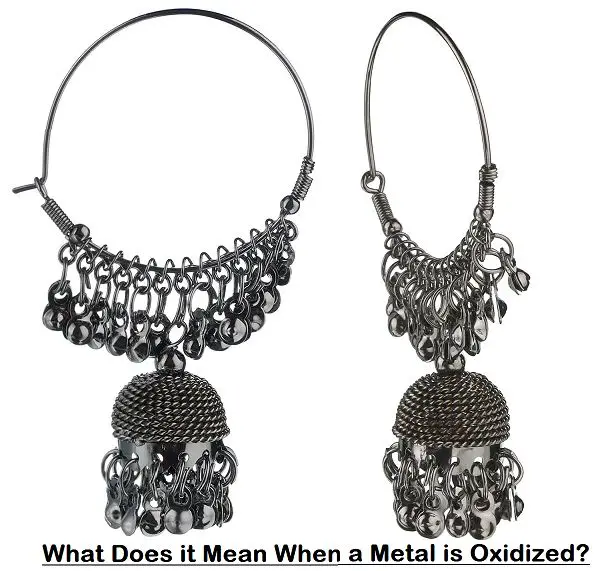 You might be wondering what oxidized metal jewelry means, here you can check out that! Whenever we talk and discuss the concept of oxidation, then we have generally seen that in this case, metal jewel pieces become dull and discolored.
In addition, they become sullied and lose their luster on the maximum notes. It is largely because of the oxidation phenomenon that the metal jewelry surface slowly and gradually becomes dulled and lot more stained. All in all, the luster condition of your metal jewelry gets deteriorates a lot.
What Causes Metal Jewelry to Oxidize?
There are lots of reasons that push all kinds of metal jewelry types to oxidize at some point in their lives. This tarnishing process usually and commonly occurs when the metal gets into contact with any of the outside substances. As an example, if your metal jewel gets interacted with sweat and makeup products or with sulfur and body oils, then that jewelry will surely lose its shine and luster.
In the category of oxidized metal jewelry, we have two categories and they are abrasion and corrosion. Most importantly, metallic abrasion happens in jewelry items when they made a contact with cosmetic products.
Like, if you have worn metal jewelry and they get touched with makeup, perfumes, and lotions, then this reaction will lose and damage their quality. Make sure that whenever you wear metal jewelry, it should not be touched by perfumes and lotion kinds of products. Hence, your skin has to be completely and thoroughly dry before you plan to flaunt this jewelry type.
Rest, metal jewel pieces discolor themselves as well and this condition is given the name of corrosion. This whole process of discoloration of metal jewelry items happens when your jewelry gets fully interacted with wetness and moisture.
If you sweat a lot, then it is not recommended to wear metal jewelry. With such a skin type, your metal jewelry items are likely and most probably to corrode and discolor more and more.
Moreover, exposure to air and other elements automatically oxidize and tarnish your metal jewel pieces. Most noteworthy, these pieces have a greater and maximum tendency to tarnish a lot.
They need comparatively more care. If your metal jewelry comes in contact with sulfur compounds, then this is the main reason that your jewelry will likely experience the tarnishing effect. Furthermore, those who have moist skin, see more of the green stains on their skin upon wearing metal silver jewelry.
How To Clean Oxidized Metal Jewelry?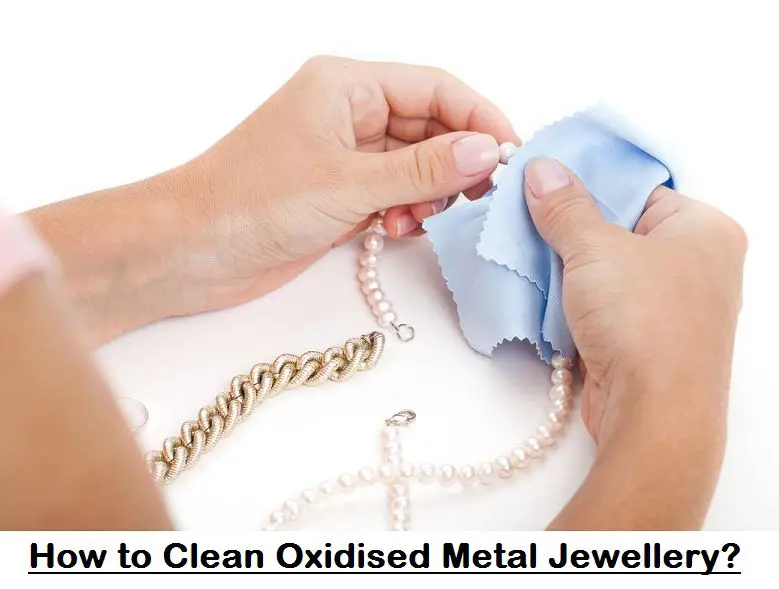 We know that all of you now must be very curious to know regarding which those cleaning methods are that helps you get rid of oxidized metal jewelry! Let us have a look at the required details now. Moreover, if you can think of more at-home DIY methods for cleaning your metal jewelry items, then do share that with us. These cleaning techniques are preferred by celebs as well like Gal Gadot.
Cleaning Solution of White Vinegar and Water
The very first method is about making a cleaning solution of white vinegar and water. We guarantee that you this method and tip will avoid tarnishing problems at your end. Individuals from any country like France can follow this technique.
If you have lots of tarnished and oxidized metal jewelry and you want to make those jewelry items super shiny, super glossy, and super clean, then follow this tip. So, to prepare this solution, make sure to combine and add equal parts of white vinegar and water.
Prepare this mixture in a large bowl. Add your oxidized metal jewelry in it and scrub the un-cleaned sections with the help of a toothbrush. After that, soak your jewel pieces in that solution for some time and rinse your jewelry later on.
Giving Warm Bubble Bath to your Oxidized metal jewels
We are quite confident that the idea of giving a warm bubble bath to your metal jewels will make them spic and span-looking for sure. Simply follow this trick and share your feedback with us. We have seen that this is an ideal DIY method that can bring such an impressive change to your tarnished jewelry.
So, what you need to do is to combine mild dish soap and also warm water right there in a medium-size bowl. Create a foamy solution and place all your metal jewelry in that solution. Simply soak those items for about a time frame of 30 minutes and shift those items in the second bowl containing clean water.
Now, comes the scrubbing part. Take a fine-quality toothbrush and clean your metal jewelry until and unless all tarnish comes off. Allow them to air dry finally!
Using Dry Mango Powder
How about using a dry mango powder on your oxidized metal jewelry items! This is a trusted method that you can go for! In this dry mango powder, you need to mix and add 2 tablespoons of water and simply prepare a thick paste. Furthermore, rub this paste on your metal jewels for a time duration of 10 minutes.
Finally, you can rinse this jewelry with clean water and see how great your metal jewels will come out to be! To air dry them, you should use a clean, dry cloth. Lastly, if you have followed this practice on 01-01-2021, then after 6 months gap, implement the same cleaning practice.
Using Lemon Juice on Oxidized Metal Jewelry
The next method that we have selected for you is this lemon juice application on your tarnished and heavily oxidized metal jewelry. We know that lemon juice works and functions in an abrasive manner. But it can instantly clean your tarnish jewelry in a magical way.
This remedy is going to show wonders, so let us all see how it runs and works! Firstly, you have to combine 1 part of water and also 1 part of lemon juice in a small bowl. The second step is to keep all your oxidized jewelry in that bowl and bring them in a soaking mode for 10 minutes.
You will see that lemon juice is going to dissolve and take off all dirt and grease from your metal jewels. The last step is to rinse and wash your jewelry and dry them up by using a dry cloth.
Aluminum Foil, Salt and Baking Soda Application
If any of you is still unsure how to clean tarnished and oxidized jewelry, then do check out this method and make your life easy. It is with the help of aluminum foil, salt as well as baking soda that you can give a brand new look to your jewelry. To follow this method, you need to get hold of a deep pan/plate.
After that, line that plate with the use of aluminum foil. Make sure that the shiny side is all up! The next step is to lay your whole and entire metal jewels in that pan. Most importantly, all jewel items should be touching the aluminum foil. Add a tablespoon of salt and also a tablespoon of baking soda right into that pan. Boil 1 cup of water and pour this solution as well in that pan.
You will see that bubbles will start to form in the pan. Allow this chemical reaction to take place and give a completely clean look to your oxidized metal jewelry. Keep in mind that this chemical reaction is caused and largely happens because of the presence of baking soda, foil as well as hot water.
Cleaning Oxidized Metal Jewelry with Soft Bristle Toothbrush and Toothpaste
The next effective and popular cleaning method that we have searched and finalized for you is this toothpaste and toothbrush usage! You can end up getting tarnish-free and oxidize-free metal jewels if you follow this trick. This method actually works and you can try it out as well. What you can do is squeeze a little bit amount of toothpaste and apply it to your tarnished jewelry items.
You need to make very much sure that the toothpaste content works and gets applied on all of the nooks and crevices of your metal jewelry item. Rub the toothpaste and then slowly and gently take it off from your jewel items Perform the scrubbing part with the help of a soft bristle toothbrush.
Finally, you can rinse your metal jewel pieces with warm water and air-dry them properly.
Application of Shampoo and Toothbrush
You need to now believe that shampoo and toothbrush usage can do wonders on your tarnished jewelry. Here we have another amazing trick for you and we are confident that you will be happy upon following this trick. You just have to show little attention as well as honest diligence while taking care of your metal jewelry.
 If it is badly tarnished and oxidized, then follow this tip as soon as possible. Simply, take 2 to 3 drops of mild shampoo. You can even use baby shampoo. 
After that, take hold of a soft bristle toothbrush and remove all of the grime from your metal jewelry items. Rinse your jewels with clean cold water and voila, your oxidized and tarnished metal jewelry looks all shiny and sparkling now.
How to Clean Oxidized Gold Jewelry?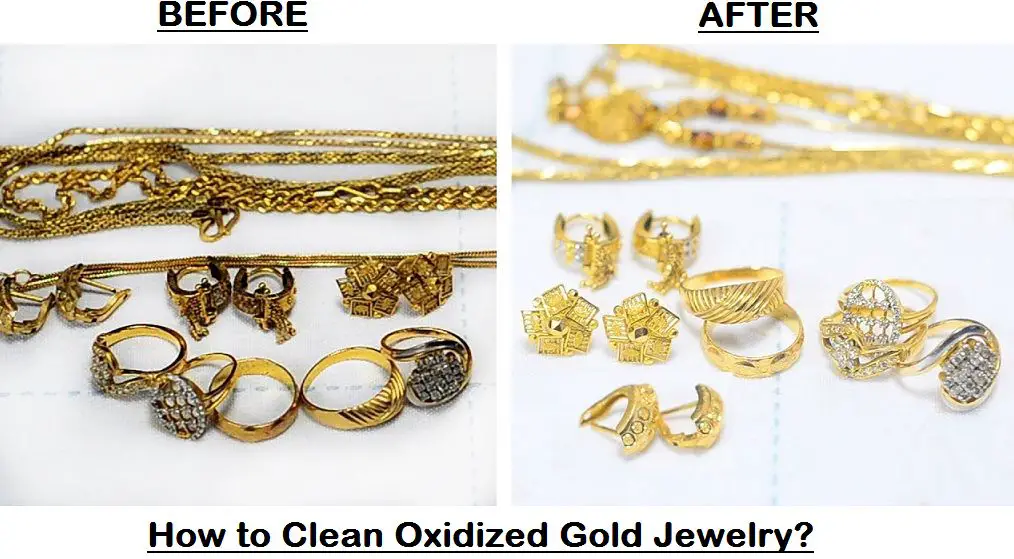 As we have talked about the procedure of cleaning oxidized metal jewelry, now, you should know how to clean any oxidized gold jewel types! Most importantly, there are a few of effective cleaning solutions that are meant for this job. Only pick and buy those cleaning solutions that do not damage the natural shine and luster of your oxidized gold jewel pieces.
In addition, try to choose and use those commercial jewelry cleaning products that are safe and effective to use. The DIY method is here mentioned for you, check out the details now:
Firstly, take a dish detergent and some warm water. Make sure that the water should not be that much hot. If it is very hot, then there is a chance that your gold jewelry may lose its overall shine and the natural spark element.
In that solution, add and combine a few of the drops of ammonia.
The next step is to take a brush and it should be a baby-size soft toothbrush. With the help of this toothbrush, you can take off all tarnish and oxidized elements from your gold jewelry.
The rinsing part should be performed in lukewarm water. Carefully and thoroughly rinse your tarnished gold jewelry and air-dry it on the careful notes. You need to understand that gold is a soft and delicate metal and its drying and rinsing part should be done with care and caution.
 How to Clean Tarnished Jewelry without Baking Soda?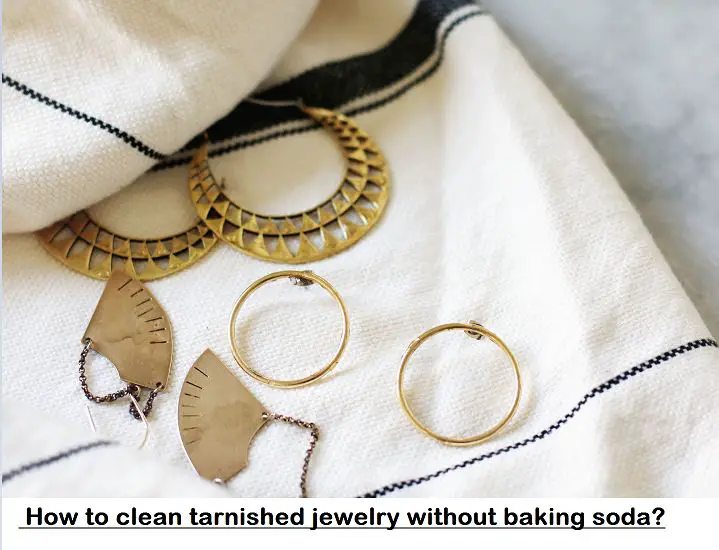 It is even without the usage and application of baking soda that you can clean your tarnished metal jewelry. Below is the guide that we have penned down for you.
If baking soda is not available, then simply follow this quick guide and prevent the presence of tarnishing on your metal jewel items:
In this cleaning method, the person has to take a little quantity of dish soap and mix it with warm water.
The second and next step is to dip a microfiber cloth in that solution.
Take out all of your metal jewel items and rub this cloth on your jewelry pieces. Keep in mind that this rubbing part should not be done on harsh and rough notes.
Just gently and smoothly rub the cloth on your jewelry and give it an exclusive brand look.
Once you are done cleaning and removing all dirt from your metal jewel, then you can rinse it off with cold water and air-dry it with the utilization of soft and clean towel.
Clean Costume Metal Jewelry with Rhinestones
There are lots of metal jewelry items that are embedded and embossed with rhinestones. If they have also experienced and witnessed tarnishing and oxidization situations, then we have one effective cleaning tip for you, Here let me also share you video from youtube:
To clean rhinestone metal jewelry, you should be getting hold of a good and top-quality ammonia product. Get a cleaning cloth and start off with this cleaning job right away.
In other words, you have to spray the ammonia product on that soft cloth and simply rub this cloth on your metal jewelry.
Gently perform this step and make sure that no prongs and rhinestones position should get disturbed while you perform this step.
No moisture should penetrate in your rhinestones. Once you are done and finished rubbing your oxidized metal jewelry with rhinestones, then you can rinse and wash it off finally.
FREQUENTLY ASKED QUESTION AND ANSWERS
Question: How do you clean oxidized metal?
Answer: There is a simple way to clean oxidized metal and it is done with the help and assistance of baking soda. It is recommended and advised to the individuals to rinse their metal items with baking soda and then wash them away with cold water.
The minute you start to dust and apply baking soda on your oxidized metal, you will see that it will become tarnish-free. Apply this ingredient on all rusty filled areas of yours metal and see the magic at the end. You can even use a cleaning pad for properly cleaning your metal jewels.
Question: How do you remove blackness from metal jewelry?
Answer: If you are looking for the method on how to remove blackness from metal jewelry, then you just have to use vinegar and water in this job. Take a bowl and mix both of these ingredients. Prepare a solution and scrub this solution on your metal jewelry with a fine and high end quality toothbrush. Take this toothbrush to the corners and crevices sectionsof your metal jewel items and start to notice some great improvements in not so impressive looking metal jewelry.
Question: How do you brighten tarnished metal jewelry?
Answer: For the sake of brightening tarnished metal jewelry, there is an easy way to do so. In this regard, the person has to add two parts of baking soda right there in one part of water and make a proper paste of these two ingredients. The next step is to thoroughly and carefully rub this mixture on your tarnished jewelry. Properly rinse these jewel pieces and dry them by using a soft cloth or you can even use a microfiber towel.
Question: Does vinegar remove oxidation from aluminum?
Answer: Yes, vinegar works in a magical manner if you want to remove and get rid of oxidation from aluminum. For this case and respective category, you just have to soak a soft cloth in vinegar. No matter you want to remove oxidation from a large or small aluminum surface, follow this technique just! Scrub that cloth on aluminum surface and lift and instantly remove all oxidation from the respective affected side. Remember that you have to rinse, wash and air-dry your aluminum item as well.
Question: How to clean green oxidized metal?
Answer: If it is a green oxidized metal, then there is a special and smart trick to clean it. The backing soda application can work for you in this case. You can get rid of such rusted item all with the help and massive assistance of Bicarbonate of Soda. Make a mixture and paste of baking soda along with the addition of vinegar or water and see the great and desired results offered by this cleaning technique.
Conclusion
So, what's the bottom line? The above mentioned are the possible causes and cleaning method techniques that you can follow to prolong the shining and luster span of your metal jewelry! Moreover, you have to understand that the interaction of metal jewelry with soap, detergent and also cosmetic creams medications- these elements lose and destroy your metal jewelry shine.
In addition, exposure to polish and antibiotics also play a large role in losing your metal jewelry luster. In a few of the cases, it is this jewelry wearer's basic and main body chemistry that causes tarnishing and allows your metal jewelry to oxidize. So, never and ever make your metal jewels lose their shine. Follow these techniques and pay your big thanks to us later on!
If you want to learn more about oxidized and tarnished metal jewelry and ways to clean it, then keep in touch with us. More of the guide is coming sooner. Right now, just the oxidized metal jewelry type is discussed and later on, we are going to discuss other metal and jewelry types as well. Besides, you can let us know anytime how you remove tarnish, grime and dust from your metal jewel items and how you manage to make them all tarnish and oxidize-free!