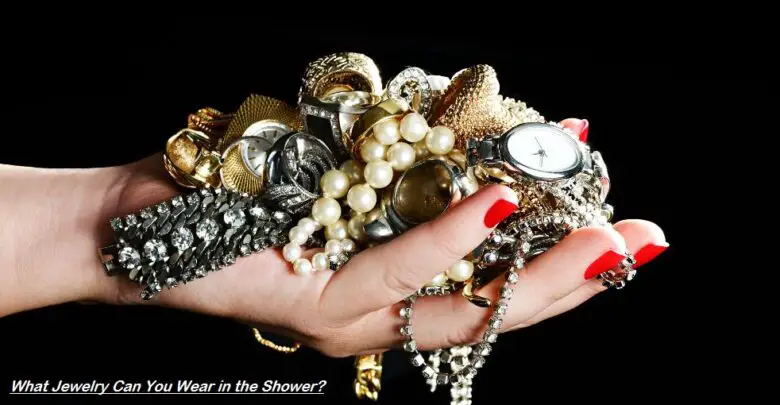 For some of the people, it is a little confusing to figure out whether you can wear jewelry in the shower or not! Many people do ask whether they can wear stainless steel or gold jewelry during the shower without knowing the fact that whether it can be damaging for the material or not.
This post will guide you all the basics to know about what will happen if you will wear any jewelry in the shower. Plus, we will also help you to know about which jewelry is safe to be worn in the shower and which one you should avoid.
Let's get into a deep discussion about it below:
Can I shower with stainless steel jewelry?
Yes, you can! You can freely shower with stainless steel jewelry and it will remain safe. But how much it will stay protective will depend upon the quality of the stainless steel which your jewelry has. If your stainless steel jewelry is in good quality, then obviously, it will not be tarnished or damaged as you will expose it to water.
Apart from that, you are also allowed to swim with stainless steel jewelry as well.  If you want the one which stays for a long-lasting time, then look for the surgical stainless steel with durable nature.
Can you wear stainless steel jewelry in the ocean?
The next most important query is about wearing stainless steel in the ocean! Many people are fond of doing swimming in the ocean and probably they are also wearing stainless steel jewelry as well.
Hence stainless steel can prove to have a long-wearing as it gets exposed to the seawater over time.  This will indeed let them get corrode and rust down.  Nevertheless, stainless steel will never fade well with the chloride environments and hence ocean is one of them.
If you want to swim in the ocean all the time with your stainless steel jewelry, then try to look for the 316 stainless steel that is having around two percent molybdenum. It will never tarnish within similar environments.
Can I wear diamond studs or a diamond ring in the shower?
It is a complete "NO". You should never shower while wearing a diamond ring. This is a big loss!  This is all because as it gets exposed to some soaps, oils, or lotions, it will create thin filming on top of the stone which will diminish the whole shine of the diamond.
If you want your diamond to stay long-lasting shiny and durable, then make sure you wear it off before showering. You should also keep it away from ordinary water as well.  This is such an important fact to know about diamond rings.
Can I wear sterling silver jewelry in the shower?
As you shower yourself with sterling silver, you are putting your jewelry at the risk of tarnishing.  Although it won't be harming the whole metal it will affect the entire look and appearance of the silver jewelry.
Plus it is even prone to tarnishing the jewelry when it gets exposed to some harsh chemicals or salts.  Therefore, it is advised that you should take off your sterling silver jewelry before you step into the shower.
Can I shower with silver plated jewelry?
Similar to silver sterling jewelry, silver-plated jewelry can also tarnish with water. It completely loses its shine once it gets exposed to a few harsh substances or lotions.  Silver has a finishing due to which it can instantly get reacted with air which can change its overall color.
Silver-plated jewelry is a form of base metal which is usually brass. It has a thin layering of silver on its top.  With time, the silver finishing will scrape off and you will merely be left with the brass under it. Tarnishing will take place after sometime, so it is mandatory to stay alert and make sure you wear off your jewelry before the shower.
You can safely shower with your gold jewelry, but if you are constantly doing it so, then you are putting your gold at its risk. It is possible much that your gold will lose its shine with time.
No matter whether you are wearing white gold, yellow gold, or rose gold, you should always practice removing it off before going to shower.  As if the gold is not too shiny, then it might bring an outlook appearance of the knock-off version. You are destroying your favorite gold jewelry piece on your own by taking it into the shower. Avoid doing it so!
Can I shower with gold filled jewelry?
Yes, you can safely shower with the gold-filled jewelry. This is because the way this jewelry is made is quite intricate and innovative.  It is included with the base metal finishing with a thick layer of gold on its top. In this way, 2 different metals are bonded together.
Gold-filled jewelry is extremely durable and it does not wear off just like gold plated jewelry.  Apart from the shower or water, you can also wear it while you are swimming in an ocean without any hassle.
Can I shower with gold plated jewelry?
No, not at all! You should not be considering such an act at any point! This is because by exposing the gold plated jewelry to any moisture or water will readily make it to chip off or lose its color.
This gold plated jewelry is having a base metal that is made out of copper or silver. On top of the surface, it is covered through the thin layering of gold with the help of the platting process.  This top layer will get tarnish with time as soon as the gold top layer gets chipped or scratches. Be careful!
Can you wear 18k gold in the shower?
No, not at all! You cannot choose 18k gold to be worn in the shower at any point.  As compared to 18k, 14k gold is much more resistant towards scuffing, bending, and scratching which makes it extra durable and harder.  18K is quite delicate and it is extra prone to tarnishing.
You should fully avoid it to get exposed to water or any other harsh chemicals which can force the gold to start losing its shine and elegance.
Yes, you are allowed to wear 14k gold jewelry in the shower.  The reason why gold is so much likable is that you will be able to get the timeless piece of gold at just affordable prices.  The only thing you need to be careful about is to make sure that you keep it away from abrasive surfaces or harsh chemicals.
During the shower, you should avoid interacting with the gold with scrubs or shower gels because it can scratch off the gold with which it will lose its shine. After the shower, make sure you wipe the jewelry with a soft piece of cloth.
Can I wear platinum in the shower?
Platinum has the shine and elegance which makes it completely a unique metal in your jewelry.  We will not be recommending you to wear platinum jewelry during the shower at all. This is because it can lose its original shine and will become darker.
Can I wear my watch in the shower?
Even though if your watch is water-resistant still you should avoid taking it in the shower or during swimming with you!  You should completely avoid touching its buttons because it can easily be exposing its internal structure to moisture.
Another major reason is that it will get wear off with time which can damage the whole watch.  This is all because shampoo and soap have such harsh chemicals which can completely ruin the whole shine and quality of your watch.
Can i shower alloy jewelry ?
Alloys are a combination of two elements. This is required to add the whole jewelry with the much needed durable and strength. Singular metal will make the whole jewelry weak enough.
The most common and basic alloy which is used in jewelry making is the silver or silver filled ones. It even accompanies a small quantity of titanium, platinum as well as the base metal.  All in all, we will say that it is not a good idea to take along the alloy jewelry with you in the shower. It will completely tarnish and fade your jewelry.
Is it ok to wear jewelry in the pool?
No, not at all! It is not suitable to wear any sort of jewelry inside the pool. Chlorine is a tough and hard chemical and it can completely fade your jewelry all away.  This might put you at the risk where you can lose the whole beauty of your jewelry and will no longer look precious.
Basic care for your jewelry
Well, we have already explained to you all the major points related to which jewelry is best to use in the shower and which one you should avoid. Next, we will move forward and explore some basic guidelines related tothe excellent care of your jewelry. Let's have a look:
Let it Stay dry
The whole of our discussion is revolving around the fact that no matter whatsoever kind of jewelry you are wearing, you should keep it miles away from water or liquid.  If accidentally your jewelry gets into water, you have to make sure that you let it stay dry for a long time.
Hand washes, perfumes, oils, or lotions are a few of those items which cannot affect the whole look of the jewelry at any stage.  The best time when you can wear the jewelry is when you have already sprayed on the perfume and have put oils or lotion. Once it gets dry, you should take a piece of a soft cloth and dry it completely.
Proper storage
You might have noticed that most of the jewelry is available in the plastic velvet bags. This is because such packaging will avoid water or moisture to contact with jewelry which will prevent them from wearing off.
If you don't want to use a plastic bag, then you can pick any ordinary Ziploc bag and close in your jewelry. This will be ensuring that you get out as much air as possible. The reason why air is being removed is that it will not be oxidizing the metal. You can even look for some anti-tarnish strips as well. These strips will stop the jewelry from getting tarnish.
Take a break
Due to constant contact with water, your jewelry will tarnish. Therefore, the best idea would be to wear it over-rotation and make sure you give them a break in the middle.  Let them rest down for a while. There is no need to wear jewelry on ordinary days.
Service the jewelry
You can even choose to give away your jewelry with a break in which you can try with some TLC for your jewelry. This process is all about polishing and cleaning through mild detergents.
Mediavine
Another simple trick to clean your jewelry with is through the use of toothpaste.  You can put some toothpaste on a cotton swab and polish it on your jewelry softly. If you are having 18k and 14k jewelry pieces then consult a professional jeweler over cleaning tasks.
Conclusion
So this is an end of the discussion about which style of jewelry you should wear in the shower and which one you need to avoid by all means.  Jewelry adds a charming and complementing touch to your whole personality. So make sure you give your jewelry the ultimate protection and care.  Avoid wearing it during shower or swimming and make sure you keep your jewelry miles away from water or moisture.