Jewelry Guide
Can You Wear Gold Vermeil in the Shower? Complete Guide
There is this confusion prevailing in most of the minds that can you wear gold vermeil in the shower? Here we have put up an authentic explanation in this regard. We know that gold vermeil is one of the most popular and sought-after jewelry pieces of jewelry. It is much liked by individuals. Furthermore, it is loved by fashion designers as well as costume designers.
But the common question is that whether it is ok to wear gold vermeil jewelry in the shower? And how often this jewel piece tarnishes? If you are a fan of this jewelry material, then you need to understand how to properly take care of it!
We hope that this guide will tell you how to take care of your gold vermeil jewel collection easily and conveniently. Furthermore, this is an expensive and durable jewel material. That is why extra care should be given to it.
Most importantly, vermeil looks similar and exactly like that of gold. If this jewel piece is encompassed with so many rich qualities, in the same way, there are a few of the limitations linked with it. Moreover, it tarnishes quickly and faster as compared to pure gold jewels.
In addition, gold vermeil is specifically and generally sterling silver plated. It is surrounded by a thick gold later. There is a gold content of around and about 14-24k ratio in it.
 Now, check out this guide and see can you shower with gold vermeil or not: 
What is Gold Vermeil Jewelry?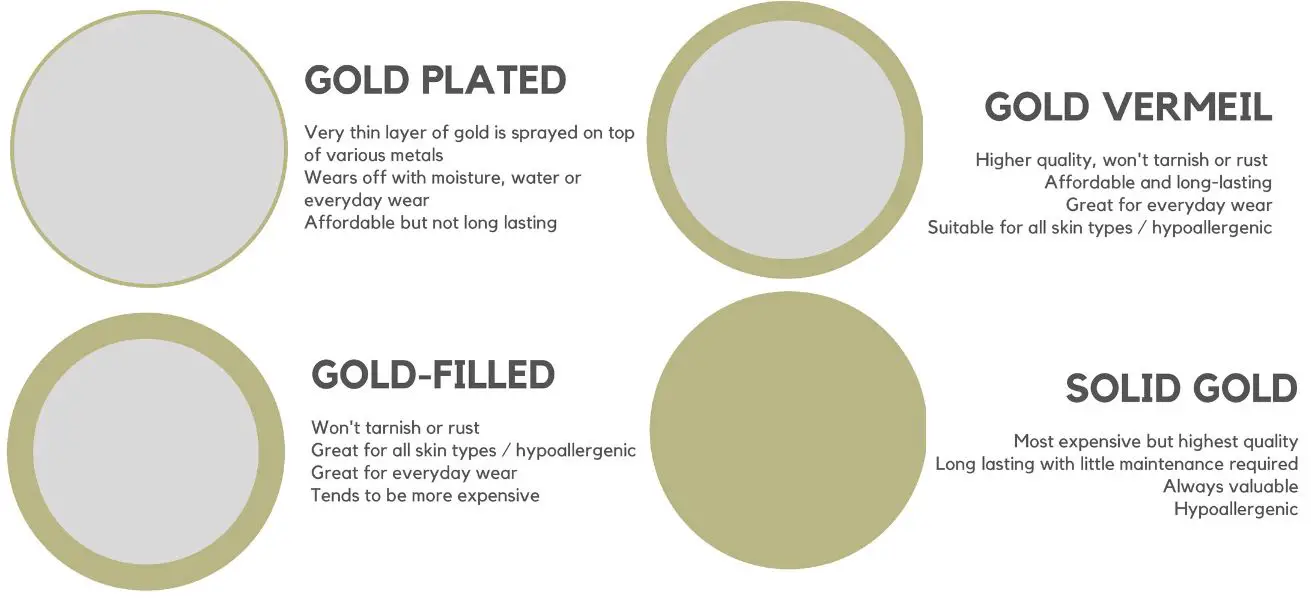 You might be wondering what the basics of gold vermeil are, here you can check out that! This jewel piece is basically a combination of gold and sterling silver. In other words, there is a thick layer of gold embossed on it. At the same time, it is surrounded by high-quality sterling silver. Gold vermeil jewels are commonly present in rose gold color shades.
There is a specific criterion that marks any jewel piece gold vermeil one! Like, if your jewel base metal is composed of 92.5% sterling silver or if it is injected with 99.9% silver, it means it is gold vermeil. In such a jewel ornament, the overall purity of the gold of 10 karats.
It is recommended to buy such gold vermeil jewel pieces that come in the karat range of 14K or 18K. In this way, your jewelry will be able to withstand and tolerate the test of time.
Moreover, if your jewelry piece is higher than this range, it means your gold vermeil may come out to be too soft. Besides, if the jeweler uses a lower range, then rich gold color may not come on your vermeil.
In these vermeil jewel pieces, the gold coating thickness is around up to 1.5 microns. Hence, these are the basic and general standards that are spotted in vermeil jewel pieces. It is observed that gold vermeil is the best and top-quality jewelry that one can ever try out. If you do not want to buy solid gold, then invest in this alternative. And say your thanks to us!
There are many shops that offer original and authentic vermeil products. And you should only buy those vermeil products that make use of 14k gold and their plating should be up to 2.5-3.0 microns thick.
Can You Wear 18ct Gold Vermeil in the Shower?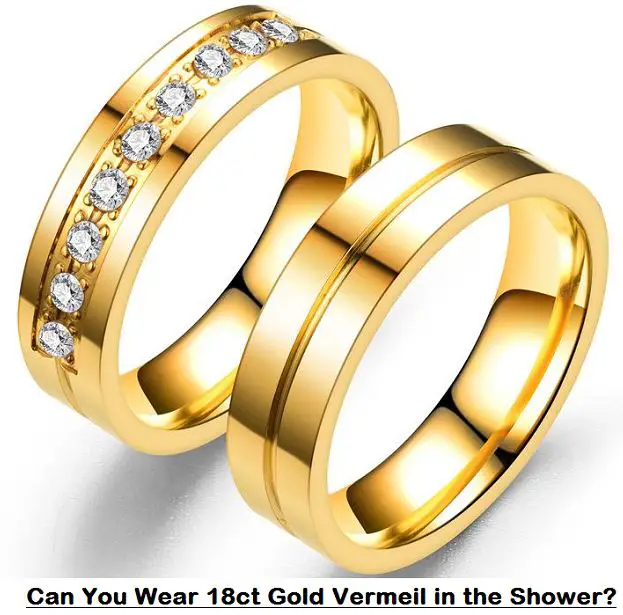 There are specific and particular conditions and if you fulfill them, then you can wear gold vermeil in the shower. Like, if your water is 100% pure, then it is perfectly fine to wear vermeil.
Furthermore, if your shower gel is not that much harsh enough, it means your vermeil jewel piece will remain safe in the shower. On the other hand, constant exposure to chemicals and shower gels may remove the gold coating from your vermeil jewel pieces.
Though tarnishing problem does not arise upon wearing gold vermeil in the shower this wearing off problem does arise! It means constantly and continuously exposing your vermeil to water makes it not resistant to wear.
There are lots of shower gels that are made of harsh chemicals. These chemicals remove the gold coating from your vermeil and thus make it a victim of tarnishing.
 So, experts have advised you to remove and take off gold vermeil jewels before you have your shower time. 
If your shower gel is mild and not so harsh enough, then that is ok! But make sure to take off your gold vermeil if your shower gels are not mild.
You can even ask your dealer how much content is present in your vermeil jewelry pieces. It is based on this information that you can decide whether that gold vermeil piece should be exposed to water or not!
We can give you an example that if you have bought and invested in 18K karat vermeil, it means you should never and ever expose it to water.
Furthermore, avoid exposing that 18K karat vermeil to any other liquids as well. It is because of these water and chemicals that your gold vermeil jewelry's color gets ruined and damaged. Besides, it is Ok to shower with vermeil that is of 14K content. Such a gold vermeil jewel is more durable.
Does Gold Vermeil Tarnish in Water?
We have already told you that gold vermeil jewelry does tarnish in water. However, if it is pure water, then this tarnishing effect may get reduced a little bit. You need to very much confident that the water in which you are taking shower is pure water.
If it is not pure, then your gold vermeil quality will get destroyed. Water that is not pure is usually packed with lots of chemicals. And these chemicals easily and quickly wear off your vermeil! If showering under pure water, then make sure to dry your gold vermeil jewel as soon as possible. This is the top advice that is given by jewelry experts and celeb like Mila Kunis.
Most importantly, tarnishing is a chemical reaction. Lots of other jewelry materials become the victim and target of it. Whenever your jewels are exposed to impure water, air, chemicals, lotions, and perfumes, it means they will for sure wear off.
We have this good news for you that gold vermeil does tarnish but you can make it sparkling again as well. If the gold layer on it gets darken, then you can make it spic and span-looking with a little care and showing little maintenance.
How to Protect Your Gold Vermeil Jewelry If It Gets Damaged in the shower?
If your gold vermeil quality is destroyed because you took it in the shower, then you can correct this problem by following a few of the effective tips. As we have told and explained to you that it is not at all advisable to shower with these gold vermeil pieces, here I also have 1 video from you-tube for your better understanding:

By doing so, they are going to wear off immediately and may reduce their lifespan as well. So, do have a look at these tips. This guide may help you in maintaining the overall look and quality of your vermeil.
Cleaning Your Gold Vermeil with Mild Soap
It is critically important for you to clean your gold vermeil jewel pieces with mild soap. This is how you can reduce the element of tarnishing.
Like, prepare mild soap solution and start to soak your gold vermeil jewels in it. Always use a mild soap and avoid using any of the harsh chemicals while cleaning your vermeil.
If you use harsh chemicals or harsh detergents, then there is a chance that these products are going to quickly scratch and chip off the gold surface from your vermeil jewels.
Buy Quality Safety Boxes
Next is to buy quality and high-end safety boxes for securing your gold vermeil jewels. If your vermeil jewelry is destroyed in the shower, then you can follow this tip. Most importantly, this jewelry is made by using plated gold. For the reason that they should be placed and secured in specialized boxes!
Furthermore, place them in a kind of safety box that do not interact with chemicals, sweat, or any kind of moisture. Try to buy top-quality safe jewelry boxes. If you do so, then your vermeil jewels are going to remain dry and protected enough.
Cleaning Your Gold Vermeil With Baking Soda 
There come many situations when your gold vermeil loses its shine because you took them in the shower or exposed them to water!
So, to overcome this issue, you can clean and maintain their look with the help of baking soda. This application is going to remove all tarnishes and dark spots from your vermeil jewelry. This method is highly effective and preferred by Asian countries like India.
Look for Gold Vermeil Expert Cleaning Services
When you notice that you fail to maintain your gold vermeil look and shine, then run to seek excellent and professional gold cleaning services. Professionals and experts sitting over there can better guide you as to how to take care of your gold vermeil. You just have to spend a few of the bucks over there and they will give you top-notch advice.
Try Keeping Your Gold Vermeil Completely Dry
The last tip and important suggestion is to keep your gold vermeil completely dry. Do not expose and take it near to water and liquids. Avoid exposing it to perfumes and lotions.
While you use a hand wash or you sweat a lot, then minimize wearing this kind of jewelry. If you still want to apply a lotion or perfume on your skin, then it is recommended to let your perfume or lotion dry for some time. And then you can put on this gold vermeil jewelry.
How Long Does Gold Vermeil Last?
It is up to 20 years that you can keep on wearing gold vermeil. Like, if you bought this jewelry on 21-02-2021, then 20 years will be its shelf life. Moreover, if you adequately maintain it, only then it can survive for 20 years. You can follow the above-mentioned tips and guide.
And see how you can take the best and maximum care of this jewelry! Stop exposing it to spritzing exquisite perfume or any chemicals. Whatever product you use on your skin, allow it to absorb for 3 minutes and then wear gold vermeil jewelry.
In addition, while you exercise, take off your vermeil and then start your workout. Lastly, your gold vermeil can last for years and years if you keep this jewelry away from chlorinated pools and hot baths.
Frequently Asked Question And Answers
Question: Can You wear 14k gold vermeil in the shower?
Answer: This is a straight and a big no from our side. You should never and ever wear 14k gold vermeil in the shower. If you follow this practice, then your jewel pieces are going to be chipped off in less time. In addition, this routine destroys your vermeil base metal. Hence, do not expose your vermeil to water and moisture.
No matter, you have worn 14K gold vermeil, you should limit this kind of exposure. Taking such jewelry in the shower or underwater and moisture hints allow it to get scratched and chipped off in less time.
Question: Can you wear gold vermeil everyday?
Answer: Yes, you can wear and put on gold vermeil every single day. But you need to limit and restrict its exposure to water and chemicals and also sweat. Like, if you wear vermeil during hot summer days and you sweat a lot. It means this sweating will slightly tarnish your gold vermeil jewels.
So, if you are wearing this jewel every day, then show maximum care towards it. In addition, wearing it every day means you need to regularly clean it too. If you fail to clean your gold vermeil every day, then it will look dirty and may also start to fade slightly with the passage of time.
Question: Can you wear 18k gold vermeil in the shower?
Answer: No, it is not at all advised and suggested to wear 18 Karat gold vermeil in the shower. This is the blunder that one should not commit and make. Such a kind of vermeil gold is more delicate. Furthermore, it is more prone and vulnerable to tarnishing. So, before you enter in the shower time, take off your 18 karat vermeil. Besides, avoid exposing it to water. If you often take this jewelry kind in the shower, then it will start to lose its shine.
Question: What is better vermeil or gold plated?
Answer: There are many people who are confused regarding whether gold vermeil is better or gold-plated jewel stuff! First of all, gold-plated jewelry is less expensive as compared to vermeil. In addition, gold-plated jewels do not need any kind of minimum karat weight or any sort of thickness at their end. All in all, we have seen that gold-plated jewels are more valuable as compared to gold vermeil jewelry pieces.
Question: Does gold vermeil turn skin green?
Answer: There are many versions of gold vermeil that turn skin green. We have seen that lots of vermeil pieces come with a sterling silver base metal. It is for this reason that your skin may get green hues on it. In other words, gold vermeil jewelry leaves a faint green mark on your skin.
When this sterling silver gets oxidized and interacts with your skin, then this process of leaving green marks appears. It is better and suggested to invest in solid and high-end gold pieces so that this problem may not occur.
Conclusion
Thus, we can say that it is completely possible to wear gold vermeil in the shower! Just do the right care of this jewelry piece and you are good to go. Moreover, gold vermeil is a great and one of the best alternatives to solid gold jewelry. It carries maximum shine and sparkle in it. But it is always suggested not to take this jewel in the shower or expose it to chemicals. Otherwise, vermeil will lose its shine and may tarnish as well.
If you manage to show just a little care towards this jewelry, it can remain well maintained for years and years. We have shared great tips with you that help you retaining the shine of your vermeil.
We know that vermeil is marked and identified as a centuries-old metal. It is now turning out to be a favorite and top jewelry option so far. Furthermore, this jewelry is of premium quality and also carries the factor of sensible pricing.
If you love wearing vermeil, then show extra care as well towards it. If you want to know further about this jewelry, then keep in touch with us.