Chains
Is 14k Italy Gold Chain Real or Fake? Experts Guide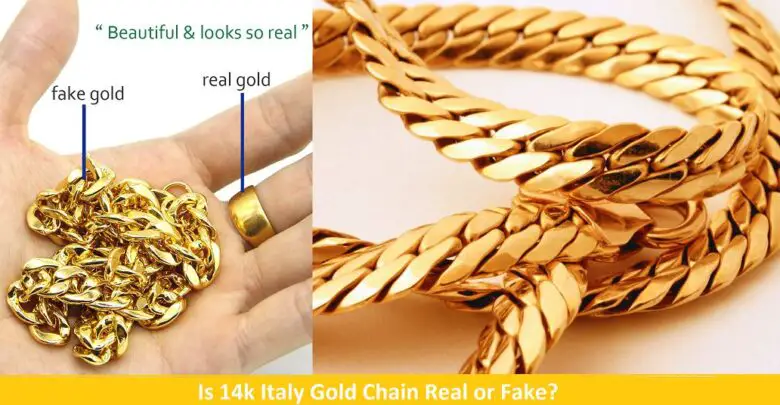 Are you looking forward to buying 14k Italy Gold Chain? 
Is it hard for you to find the one which is real and not fake at all?
Well, probably many people do find an issue in terms of searching for the 14K Italy Gold Chain authenticity and originality. Many people do have a question in mind that whether 14k Italy gold is fake or is it real.
Well, this all matters because Gold is known to be the most precious material and hence it requires enough investment as well. Amid varied classifications and varieties of Gold, it might be complex for the people to choose the right one.
14k Italy is one such type of material which has got some equal likers and even haters too. But if you want to know about its originality and fakeness, we are right here to give you a quick guide about it.
Let's get into the discussion below to have more information about 14k Italy!
What's the 14k Italy gold chain?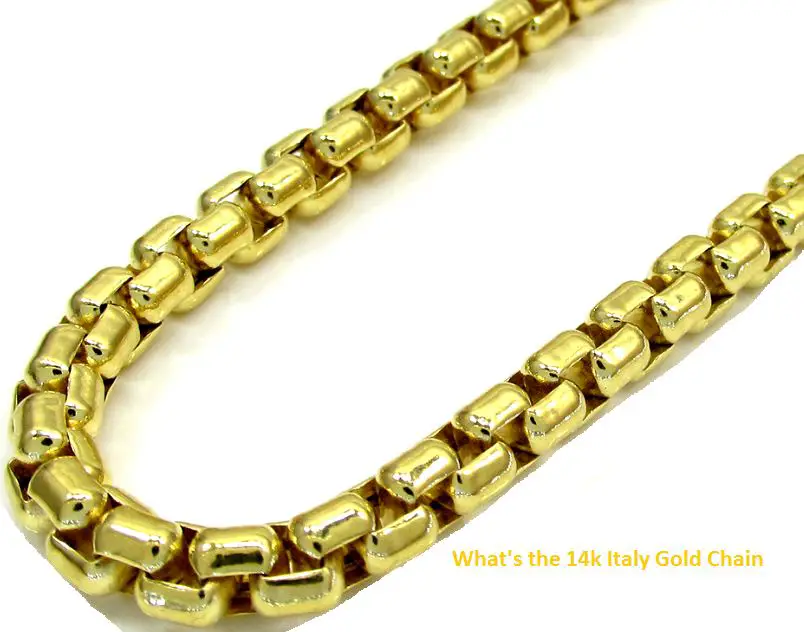 As we talk about the 14k Gold chains, it generally means that there are just 14 parts Gold out of the 24 possible parts. The rest of the parts will be made out of metal alloys or other metals. In this way, 14K Italy is all about having a gold chain that is made out of 14k Italian gold.
 Now the question what is the meaning of gold chain authentic/ real gold! 
Mentioning the 14K gold, it is known to be the middle-class gold category. The total number which is donating the gold is all depending on the percentage which is available through the pure gold within the metal alloy mixture. The rest of the gold chains will be marked with 8k, 10k, 12k, 20k, 22k, or 24k gold.
In this categorization, 8k and 24k gold chains are not enough common because 8k is the gold of not good quality. You will find them mostly in the flea markets. But the 24k gold chain is the pure gold type that is soft enough to easily get crafted in a piece of soft gold jewelry. Most of the 14k chains are made in Italy.
In the US, any gold that is less than the 10k solid gold is not having any karat mark. You cannot make it add up into the category of gold. Hence, in the UK, the minimum standard of gold is 14k gold. Any gold jewelry which is having a 10k mark or even less than that will be gold-filled as they contain a rather thin layer of gold.
Is My 14k Italy Gold Chain Real or Fake?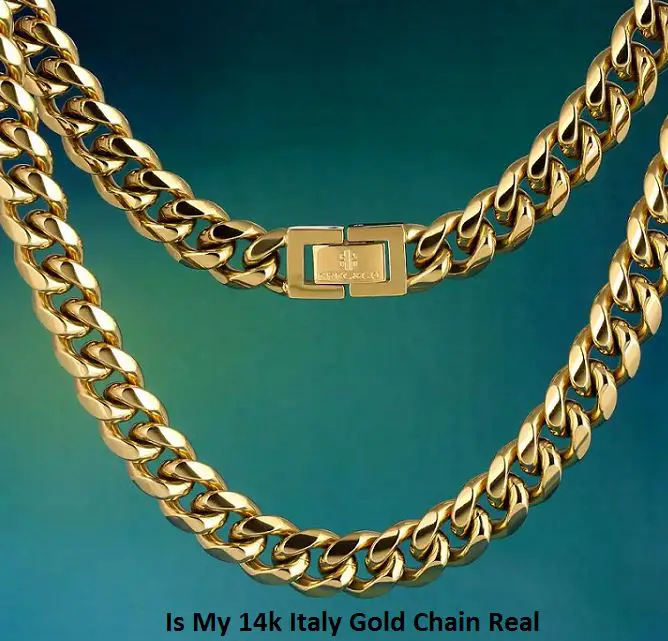 It is not easy to identify whether the 14k Italy Gold is real or fake. Any gold which is real and genuine has its dramatic beauty which makes it different from other jewelry pieces! You can easily check the authentic nature of the gold by running acid testing.
The acid test is available at Amazon without any hassle. You can purchase various kits for testing various karats which is including silver and platinum. As metal is not having a magnetic nature, therefore, magnet test is not the best option for testing the chain properties.
One major thing which you should know is that the actual gold will never have any smell until and unless you will spill some smell substances on it. If you are buying 14k Italy, then it generally means that you are buying 58.5% gold/ 14k gold.
All the manufacturers will mark the purity level of 14k Italy Gold to be expressed as .585. Next time you plan to buy 14k jewelry,you should be looking three-digit mark which is presenting the chain's purity. Any Italian jewelry which is around 14kW gold or even lesser than that is .585 which contains 58.5 pure gold. In the same way, 18k Italian gold is often expressed as 7.500, while on another side 10k gold shows the marking of .4167.
How Much is 14k Italy Gold Bracelet Worth?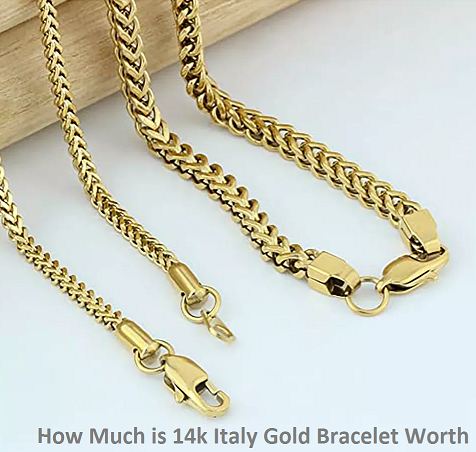 Similar to the rest of the gold jewelry pieces, the cost of the 14k Italy gold bracelet will be varying accordingly based on the gold type you are buying. 14k Italy gold piece is available at the cost of $23.50/gram but the price will vary depending on the market conditions.
If you sell the 14K Italy bracelet at any reputable store, you can expect to get almost 80% of the spot market value of the jewelry. This price will probably start from the $1232/ounce of gold.
You can determine the cost of your bracelet by multiplying 14k by .585% of the pure gold and then divide it by31.1grams/ troy ounce.
A jewelry expert will know the accurate value of Italian gold jewelry to be the most beautiful and high-quality gold jewelry. You can get in touch with them to know more about the basics of the best 14k Italy gold bracelet and its real worth.
What Does 14k Italy Mean on Jewelry? Is it Real or NOT?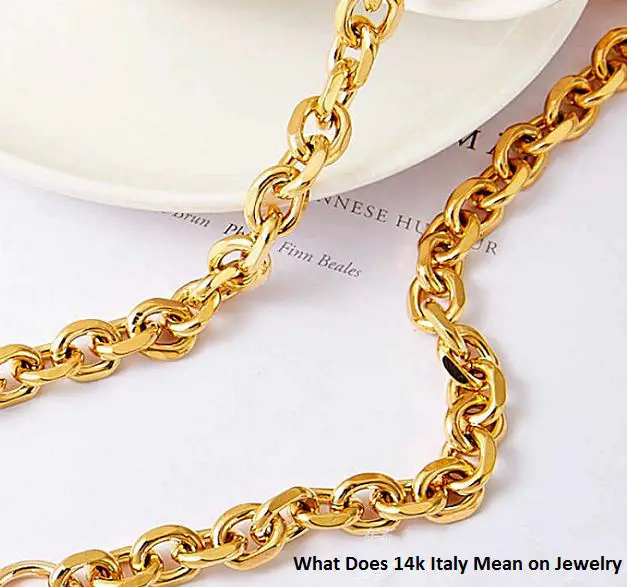 If you want to know the actual meaning of the 14K Italy Gold, you should always start by learning its basics. Now the main question is, what the meaning of 14K is!
4K gold jewelry is included with the 14K stamping which is made out of 14 parts gold, out of the 24 parts that are made up of 100% gold.
In short, 14K Italian Gold and 14K Italy have a similar meaning which is 14K Italian-made gold. If you want to know if this gold piece is real and not fake Jewelry, then we would like to assure you that yes, it is real and is an authentic one. It is real until and unless you do not mislead by the seller.
Well, 14K gold is although not the highest of the gold. But it is considered to be middle-class in the manufactured gold realm. Here we would like to mention that all the gold jewelry which has gold in it is available with varied gold markings. This can be specifically: 8, 10, 12, 14, 20, 22, and 24K gold. 8K gold is very rare but there are still some parts of the world such as flea market which is offering 8K gold.
Another major thing which you need to be careful about is the marketing on the 14K Italy gold which is different from the marking which you might notice on other gold pieces. The fineness of 14K Italy goldhas been marked by the 585 marks for a piece of 14K gold.
The few of the 18K Italy gold on the market will bear the 750 markings. This generally means that the only way with which you can identify the authentic nature of Italian gold is by looking for the 585 and the 750 marks.
Why 585 and 750 Markings on Jewelry?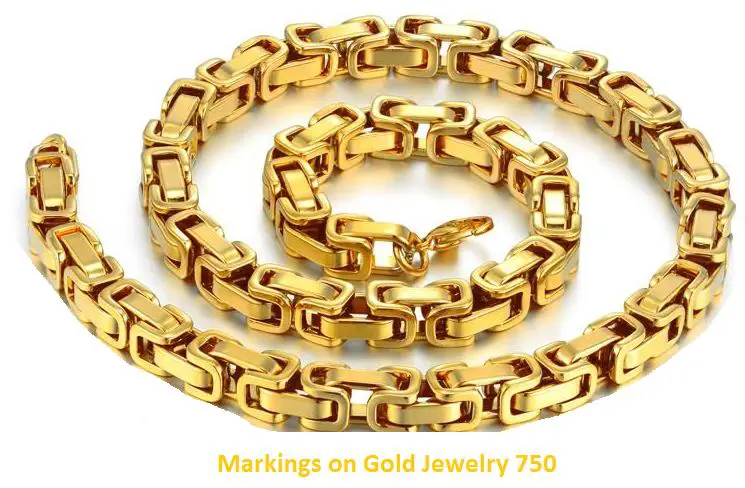 Hence, the marking which is present on the 14K and 18K Italian gold jewelry will somehow differ based on the marking which is on gold jewelry. You should be giving attention to the three-digit markings because they do represent the finishing of gold's percentage purity.
14K Italy Gold is having 58.5% gold marking while 18K Italy gold is based on 75% pure gold. Italian Gold which is having purity below the 58.5% mark, these all gold jewelry pieces are often closer to the 14K level of purity that you wish for.
Why is Italian gold more expensive?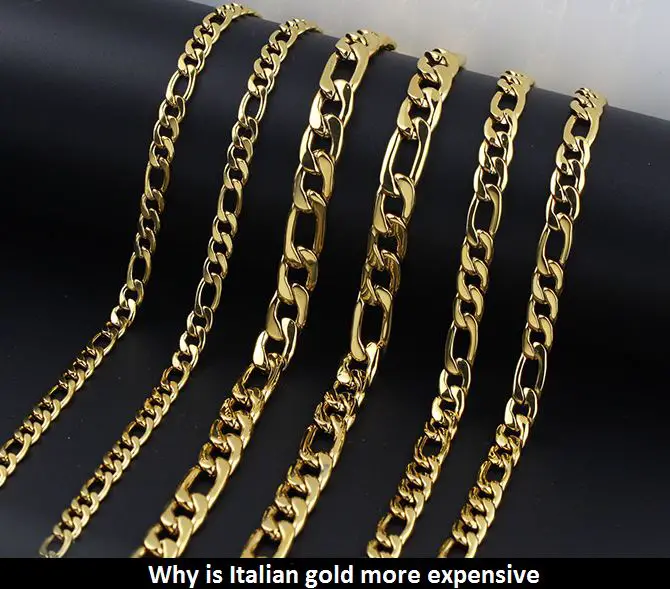 Italian gold is no doubt known to be an expensive material due to its high importation costs. This is much needed when the import tax has been placed by US Government on the major Italian jewelry. Probably the import tax on gold jewelry is most likely to end up very soon in Italy.
If you are a jewelry enthusiast, you know that Italian gold jewelry is of the best quality and also the most beautiful gold jewelry worldwide. Therefore, you have to be sure of the fact that the gold jewelry which you are buying should be real and authentic. It needs to be real in terms of percentage purity and price tag.
What Are Fake Gold Chains Made Of?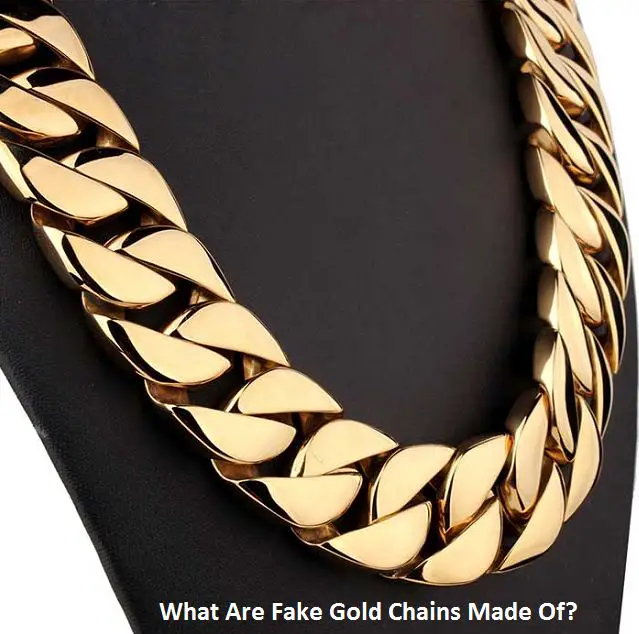 When it comes to the making of fake gold chains, they are not made out of solid gold. They are just having simple gold plating. This generally means that the chain is made out of a separate metal or the alloy of non-gold metals. This is all covered with the thin layering of the gold to make the jewelry turn out to be the real gold piece.
Gold-filled chains are equally passed off as the pieces which are made of solid gold. Similar to the rest of the gold-plated items, these all chains are made out of non-gold metals. But besides having the plating of gold, they are all wrapped into the thin sheet of it. This sheet is attached to the core metal which is under high temperature.
As regards the fake gold chains, keep your mind alert with the U.S., jewelry which is less than 10 karats pure which cannot be sold like pure gold.
How to tell if 14k Italy Gold Chain is Real or Fake?
If you are fond of buying gold jewelry, then it is obvious that you always wish to have something real and pure. And for that sake, it is important to figure out how you can identify the actual and high-quality and real 14K Italy gold jewelry. Let's share some tips with you below for proper guidance:
Quality Markings on Jewelry
The first aspect which you need to be careful about is related to the markings. The finest Italian gold piece is having a marking of 18K or even higher. But at the same time, 14K variants are even quite common. You can easily figure out the finest quality of the Italian Gold simply by looking at the 585 mark which is on the 14K gold.
You will find the marking of 750 or .7500 for the 18K gold as well as .4167 for the 10K gold. It is an equal fact that there is some gold-filled and gold-plated jewelry with the marking of 14K Italy or with the 585 markings. There is also a need to know about the rolled-gold jewelry which is made out of the gold coating, and it is just 2.5% pure.
Bite the Real Gold Jewelry
It might sound a bit dramatic but it will work! Real 14K and 18K Italian Gold will be having a dent when you will bite it a bit. But the fake gold won't get any effect upon your biting. This is although not the 100% genuine method just because the gold plating, as well as gold-filled gold pieces, will also have dents.
Hence, the fake gold will be having black or green spots over the surface after some time. But this won't be happening with the pure gold.
Real gold is known to be dense and heavy. But on the other side, the fake gold is more lightweight.
Consult an Expert Opinion
If you still find yourself in trouble, the best way to determine the gold authenticity by getting the gold jewelry evaluated by an expert!
Pros and Cons of Italy gold Chain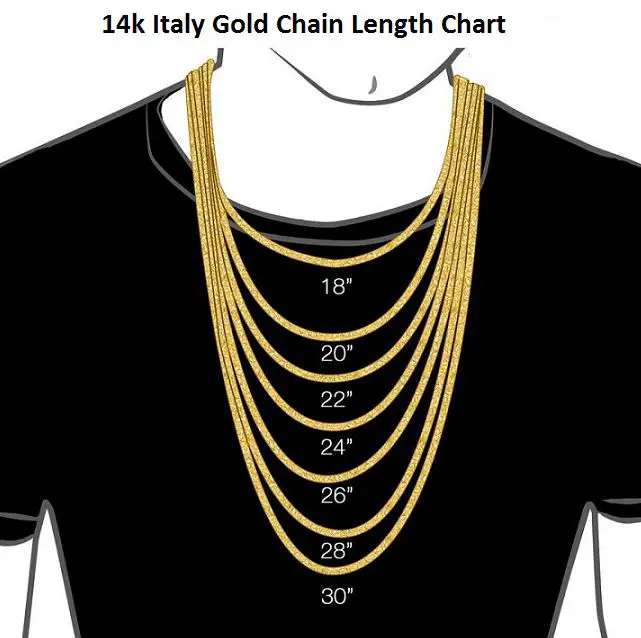 Below are the important benefits of pros and cons of the Italy Gold Chain:
Pros of 14k Italy gold Chain
Italy gold is known to be the materials of beautiful chains
Great quality of 14k gold chains
Available in precise designs
Cons of 14k Italy gold Chain
Costly
Available in varied counterfeits
Historical Background of Italian Gold Jewelry
We all know that Italy is one such destination which is popularly known for delivering luxurious and some great pieces of jewelry. This has made gold Italian jewelry to be the most demanding one in today's market. They are in demand due to their distinct color and quality.
The country hence processes more than 500 tons of fine gold for jewelry production every year!  Few areas of Italy which are popular for producing the world's best and finest jewelry are Milan, Vicenza, Arrezzo, Valenza, as well as Torre del Greco.
No matter from whatsoever area you have been buying the gold, you are sure of the fact that you are having a pure and mastery piece by your side. Jewelry master artisans are passing their all trade secrets from generation to generation. In short, all of Italy's jewelry makers know how to make truly special pieces.
Different Color Variations of Italian Gold Jewelry in Market
When it comes to buying Italian Gold jewelry, you are left with numerous color options. This includes yellow, pink, white, and — sometimes — green. Pink, or white, as well as green gold is created with the help of various metal mixtures. These varieties are hence not more than 18 karats.
White Italian gold is generally created by mixing nickel and palladium. Rose and pink gold are all created when you mix copper in them. Green gold is also created when you mix silver with gold. As silver is a costly metal, therefore, green gold is an expensive gold available in Italy.
Should you buy Italy Gold Jewelry?
Yes! You should!
But when it comes to checking the authenticity and real purity of the gold, it is your responsibility to show a bit of attention! No doubt Italian gold jewelry is the best quality jewelry in the world. You should always get in touch with a reliable dealer to know about the basics of valuable gold jewelry. Ask them all those questions which are constantly hitting your mind such as:
Do you have certification in Italy to sell pure gold jewelry?
Are you offering the services of resizing and custom design?
Do they have specific knowledge about their products?
Is the jewelry available with markings to highlight its purity?
Which Celebrities Were Seen Wearing Italian Gold Jewelry?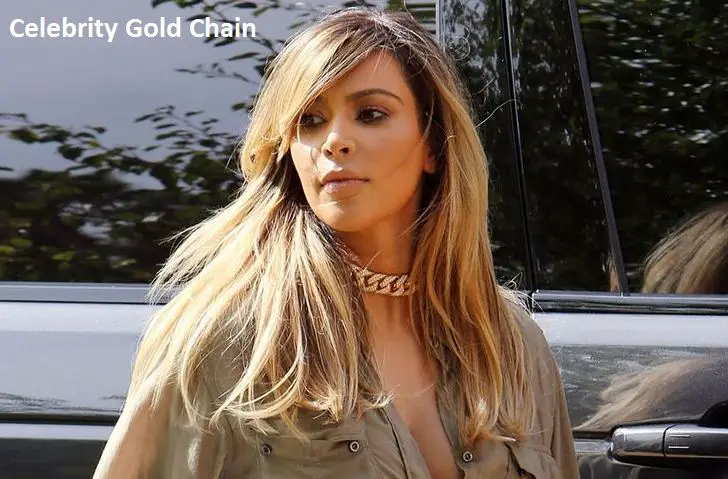 Well based on the popularity of Italian jewelry, there have been numerous celebrities who have been caught flaunting themselves in this jewelry style.
A celebrity like Laura Harrier was once seen in the iconic Italian serpentine necklace on the Cannes carpet. The overall charm of the snake which was awesomely accented by the sparkle of diamonds and some fine gems added a brilliant edge to her whole look.
Model Bella Hadidis another celebrity who has been seen many times wearing Italian collared necklaces to some finest jeweled earrings to style herself.
Hailey Baldwin Bieber, Jordan Dunn, and KarlieKloss have also rocked several pieces of Italian gold on red carpet events.
Why is Italian gold more expensive?
When importing gold earrings from Italy, our authorities (the US government) locations and import tax on the whole quantity of the import. (This was once in the area pre-Trump so don't blame him.)
So the greater gold raises the extra cash the authorities collect. It's an import tax that is very not going to go away.
To make things extra baffling, gold earrings imported from Israel, Indonesia, Mexico, and others, have very little to no import tax collected.
I am of the opinion that Italy makes some of the loveliest gold rings in the world. There are very few stamps that signify fine that way a stamp of ITALY on a gold chain does. Look for the ITALY stamp- it's worth the more money.
How much is 14k Italian gold worth per gram?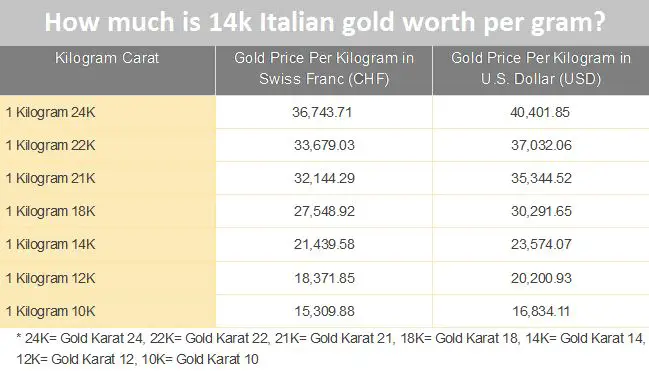 Today 14K Gold Price in the USA = USD 33.060 per Gram. The rate of10 Grams Gold is USD 330.604.
Conclusion
To sum up the whole discussion, Italian Gold is not having a higher range of intrinsic value than gold which is obtained from the rest of the parts of the world. Plus, it has the price which is always determined by the side of the market on the basis of Karat and weight. Italy Gold is known to be pretty much the standard for good gold.
As for the last so many decades, being made in Italy, these gold pieces have made itself to be the standard ones for the ideal gold jewelry.
So if you really feel that the gold marking is not forged and it is not having the marking of 585, then it is confirmed that you are having an excellent quality Italy gold chain.
 Wear it now!