Chains
What Size Chain Should A Man Wear? (Detailed Expert Guide)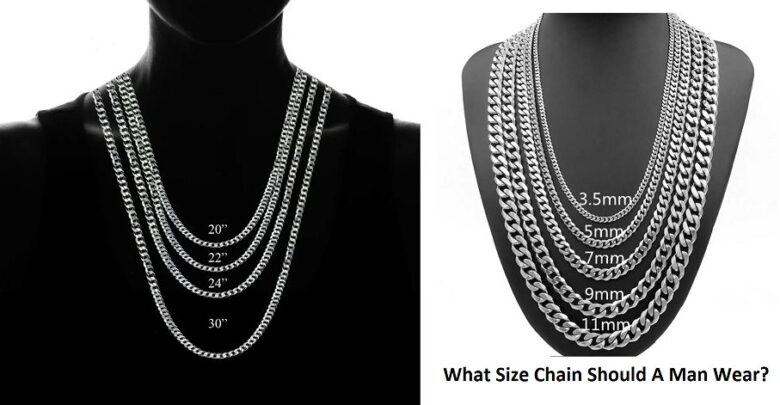 Men love wearing chains and other kinds of ornaments. The trend of wearing chains and necklaces among men is getting higher day by day. Furthermore, styling a chain with whole attire transforms men's personality instantly and immediately! So, here in this piece of writing, you will get to know what size chain a man should wear.
Lots of men have this confusion and ambiguity regarding what suitable chain size they should go for. Consider the size and style of your chain before buying it. In addition, there are many other factors that you have to consider when choosing a chain.
Men should understand that this is an important piece of discussion that deserves a lot of attention from your side. If you see men wearing the wrong chain size and style, then their whole look gets ruined upon making this small mistake.
If you are planning to get a great chain for yourself, then keep in mind this key ingredient, which is your chain size. Avoid making a wrong move and always end up getting the right and correct chain size for yourself.
You can see the details now and for any queries, freely ask from us:
What size chain should a man wear?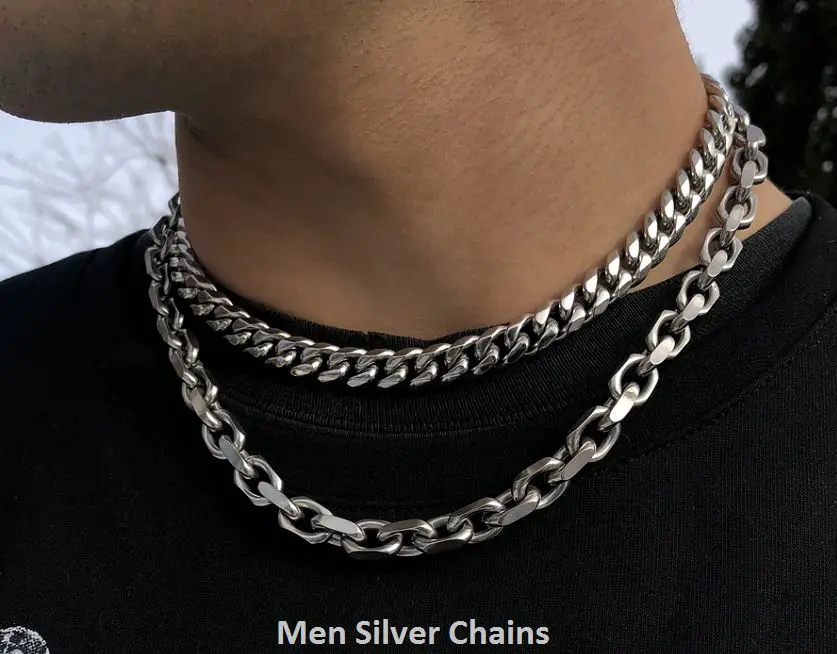 You might be wondering what size chain a man should wear, here you can check out the details. Most importantly, the trend of wearing chains is immensely seen in the Hollywood world. Rappers like that Eminem love wearing chains and they always wear the correct chain size that matches well with their face shape and neck size.
If you are planning to order a chain necklace for yourself, then make sure to know about its size, length, and width and then decide accordingly. In addition, the size of the wearer's neck tells what kind of chain size, style, and design men and women should go for. We can give this simple to all men out there that their neck size is of exact their shirt's collar size.
Men should decide beforehand whether they need a short chain or a long chain. Like, they need to decide whether they are in need of 24-inch chains or 30-inch chains. Same way, men's chains are of varied and different widths. Giving you a rough idea, if you want to get a 24-inch chain, then such a chain size rest right in the middle! Or you can say that this much chain length resides and fall slightly above the sternum.
Choosing the Correct Size of Chain 
All in all, try to grab that chain that fits well and perfectly on you. This is the most important point that all men should keep in mind. We have seen that the right and ideal fit for men's chains is 20 inches. This much chain length reaches to their collar bone. On the other hand, if your chain is embossed with a cross medallion or with a dog tag, then it is recommended to get a chain that has a longer length. This is the common strategy that is followed in European countries like England.
According to experts, it is advised that the longest chain length in the case of men should not at all be exceeding 30 inches. We can give you a basic example in this regard and with the help of it, you can clearly understand this concept. If a man's neck is around and about 17 inches, then it is suggested to get a 19-inch chain for him. This is the appropriate chain size that is going to fit comfortably on him.
Thus, as we have already told to you that men average chain length is 20 inches or you can say that it is 50 cm. This approximate chain length falls at the collar bone and looks much decent on men.
Best Size for Men's Chain
Now, you can know about the standard necklace sizes dedicated and meant for men. Apart from that, if you have a guy friend and his birthday is on 10th April 2021, then you can keep in mind this guide to get a suitable chain for him.
Men should only embrace the trend of wearing chains if they know the right and correct way of wearing them. Though this is a hard-to-wear jewelry category for men, if you have an understanding of this trend, then that is super great.
Men can even keep in mind their body size and height if they want to determine the correct right chain length for themselves. As an example, men going for 18″ chain, then this is the shorter chain length. It usually and generally falls around the neck base section of yours. Furthermore, 20" chain, is the common chain length and it falls and meets at the collarbone.
How thick should a man's chain be?

If you manage to successfully determine the width of your chain, then it will be easy for you to look for the best and high-quality chain for yourself. Like, for all slim men out there, it is recommended and advised to them to go on buying slimmer-looking chains. In other words, it is suggested to buy slimmer chains that fall in between 2 and 4mm in width.
For those men who have got a larger and thinner neck, then wider chains are made and designed for them.
We have seen a tremendous variety of men chains available in the market. And their width range varies between 1mm to 8mm. The common width chain dimension for men is 2mm to 6mm. If you have got a 2mm chain, then you might have noticed that it is of the same size as a headphone wire.
On the other hand, a 6mm chain is of the same and exact thickness as a pencil. Giving you a rough and basic idea, men should go for those chain necklaces that are 2 to 6 mm in width. In addition, this is the ideal chain width range that any man can prefer.
Best chain length for a man

Now, you need to understand that there are various and immense chain length ranges. Here we have penned down all of the possible information for you. Most noteworthy, the chain length places the highest and noticeable effect on your attire, looks, and personality. Moreover, choose the chain length that synchronizes with your shirt as well.
We have men chain lengths varying and ranging from 16 inches to 30 inches. The overall size of the chain is usually and generally defined by its length.
You might be wondering what we mean by chain length, here you can know about that! It is this chain length that defines and explains the exact position where your chain is going to rest and fall. Whenever you determine your chain length, make sure to estimate and calculate it without a pendant.
Furthermore, men can either go for short-chain or mid-length chain or they can go for the long chain. Besides, men should keep in mind three main parameters whenever they have to analyze and know about the length of the chain.
Like, if men are planning to opt for short-style chains, then keep in mind that such chains will rest or fall around their necks. Moreover, these kinds of chains remain highly visible. When it comes to mid-length chains, then they are generally suspended right below their neck base. Lastly, long chains are comparatively more visible and are even more flexible.
16-18 inch chain Length
The first chain length range is from 16 to 18 inches. This is the shortest chain length that you might have spotted and seen worn by men. Moreover, these kinds of men's chains display a choker-like effect. If you get this much specific chain length, then notice that it generally falls around your neck's base.
If you want your chain to remain highly visible and to get noticed by all people around you, then do grab a chain of this specific and particular length. On the other hand, for most men, this is not the comfortable chain length to opt and pursue for. They are of this view and belief that this chain length gives them a tight feel.
Men generally look for chain lengths that are neither too tight nor too much loose. For larger necks, this is not a suitable length and for smaller necks, this is an ideal chain length that one can pursue.
20-inch chain length
Moving to a 20-inch chain length, here are the details for you. You can keep in mind that if your neck is of 17-inches, then it is recommended to get a 19" or 20" chain. This is a good and suitable length that you can go for. Furthermore, if it is a 20" chain, then it is going to fall in between the first and second buttons of your shirt. Or you may have seen that this much chain length falls and reaches to your collarbone.
This particular chain length lets you wear it either inside your shirt or you can embrace it outside your shirt. Besides, this is a common chain length that we have generally seen. If your chain is accompanied by a little pendant, then this is an appropriate length. And if you love wearing round collared shirts or you prefer wearing V-neck shirts, then it is advised to pursue these chain lengths.
22 inch chain length
Then we have 22-inch chains that have marked their special place, position, and mark in men jewelry category. This is another common chain length that men can consider for themselves. Keep in mind that with this length, you can wear a chain that comes with a cross pendant. Moreover, you are allowed to attach any of your preferred pendants with this specific chain length.
You might be thinking about where this chain length falls; here you can know in detail about it. This 22-inch chain length falls a few inches just below the collarbone. This is a good option for all those men who prefer flaunting their chains outside their shirts. It will be great if you pair up and connect this chain length with a pendant.
24 inch chain length
How about wearing 24-inch chains! Most importantly, this respective chain length falls completely in the middle of men's sternum. In other words, you can assume that this chain length falls a few of the inches just above your sternum. It depends on your height how you want to style and wear this chain. Like, you can tuck it inside your shirt or outside the premises of it.
Those men chain lengths that are accompanied and fused by dog tags and also crosses, then for such pieces, this is an ideal chain length. You can always share your views with us regarding which chain length you prefer and how you generally style it. We are waiting for your comments and feedback.
30 inch chain length
The last common gold chain length is this 30-inch length. Most noteworthy, this is by far the longest and standard chain length that comes in the category of men's chains. Furthermore, it is commonly worn and embraced outside the shirts, If it is a 30-inch chain, then avoid pairing it up with any kind of pendant. All in all, such chains usually come and design in plain form.
There are a few of designers who have come up with men chain designs carrying 36-inch lengths. We know that this is an unusual and one of the interesting-looking chain lengths so far. You can say that this is the non-standard men's chain length that you may have often spotted. This chain length is basically extra-long and it falls completely far down men's chest.
Tips and advice on How to choose the Best Chains for men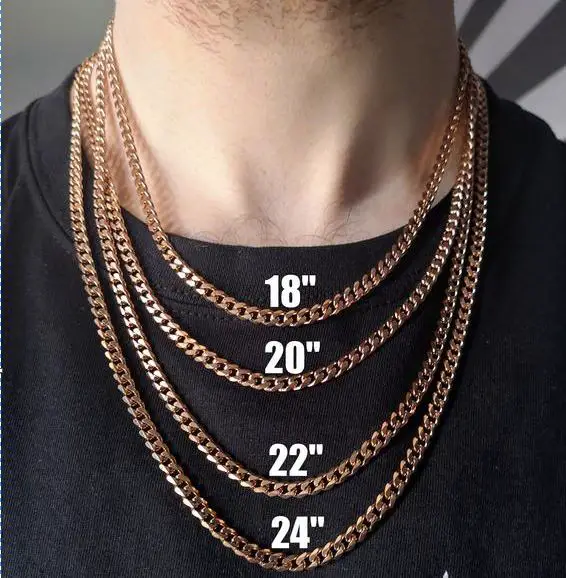 Below you can check out some of the main tips and pieces of advice that tell you how to choose the perfect chain! To all men, do have a look at these tips and eventually end up buying and flaunting the best chain:
Choosing the right chain length
As we have already mentioned to you that chain length matters a lot. The above-mentioned piece of discussion has highlighted various chain length sizes. You can keep in mind these lengths and then decide accordingly. In addition, giving you rough data and information, 18" chains are highly preferable and suitable for smaller necks. Moreover, 20" chains reach men collarbones.
And 22" chains manage to hang a few of the inches below men's collarbone zones. Lastly, the 24" chains successfully and seamlessly hang a few of the inches above sternum zones of men. And these 30" chains rest and fully reside on your sternum.
Stick to your Chain style
Men need to decide and determine their styling statement and then buy chains by keeping in mind their style and fashion taste. We know that there are numerous and immense numbers of men chain designs and styles. Instead of becoming confused as to what to select, you can make your mind regarding what chain style you are looking for and how it is going to well-sync with your personality.
Like, men can have chains consisting and comprising of military-style dog tag chains. They love having ball chains that are embossed with text on them. Some men like to have chains that carry their names or their lover's name. Furthermore, some flaunt and embrace chains that show their religious preferences.
On the other hand, some guys opt to wear plain chains. They do not like the presence and injection of ornaments on their chains. The rest of the styles are chains carrying religious emblems that are embossed with crosses and scapulars.
Chain Materials
Whenever you are out to buy a chain, then consider the fact that from which materials it is made! Like, men chains are made by using precious and expensive metals. Some are made of steel ball and leather thongs and some are constructed by hemp cords and colored cords.
Expensive men chains are generally and mainly made by using gold chain material and silver. At times, designers prefer using palladium and platinum, and also steel. Only those materials should be used while making chains that are not reactive at all. In addition, it is advised to use those kinds of materials that maintain chain shape for years and years.
Hence, try to inject and emboss those materials in your chain that retain and intact its intricate shape and demands minimal maintenance as well. You can let us know which chain material you prefer and how your choice differs from the past and present times.
Chain length
We have mentioned this point that chains are of a short and mid-length and some of them are of longer lengths. In the above section of this piece of writing, we have mentioned and explained chain lengths. Like, we have 16 to 18 inches of men chain lengths. This is the shortest chain length and gives this major illusion as if you have worn a choker.
Then there is this 20-inch chain length that is slightly longer as compared to the first one and remains to be marked of the perfect size for men. 22-inch chain length is a comfortable chain length as well. It is easy to position and allows you to fuse it with a pendant too.
Tips for Choosing the Best Size for Men's Chain
Now, you can well aware of the main tips and suggestions that educate men in getting the correct chain size. So, have a look at these details. Men chains are available in different options and not at all lengths are suitable and look appropriate on you. You have to make possible efforts to get the perfect and ideal chain size. The below mentioned guide will tell you what the perfect men chain size is and other important details related to it:
1. Know the Chain Size of Your Neck
Firstly, men should know the size of their necks and then shop for their desired chains. What we can suggest to them is to measure their neck size. It is the circumference of their neck that is going to determine and calculate the size of the chain that they wish to buy.
However, those men who are interested in getting long chains, then they can skip and avoid this step. For longer chains, there is no need to measure your neck size and circumference. This step should only be followed if you intend and wish to get shorter length chains for yourself.
While you measure your neck, make sure to consider adding a few of the inches to the circumference. This way, you can end up getting the right chain length and size and thus experience comfort while wearing that chain. Besides, those men who have wide necks, have to avoid and stop wearing shorter length chains.
2. Your Body Type and Face Shape Matter a lot!
While you are out to buy a chain for yourself, then consider your face shape and body type factor as well. Your chain choice and all these factors should go and flow in the sink. You can successfully get the best chain size if you know and well understand the basics of your face and body shape.
Apart from that, the height factor matters a lot too. There is no point in getting a long chain if you are a short heighted person. Such a combination and styling sense looks quite weird. Those men whose height is up to 5 feet 4 inches, then they should avoid wearing a long chain.
Moreover, for short heightened men, the ideal chain size is around and about 16-20 inches. Short men wearing long chains look awkward and overwhelming when they flaunt longer length chains. At the same time, short heightened men need to avoid and completely stop wearing chunky chain kind of designs.
For taller men, they are allowed to wear chains of any size and length. They are given lots of options and liberty in this regard. The only thing that tall men should evaluate is their face shape and then finalizes chain size and style.
It is observed that taller men should go for those chains that manage to accentuate their overall facial features. In addition, tall heightened men need to avoid chokers and short chains if they have got a round face shape.
Besides, those men who have an oval-shaped face, they are permitted to wear any chain length. It is seen that a long face goes perfectly and ideally well with all kinds of chains. And men having a heart-faced shape should go with a short chain.
3. Chain Sizing and Clothing
The last factor is to keep in mind the chain size and also your clothing sense. You can only create a perfect and ideal match between your chain and clothing is they are synchronized and flow in-sink with each other.
For shorter chains, it is recommended to men wear shirts whose necks are well exposed. Like, they can have V-neck shirts. And longer chains easily and conveniently go well with all kinds of men's shirts and outfits.
EVERY MAN HAS HIS OWN STYLE. DETERMINE THE BEST LENGTH AND WIDTH TO MATCH YOUR STYLE.
Question: What type of shirts will you wear it with?
Answer: There are various shirt styles that you can accompany with different kinds of chains. Like, you can have collared or non-collared shirts with your chains! Longer chains always look great and decent enough with non-collared shirts. Men wearing T-shirts or if they prefer to wear round neck shirts, then they should not wear longer chains with them.
Question: Can you wear the necklace over or under your t-shirt?
Answer: It is totally and entirely up to you whether you want to wear a chain over your shirt or under your shirt, the choice is up to you. It even depends on the chain lengths that tells and hint at you whether it is appropriate to wear chains over the shirts or under the shirts. According to experts, it is easy and convenient to wear chains that come with a thin pendant and it is advisable to wear them under your shirts. Furthermore, chains having thick pendants or large in size crystals, they should be worn under your shirts.
Question: Do you need a necklace that can be adjusted to wear at different lengths?
Answer: It is constantly seen that men and women prefer to have those kinds of chains that are adjustable. When it comes to adjustable chains, they give you full option to either make them short chains or longer length chains. Like, if you have worn a Henley shirt, then with such a shirt, an 18-inch chain suits well. Moreover, if you have put up a V-neck shirt, then 20-inch chains go well with them. So, instead of buying separate chains, it is better to look for your adjustable chains.
Question: Is the necklace for a casual or more formal style?
Answer: There is a wide variety of chains and necklaces that are meant for casual and formal styling. Like, if men wanted to opt for casual style, then they usually go for chains of any length. Furthermore, for formal styling, it is better to wear chains with button-down collared shirts. In the market, you can see such an extensive variety of chains that give you many options to style and personalize your whole attire.
Conclusion
We are much sure that now you have understood the details on what size chain a man should wear! If you have any further questions, then freely pen down those queried to us.
In addition, always get a good chain and make it well complementary looking with your outfit, face, and body shape. If you want to see yourself as a well-dressed-looking man, then get the correct chain size.
You can share your feedback with us and let us know how you shop chains and how you style them up! You can even show your collection to us and keep on styling your attire with chains.