Rings
What Rings Look Best On Short Fat Fingers? Experts Advise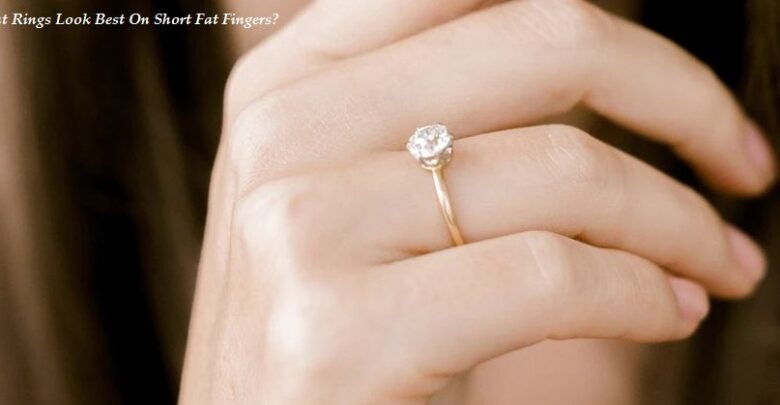 Different finger types are flattered by different statement rings. And obviously, everyone out there has a different type of finger shape, style, and size. One must choose the perfect flattering ring for his/her unique finger type. Whether your fingers are long, short, fat, wide, or slender, you should select the right ring that looks great on you and not just in the display case. The right ring for short fat fingers is the rings with pear, marquise, or oval-cut stones. These type of designs work very well for short fingers because they create a positive gesture on your short fingers.
You might have noticed that there are many rings you find looking great, but as long as you put them onto your finger, they do not look as great as they were looking in the display case. But do not worry too much, there is always a ring style and design to suit every finger or hand out there. We will be happy to provide you with that certain ring that is specifically made for your finger accent.
Luckily, you don't need to spend hours trying on different rings from the display case, but with little effort and a small amount of guidance, you can narrow down your choices. Whether you are choosing a ring for yourself or as a gift for your loved ones, use these suggestions to jumpstart your exploration and find the most flattering ring for every unique finger shape and style.
Finger length X Finger Width + Ring Shape + Style = The Perfect Match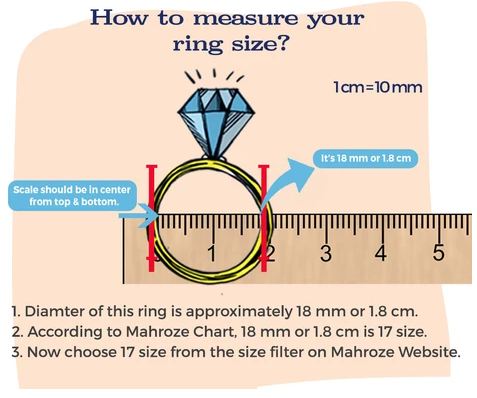 The most utmost thing to keep in mind while looking for a ring is to consider one's finger size. The more deeply, you should be known for your finger length and width along with the overall size of your hand. Also suppose your nail length and shape, because they also become part of these proportions. Now by comparing these values to:
The width and style of the ring
The size and style of the main gemstone
The pattern of the main ring design
You can get a perfect match of the ring with your hand or finger. Your satisfaction is the most important thing to us. That is why, for your ease, all these proportions are compared below in detail.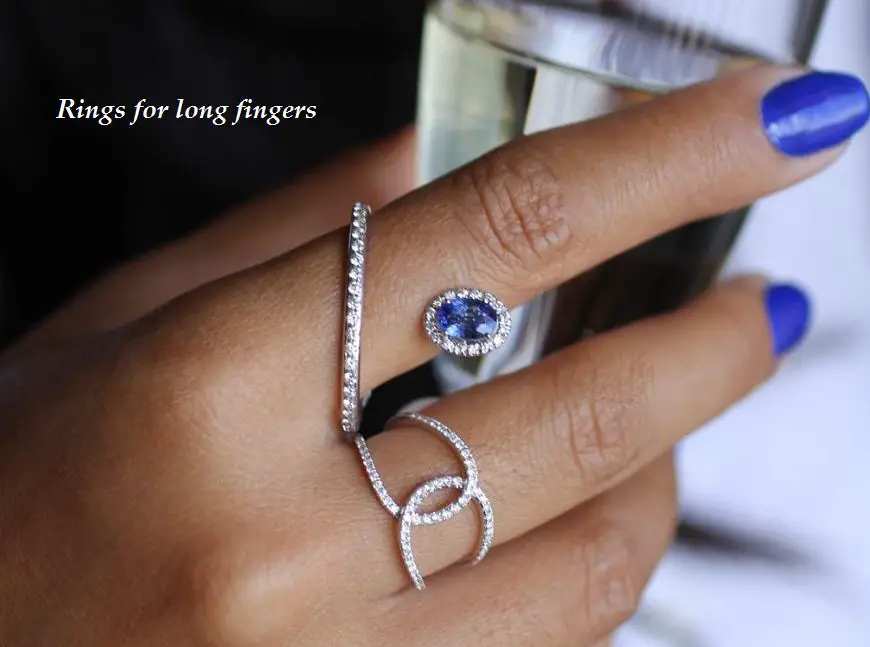 Are you having fingers that are long and thin? Well! On average, there exist more people with longer fingers than people with short fingers. And the good news is that most of the engagement rings look good on long fingers. Consider these best recommendations while choosing a ring for your thin, long fingers:
Wider bands tend to cover the length of your finger.

Inexpensive Rings that Won't Tarnish with round stones and especially princess-cuts are most flattering.

You can also carry bold style rings, only if they suit your thin fingers.
Do not try too heavyweight rings as they may look weird on your thin fingers.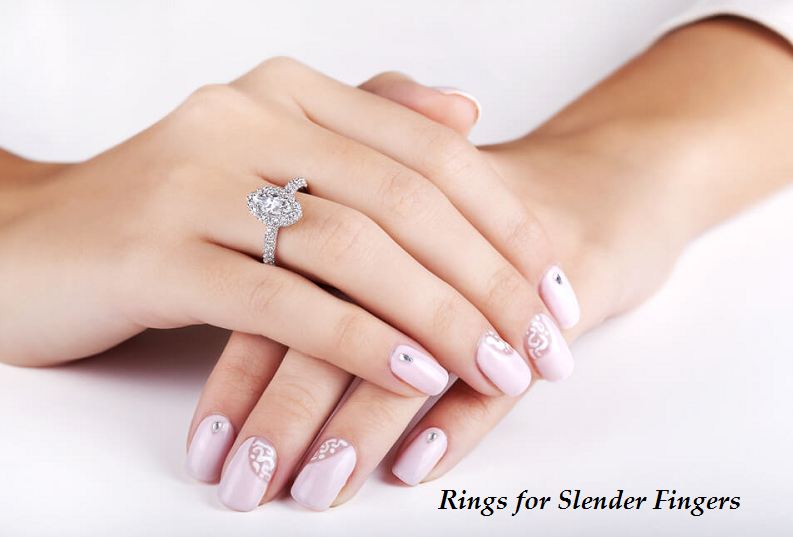 Do you have slender fingers? Well! We have got you. While choosing a ring for your slender, the main focus should be not to make them too empowered. You need to follow some unconditional guidances here:
Choose Matching Promise Rings for Couples with small stones. Because smaller stones will help your slender fingers appear wider comparatively.
Further, to widen the look of your slender fingers, you can choose thicker bands.
Make sure the ring is chunky so it will make your slender finger somehow bulky.
Oval or pearl stones may lengthen your fingers and appear more slender, you must avoid them.
Slender, narrow-width bands create the illusion of thinness, you have to avoid them if you already have slender fingers.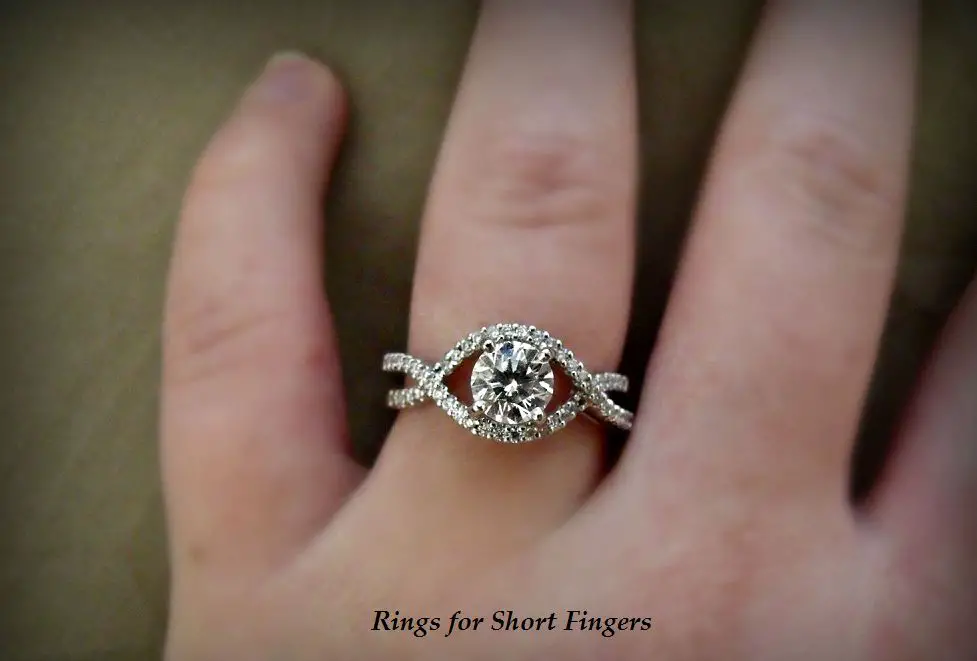 If you have short fingers, the main focus should be how you can make your fingers look longer. Whatever the ring you are going to choose, consider the point that it should help elongate your finger to appear longer and lengthen. Here, the width of the ring does not matter enough.
You can choose between Oval, Pear, or Marquise stones that help in lengthening your fingers.
Small rectangular emerald-shaped stones lengthen short fingers but try avoiding too large and overwhelmed stones.
Try slender wedding bands with a narrow width, that will create the vision of length and help elongate your short fingers.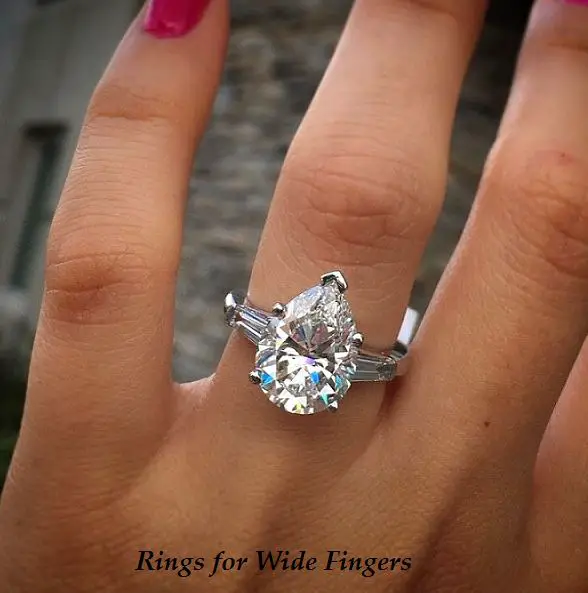 Are your fingers wider than usual? 
This is a piece of good news by itself. Because having wide fingers gives you more space to have fun trying a wide variety of
Rings That Won't Turn Your Finger Green
. The best solution is to try choosing such rings that cover more skin on either side of the finger. You can consider the styles below:
Wide fingers? Choose any stone oval, marquise, rectangular, or emerald. Just make sure it is wider as well.
Don't choose narrow stones, for they will make your wide fingers even wider.
Cluster round gemstones in larger settings are also flattering.
Select a thick band, if not, choose at least a medium width band.
To further minimize the width of your fingers, go with asymmetrical designs and more angular shapes.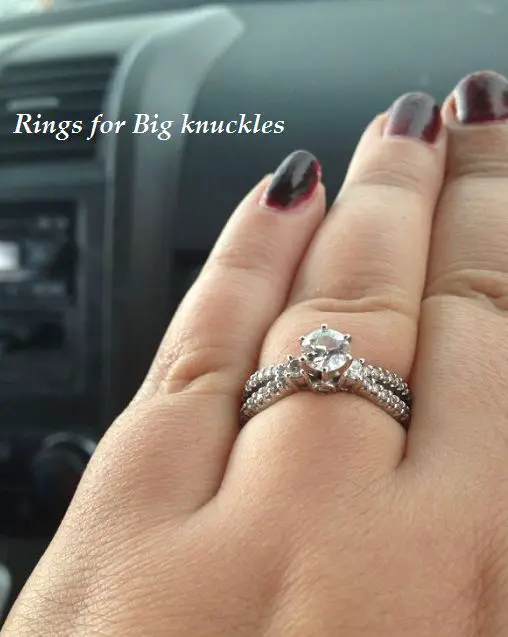 Having big knuckles that negatively attract everyone? Don't worry! We are going to suggest to you the rings that will draw attention away from your big knuckles. All you need is to consider these minor details while selecting the rings for you:
Always carry off bold statement rings.
Find thicker, heavier bands for they will attract people towards the ring and not toward the middle of the finger.
Always keep in mind the concept of a larger ring, while shopping for Cute Rings for Your Girlfriend.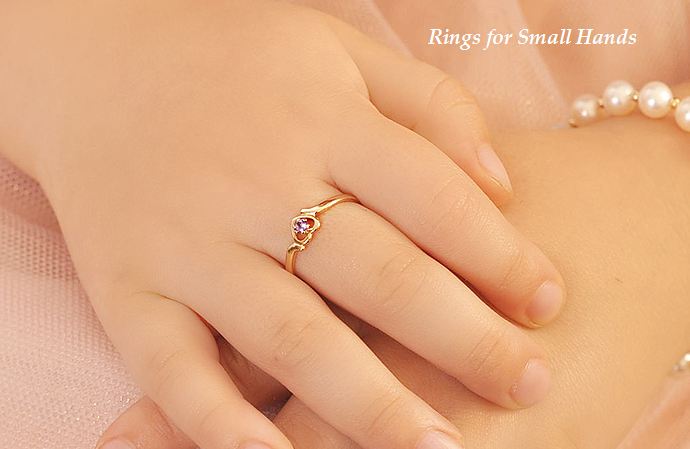 Besides the size and the shape of fingers, one can also consider the size of the overall hand to find the best ring match for him/her. If your hands are small in size, then suppose the steps below to get the best match of the ring with your overall hand structure:
Try to keep the overall proportion of the ring small, for example, the ring that measures small in its width, length, or the size of the stone.
Choose round, oval, or heart-shaped stones especially with princess-cut patterns.
Choose decent, thin, and lightweight items.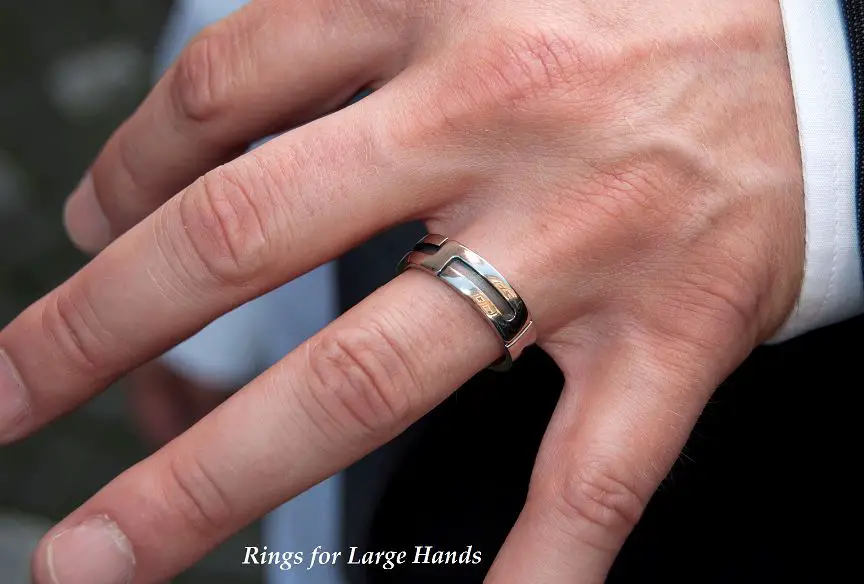 If you have large hands, then you have a larger room to have fun while trying different types of rings. Consider the following guidelines to get the best ring if you have comparatively large hands.
Opposite of the small hand's suggestion, choose larger Fashion Rings for Fat Fingers that suit your large hands.
You can surely carry off large, bulky, and chunky rings if you have large hands.
How to make rings look good on fat fingers?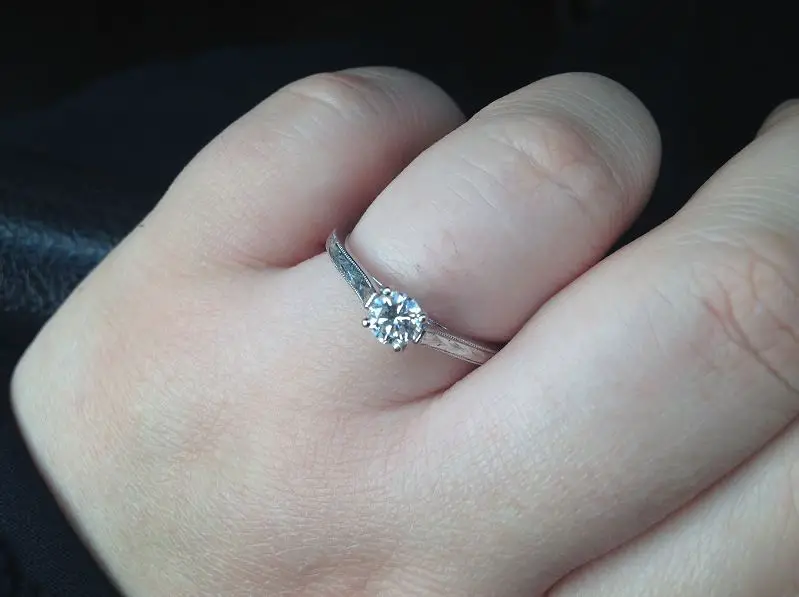 When you are looking for rings that make your fat finger look slender, you should try rings with wider settings because they cover more skin of your finger. And when there is less skin visible on either side of the ring, the ring will look larger and your finger narrower than it is.
You need to avoid more of the rings with smaller settings because these rings create an illusion of wider fingers, and ultimately, it will make your fingers appear even wider and fatty. You might want to choose a ring with normally thicker bands for your fingers to look thinner and to easily stand out.
One of our suggestions will be to try a halo ring design. A Halo-designed ring is one of the most common popular ring designs and can be an ideal design if you are having fat, short, or wider fingers. Halo design creates a lengthening effect and helps in elongating your fingers, perfectly making them appear less thick. And the best thing about halo design is that there are a lot of different settings or designs to choose from in halo design, including single, double, triple, and hidden halo ring settings.
Pros and Cons of Double-Halo Settings for Fat Finger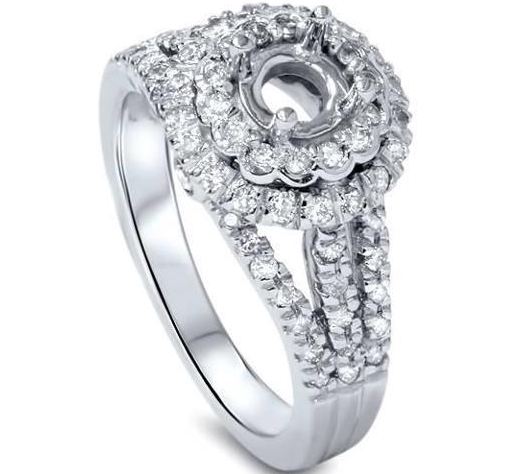 ➔   Pros
You can get an extraordinary and brilliant halo setting with a nice sparkle of the central gemstone.
The center stone makes your finger look slimmer by creating an illusion of a more prominent and large ring.
Makes your finger appear long and slim, hence, a good choice for fast, short, and wide fingers.
➔   Cons
Not an ideal choice for people with slender and thin fingers, because it will make the finger appear even longer and slimmer.
One of the drawbacks of halo setting ring design could be that it can be a little expensive.
Pros and Cons of Fat  Fingers
➔    Pros
The biggest benefit of fat fingers is that most of the large, overwhelmed, and bold rings can be worn on these fingers that people with slender fingers cannot wear.
Having fat fingers gives you more room to have fun trying different chunky, attractive and bold rings.
➔    Cons
One drawback of fat fingers could be the size of the ring is not easily available. When you find something great, there's always a risk of not having the proper size available for that product. That sometimes forces us to forget our favorite rings.
Fat fingers are not ugly, however, trying to blame them for every task you can't do gives you a sense of degradation and makes you unhappy with your fat fingers.
Shopping Tips for Short Fat Fingers
With little effort and a few guidelines, you can easily choose the best match of the ring with your fat chubby fingers. If you have fat chubby fingers and want to shop for a ring for them, then you must consider some tips and tricks explained below:
Always focus on rings with wider and larger settings. Because they hide most of the skin of your finger, making them look less chubby and longer.
Avoid small setting rings, as they cover less skin on either side of the finger and further appear the finger even fatty and chubby.
Choose rings with slightly thick bands and not thin bands.
Your finger's chubbiness is emphasized by extra thick bands, so avoid rings with extra thickened bands.
Avoid the rings with square designs because they increase the illusion of width, making your finger fatter.
Instead of square designs, choose rings with oval, round, or heart shape settings as their cut-design will not further emphasize your fingers.
Choose rings with pearl, oval, round, heart, and marquise shape gemstones that will elongate your finger.
Try to find the rings with soft edges and avoid rings with sharp edges.
Rings with elongated brushed, hammered, stamped patterns could be worn on chubby fingers but keep in mind that the ring should be large enough that it doesn't look like a tiny item on your fat finger.