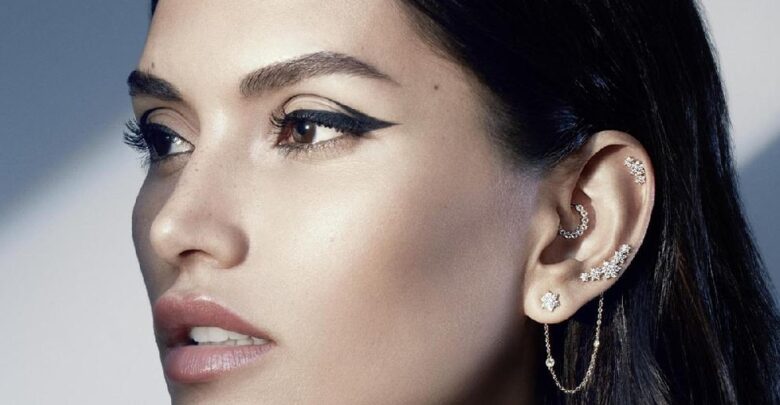 Are you looking for safe and easy methods to quickly reopen your partially closed-ear piercing hole?  Do you feel that reopening the closed-ear piercing will damage your skin?
Well for the newbie, making an effort to reopen their closed-ear piercing at home on their own is quite an intricate and hassle task. But we are right here available for you to give you better guidance about how you can easily reopen your partially closed-ear piercing hole.
If you are not fond of wearing earrings all the time regularly, then there are high chances that your piercing hole will get close due to the certain reactions of the body over the punctured area.  But there is no need to worry about it because you can reopen it very easily.
Let's guide you a bit about it!
8 Ways to Reopen your Partially Closed Ear Piercing Hole
Washing Hands with Antibacterial Soap
Firstly it is important to wash your hands to avoid any sort of infection which might pass through the area of the piercing.  If you overlook this step, there are chances that your ear piercing can face the issue of swelling or redness. It can even cause the discharge of pus.
If you don't want the reopening of ear piercing to get ruined, then make sure you use an antibacterial soap to wash your hands with mild water. Dry it by using a clean towel.
Best Soap to Clean Belly Button Piercing in 2020 | Complete Guide
Giving Friction to Earlobe
Now you have to be careful much when it comes to rubbing the earlobes s you can add some friction into your ear piercing for an easy opening. You can often stretch them so you can open the holes.  To let the holes be open up, you should stretch it carefully. But make sure you are not rubbing it harshly because it can cause lobes to get sore.
Know your Piercing Hole
As you will touch your earlobe, you will feel a small knit which is your piercing hole.  This knot is the dead ski layering which is stuck in the middle of the piercing hole.  Hence this is quite similar to the situation which will make you feel that now your punctured hole is in the healing stages.
Select Earring with Accurate Post
You should also avoid wearing the thick post because it will be hard for you to go right through the area of partially closed-ear piercing hole.
Cleaning the Earrings
You should put your earrings in the rubbing alcohol so you can disinfect them which makes it completely free from the bacteria.  For cleaning purposes, you can use antibiotics or hydrogen peroxide.  It is important to clean your earrings before wearing them by using antibacterial soap. In this way, you simply ward off any sort of potential sign of infection and hence make your jewelry secure to wear.
Applying Vaseline to Coat Earring
If your hole is closed up for the last so many days, then probably you will feel a little discomfort or minor pain while inserting jewelry inside the hole. To make it painless for you, you can apply a Vaseline on the earring so you can slide more easily all through the area of the piercing.
You should avoid the application of Vaseline on the front part because it will be difficult for the earring to hold it as they might slide down.  If you feel allergic to Vaseline, you can instead use grapeseed oil or virgin olive oil as the best alternative.
How To Heal a Ripped Ear Piercing at Home? Torn
Wear your Earrings in Front of the Mirror:
Always wear your earrings while standing in front of the mirror. You should be holding the earlobe with the freehand. Now you have to press the piercing main hole with the use of your thumb. This will make the piercing area to be thin enough as compared to the remaining of your earlobe.
Twist the Earring Slowly
The last tip is about twisting the earlobe for which you need to be gentle and soft with your hand's movement.  Twisting the earring will make it so much easy for you to make it travel through a partially opened hole.  Stop at a certain point and gently insert the earring at some different angle if you feel numbness or pain.
How you can reopen a Recently Closed Piercing?
If you have by mistake forgotten to put up your earrings in the last couple of days, then it might not be hard for you to reopen your ear piercing.  There are high chances that the thin layering of the skin will clog the original skin hole. Firstly wash your hands and sterilize the certain area where you are making an effort to insert your earring. You have to gently wiggle the earring inside it. Do not force it if you start experiencing some pain.
How you can reopen a Fairly New Closed Piercing?
It might be possible that your fairly new piercing has been closed down due to certain complications.   Most of the time, a certain material of earring can cause allergy for your piercing skin after which it can get closed! This can even happen after 6 months as well.  If such a situation arises, it is better to see a doctor straight away.
How to reopen an old piercing?
Some women are quite often fond of reopening their old piercing hole as well.  If your piercing area has been closed for the past 6 months, then to reopen it carefully you have to attend your professional doctor.  This is because a thin layer of skin has overlapped the original hole which only a professional expert can help you to deal with.
What Does Getting Your Ears Pierced Feel Like?
How you can Sterilize Your Environment to Reopen the Closed Ear Piercing?
If you want to reopen your closed-ear piercing at home smoothly and gently, then it is important to sterilize your environment.  Below are the 4 major steps about sterilizing the environment for the reopening of the piercing hole:
Step No 1:
Firstly you have to soften the skin which is around the earlobe.  Before you make an effort to reopen the piercing hole, you have to soften up your skin by taking a warm shower. This will make the whole process of hole reopening easy for you.
Step No 2:
Now wash the hands and wear some latex gloves. Use an antibacterial soap for washing your hands for at least 30 seconds so you can clean away all sorts of bacteria out of your hands.
Step No 3:
Thirdly, you have to disinfect your earrings by using the rubbing alcohol. You can use Isopropyl alcohol which you can get from any pharmacy center. Rubbing the alcohol is a strong disinfects and will kill away all sorts of bacteria or the fungi which are on the piercing surface.
You have to damp up the cotton swab or the cotton ball by rubbing alcohol and clean away the earrings which are having thin posts.  You can use these earrings to open your hole of the earrings.  Place your earrings on some clean dry surface.  If you have any sort of allergies, you should use some sterling silver or the hypoallergenic earring to completely avoid any sort of allergic reaction.
Step No 4:
In the last step, you have to clean the earlobe. And for that sake, you will be using a new cotton ball or a piece of a cotton swab to fully clean your earlobe with the rubbing alcohol. Make sure you clean it from the front and then at the back of the lobe. You have to pay close attention to the opening of the earring hole.
Is 16 Gauge Normal For Ear Piercing? Quick Guide
Tips to Follow to Take Care of Your Piercings
You should keep the earrings in for several weeks. As you have reopened the piercing, you should let the small earring stay inserted in the piecing for a maximum of 6 weeks.  If you have removed your earrings earlier, then possibly the holes might start to grow all over again.
Make sure you clean the ears with water and soap. They do need a proper cleaning at least twice times in one day. To wash your hands, you can use a bar of antibacterial soap and wash away the earlobes with warm water. This will help your piercing to stay away from any sort of bacterial infection.
Make a habit to twist the earring on daily basis. Grab the earring gently and twist it. Do this movement each day to completely prevent the piercing from closing again
Tips
If in case you are not able to work with your earrings through the front side, then you can instead try to wiggle the earring post through the back of the earlobe.
Warnings
If you experience excessive redness, swelling, or pain in your earlobe, seek medical attention straight away.