Earrings
How Long after Ear Piercing Can i Change Earrings?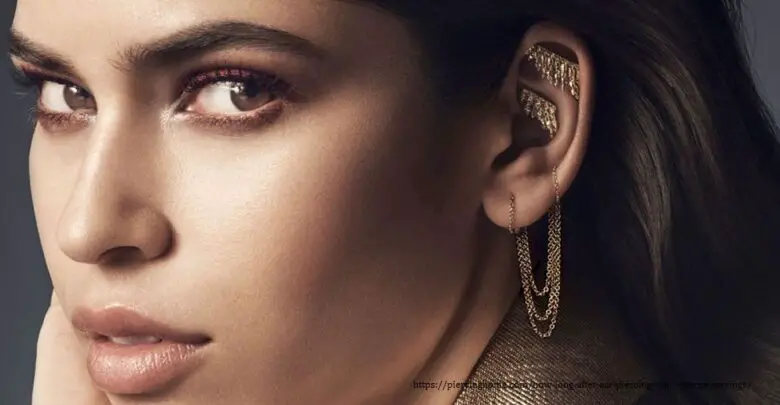 Last week I met one of my friends who was disturbed about a certain ear infection and skin irritation she was facing over her newly pierced ear area. She told me that she was very much conscious about giving the piercing area proper aftercare. She even told that she has taken her piercing stud out which piercer has inserted into her ear to keep her ear away from bacteria.
Well, that was the moment when I smiled at her and explained to her about her actual mistake of piercing infection!
Yes, you heard it right! She changed her earrings soon after the piercing when the area was not completely healed.
Many of us do this mistake because we are not completely aware of aftercare of piercing, cleaning it properly and the actual time frame to change it.
Right through this guide, we will explain all your queries about changing earrings after piercing! Get answers to your queries right below!
How long to clean ears after piercing?
After the new piercing, you have to wash your ears with a warm mild water at a normal temperature. Apply gentle soap before you touch the piercing area so you can avoid any sort of bacteria to interact with your piercing area.
Now take a cotton pad or small swab and clean your piercing area. You can even have it dip into the rubbing alcohol for better cleanliness. You can use it around your piercing area at least thrice times in one day to remove any sort of bacteria. Just dab the piercing and do not wipe it.
How do I know if my ear piercing is healed?
Cartilage ear piercings will probably take one year to get fully healed. But on a general basis, 4-6 months will be enough and all. Once it gets fully healed, the outside area of the skin will look normal.
But if you get an assumption that your ear piercing has been completely healed, you should consult your piercing expert. They will inspect your piercing condition and will help you to figure out whether it is completely healed or will require some more time.
Can I change my earring after 1 week?
Various people will have their time frame to get completely healed from the ear piercing. Your time frame of the healing period will be different from another person. Few people are comfortable enough to change their earring the next day of ear piercing.
But for me, changing an earring the very next day is a harmful step. It can infect your ear and will let the bacteria to move into your ear piercing area to make it much more infectious. Any sort of exposure to the infection can also increase the healing time of piercing.
Can I change my earrings after 5 weeks?
Many piercing experts will recommend you avoid changing your earring after 5 weeks most importantly if it is cartilage piercing. Ear lobe piercing will take almost 3-6 months to get completely healed whereas cartilage piercing will take around 12 months.
It is a bad idea to change the earrings after 5 weeks because it can cause certain bacteria or infections to move into your ear. Possibly it will cause some skin infections too. So the simple answer will be a complete "NO".
Can I change my earring after 1 day?
No, this is a big mistake! If you are changing your earring after 1 day then you are yourself giving an invitation to a painful ordeal infection for your ear.
This can also expose your flesh wound to get into the issues of bacteria and dirt. Plus, possibly your healing period will increase as well. While you are wearing any new earrings, make sure you sterilize it first.
Can I change my piercing after 2 weeks?
A normal piercing will take almost 12 months to get properly healed on safe terms. And if you want to change your piercing after 2 weeks, then this is the biggest mistake.
Changing the piercing after 2 weeks will let your piercing to get into skin issues or certain infection problems. You should wait for a maximum of 6 months to have your piercing get completely healed. Once the healing process has ended, you are free to wear your favorite pair of earrings.
Can I change my earrings after 3 days?
Do not attempt to do this at all! This is the biggest mistake. Possibly your skin might be different from other people based on which healing time will be different so much.
Some of the people are comfortable enough to change their earrings after 1 day but this is just because their piercing skin is letting them do so. Before you change your earring after 3 days make sure that your piercing is completely healed. Otherwise, your skin can be prone to bacteria attack or certain skin issues.
Best Earrings for Daith Piercing in 2020 | Experts Guide
Can I change my earrings after 5 days?
No, not at all! If you are planning to change your piercing after 5 days, then you are doing a big mistake. You should always consult your piercing expert first to have your piercing get changed.
After 5 days your piercing area is not completely healed and changing the earring will make it get more infectious to the bacteria or some skin issues.
Can I change my earrings after 4 weeks?
If in case your piercing has been on the ear lobes, then you can choose to change the earrings after one month. You should be careful to follow some aftercare precautions so you can avoid any sort of ear or skin infections.
If the piercing has not been healed completely, then it can lead to some issues of exposing the wound to bacteria. Cartilage piercing will take around 5-9 months to get completely healed. It might be possible that your skin will allow you to get healed even before 5 months which is a great fortune for you.
Can I change my earrings after 6 weeks?
Changing your earrings over the new piercing area is not a big issue for you if you have given your piercing proper cleanliness and aftercare. After 5 weeks, you will have your ear lobe piercing to be completely healed based on how your body will react.
At the time of changing the piercing if you feel any sort of irritation, then avoid changing and make sure you do wait for a few more days. Wash your hands and sanitize the piercing area.
Once your piercing has been done, the piercer will guide you to a specific time frame after which you can change your earrings. Ear lobe piercing will have an approximate healing time of 6 months whereas cartilage piercing will take around 12 months.
Healing time is different for different people which depend according on their skin type area. If you will change your piercing before 6 weeks then it is possible much that your ear will get highly prone to the irritation and infection of bacteria. It can also increase your healing time which is a big drawback for you.
How to look after a new ear piercing?
The whole process of taking care of ear piercing is equally important the same as the process of piercing. To take care of your new ear piercing, you have to follow some guidelines mentioned below:
You should let your piercing area be completely cleaned thrice times a day with an aftercare solution.
Plus you should make sure you do rotate the piercing stud at360° at least 3 times every day.
Always wash your hands before you touch the piercing area so you can keep your ear away from any sort of bacteria.
You should have the new piercing be soaked into the saline or salt solution thrice times a day. Make use of some clean or soaked gauze to clean the whole area.
You should always take professional help to do the piercing for the first time.
How long do ear piercings take to heal?
Most of the ear lobe piercing will take almost 6 weeks to get completely healed once you are done with it. But the whole scenario of the healing will be based on how much care you are giving to your piercing.
It will be completely healed in a couple of months but the standard time is around 3-9 months. Based on the piercing location, it might take some long time to get healed.
What to do on the day you get your ears pierced?
On the day when you finally decide to get the ear piercing, it becomes so crucial for you to choose the actual location where you want to do the piercing. It is obvious much that if you are planning to do the piercing, then you want it over such an area where it is visible to other people as well.
You have to make sure that the preferred location is observing the sanitation and sterility when you are using any equipment at the procedure. You should avoid all sorts of activities which can lead your piercing area to face any sort of irritation and dirt.
Avoid rubbing the ears or bumping into any such thing which can irritate your piercing area. If still you are touching your new piercing, make sure you do clean your hands first.
10 Best Earrings For Newly Pierced Ears in 2020 | Type of Time
What not to do while your ear piercing is healing?
Aftercare of the ear piercing is quite a long process but it is quite repetitive. As you master yourself I the aftercare and cleaning routine, you will heal your piercing in less time.
When your ear piercing is in the healing stages, you should avoid playing with your piercing until it is not healed completely. Be careful while you are changing your clothes and make sure you do not sleep on the side of the piercing.
Easy ways to clean an ear after getting ear piercing
Before you touch or even clean your ear piercing, you should make sure that you do wash your hands with antibacterial soap. This will avid all sorts of bacteria or dirt to move into your piercing area.
You should take a clean piece of cloth or use a cotton swab by dipping it into the saline solution. You do have a choice where you can also mix it with distilled water and salt to create a similar solution.
Swab your piercing gently with the cotton swab or easy fabric around the piercing, and not forgetting the back of your ear. Afterward, flip your piercing stud gently between your fingers and turning it at 360°, each anticlockwise and clockwise.
Apply an antibiotic ointment to the ends of the jewelry and then rotate them in each direction, to permit the ointment to enter the piercing. Clean your piercings at least twice a day during the morning and bedtime routines.
Can you switch earrings right after piercing?
Well, it completely depends on your skin ear type! Some of the piercing experts will recommend you avoid changing the piercing after 6 months which is the accurate healing time.
Every single person has a different skin type which will bring a change in healing time as well. Some people can comfortably change their piercing the next day which is quite common. But at the same time, this can prone your piercing area to get easily affected by bacteria and skin infections.
Can i take my newly pierced earrings out for an hour?
No, this is a big mistake! Changing or taking the newly piercing out of your ear for an hour can cause your piercing area to get affected by skin irritation.
If still you want to have it changed, then it is better to consult your piercer who can better guide you about which time frame will be safe for your ears.
Well, the time frame will depend upon the way you are giving your ears the care and attention it needed. For the ear lobe piercing, you have to wait for a maximum of 6 months, and for cartilage piercing, the approximate healing time is 12 months.
At a general level, you have to wait for a maximum of 6 months to have your earrings get changed. You should never change it until and unless you are not sure of the fact that whether your piercing is properly healed or not.
What happens if you change your earrings too early after piercing them?
Changing your piercing too early after the piercing can cause your piercing area of the ear to get infected from different skin irritation and bacteria issues. It is a big mistake to have your earrings get changed before the healing process comes to an end.
It is not just welcoming the bacteria and skin infections but it will also increase the healing time of your piercing progress as well. Talk to your piercer and take better guidance from them about changing the piercing.
Conclusion
Well, this was the end of the discussion about how you can give your ear piercing proper care and maintenance for successful healing. No matter whatsoever your ear piercing condition is, you should always consult your piercing expert for better guidance.
But we are sure that through our detailed discussion you will be able to learn a proper period when you can easily have your ear piercing be changed.
Give your ear piercing better care right now!
10 Best Earring Material for Sensitive Ears in 2020 | Complete Guide