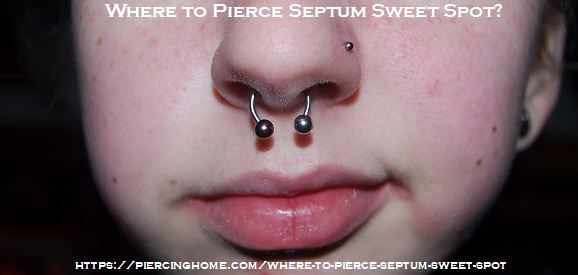 Where to Pierce Septum Sweet Spot? Well if you are not aware of this whole concept, then this blog will be giving you a complete guide about it! With time, the demand and popularity of the septum piercing have been getting hugely in the latest trend among the women and teenage girls.
Such a style of septum piercing so much easy to handle and you can easily hide them as well.  The best thing about this piercing style is that it won't be leaving any sort of mark as you will be taking this out at any moment.  Hence at the end of the day, it will be leaving an attractive and beautiful symmetry in your whole face.
Let's have a quick and detailed guide about it as mentioned below for the readers!
When we talk about septum piercing, it is a form of piercing that is traveling through your nasal septum. It is normally inserted in between the area of your nostrils. The needle will be going all through the thin flesh of your nose skin in the front direction. You need to be a lot careful about the jewelry piece you are using such as any hoop or septum rings or even horseshoe.
How painful are septum piercings?
If you are performing the art of septum piercing for the first time, then probably it can be a lot uncomfortable for you in the starting few days. This is because a pointed sharp needle is pushed right into your skin which is later on replaced by the thick metal piece.
Every single person has their tolerance in terms of pain so you need to be prepared mentally and physically to cross yourself through the process of a septum piercing. On ordinary basis, you will possibly feel water yes or sneeze too much.
Why is my nose piercing still not healed after a year?
How are septum piercings done?
Septum piercings are quite similar to the rest of the piercings.  The only difference comes around in the variation processing method. In the starting stages, the piercer will be cleaning that specific area which is needed to be pierced. They will normally perform it by using a small piece of the clamp to hold upon the septum.
Later on, it will be passed through the cannula which is a hollow needed attached through the tube. It will be passed through the area of your nose before inserting any sort of jewelry through this new hole. The entire process of piercing gets finished once the jewelry piece has been secured.
How long is the healing process

f

or a septum p

iercing?
Just like any other method of piercing, you need to be careful and perform some aftercare with the septum piercings as well.
Try to leave it alone as much as possible and make sure you clean it daily with some saltwater use.  You can even make the use of saline spray as well which can relieve you against any sort of pain.
A small amount of white discharge is completely normal, but if you notice any yellow or green pus, your piercing is at the danger of getting infected. However, your piercer should give you all the necessary aftercare information.
In case still you are not able to heal it, you can better make your way back to piercing experts all over again for better precautionary measures.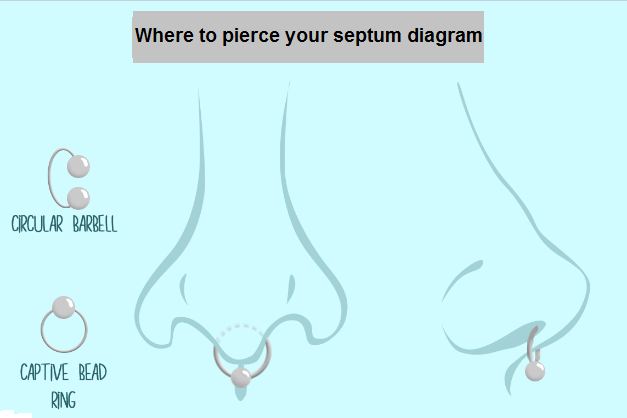 Where to pierce your septum diagram
Septum piercings don't take exceptionally long to heal. If your piercing is especially hot, aggravated, or setting aside a long effort to heal down, just see your piercer right away. It's imperative to manage any piercing before any diseases or sensitivities come around in your way!
It probably takes the time of around 5 weeks to let the nose skin return to the normal condition. But you can change your jewelry piece only after 2 months.
Every single person has their own body healing time based on which you can change the jewelry hoop, and if we talk about the septum piercing pain scale i can give it 7/10 because as we all knows that nothing is painful as compare to the tounge piercings.
If you are not sure whether your piercing has been healed or not, just visit your piercer all over again and ask them to check it all over again.
How Many Piercings Can You Get at Once in Your Ear? Complete Guide
How to clean septum piercing at home?
Once you are done with the piercing, you should not be playing with the new piercing jewelry piece for at least one month of the period. Avoid moving it around your piercing area or even flipping it in a downward or upward direction. Never pull out the ring until and unless you are not instructed to do so. You should clean your piercing with some mild cold water although it is not so much important and necessary.
After using cold water and some recommended antiseptic cleansing, you should be careful cleaning both sides of piercing. For cleaning your nose, you should skip using your fingertips and always use some Q-Tips for septum piercing infection.  It might be a little uncomfortable for you in the beginning, but soon you will get used to it.
 Here let me also share you a complete video from you tube about it: 
Furthermore, your general health criteria will always leave a lasting impact on the healing time of your septum piercing. Keep your body hydrated all the time and make sure you don't get into any sort of cold outbreak. Avoid taking the stress and keep yourself healthy by taking maximum hours of sleep.  Avoid having your nose getting in touch with water more often. Water can damage your septum piercing on different nose shapes piercing even more.
How to hide a septum piercing from your parents?
The reason why septum piercings are taken to be so much favorite is that they are so much easy to hide. You don't need to take stress about changing changing septum piercing early all the time as you can easily flip it away from your nostrils and this is how you can change it! Still, we have some important considerations discussed below for you:
You need to make the selection of any septum ring which is half-moon or barbell in shape. Otherwise, you won't be able to flip any other jewelry piece.
Be careful to make sure that the opening is completely wide so you can effectively flip it all around your nose area. If your nostrils are small, then try to pick some wide barbell.
In case if you are fully stretching the septum larger, then pick small balls to prevent any sort of airflow from your nostrils.
What Does a Septum Piercing Say About You?
Why does my septum piercing smell like poop?
With some of the people, a common issue might take place when their septum piercing starts giving a weird smell. This is quite common!  You can even call it by the name of septum funk. If your smell is a combination of blood,septum piercing pain, and yellow pus, then this is a big problem for you.
This smell is about the buildup of dead skin cells which is taking place in your body as the piercing starts to heal down. You should keep the crooked septum piercing completely clean and try to choose wooden or glass jewelry to reduce the smell.
How long does it take for a piercing to close?
Similarly, as with most piercings, this depends to what extent you have had it. In the condition that if you have kept piercing for more than a couple of months, the opening may not ever completely heal. In any case, it will shrivel a lot, and because of the arrangement of the piercing,it's quite probable that anybody will ever observe the hole away and if even it get close, you can also find following tutorial from youtube about how to reopen septum piercing?
How to take off septum piercing for the first time?
Once the period of 8 weeks has passed away, this is the moment when you should think about changing your basic septum jewelry.  You can even choose to make your way back to the piercer to get an idea about when the jewelry piece needs to be changed.
If in case the original piercing has been held within the balls, you have to simply unscrew it and then slide it all out!  You might be finding so many different forms of jewelry options for piercing, so it is better to take advice from your piercing expert.
Keep your hands clean and properly disinfect the specific area or even the jewelry.
Here let me show you complete guided video that how do you take out a low septum piercing?
How to remove the piercing?
Based on the jewelry you are choosing to perform the piercing, you can either choose to remove off the balls or can also undo the clicker with clean hands. This is to be done before you slide the bar out of the nose.
Why my septum piercing won't flip up?
In case if you are having horseshoe-type based septum jewelry, you will be finding it a lot easy to hide the piercing without any hassle. There are although different forms of methods, so it is important to consult the expert on the piercing.  But some of the people do pull their mouth skin down so they can let their piercing to be visible. Thus, this becomes so much easy if your cartilage septum piercing is fold and the nose is less swollen.
How can you stretch a septum piercing?
Typically, your septum will be pierced with 16g/1.2mm jewelry, or 14g/1.6mm. In case you are choosing to stretch it to be a considerably set with greater opening, you have to go super gradually as the ligament will begin to relocate up the nose.
Counsel your piercer, yet numerous individuals suggest holding up somewhere in the range of four and a half years before beginning to stretch. You should then hold up two or three months between gauges too.
You should be pushing the pin all through the septum and then line up the new plug through the biggest ending of a pin. Listen to your own body and do not pus it for more than 1mm every month, but it can be vary int he case of double septum piercing.
Conclusion
Well discussing the whole scenario of septum sweet spot piercing, we will say that performing the art of piercing is not at all hard to exist until and unless you will be giving it ultimate aftercare. Follow your piercer instructions and make sure your piercing gives a flaunting effect to your facial appearance.