Jewelry Guide
What Kind of Metal is Lia Sophia Jewelry Made Of? In-Depth Guide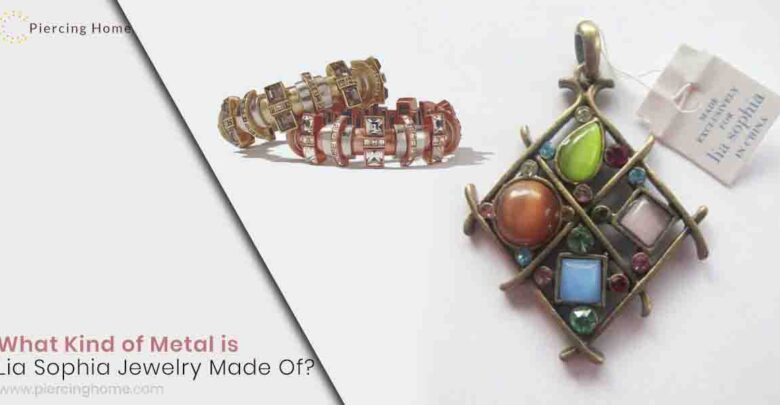 So, what kind of metal is Lia Sophia jewelry made of! Let us have a look at the details of this question. This company does not use any precious metals or real gold on its jewelry. Instead, it goes for the plating process. We know that the jewelry collection designed by this company has always been loved but it is no longer in its operations.
In addition, their jewelry pieces are not made of real gold. You can get this general idea that all of their jewelry pieces have been fully plated. It is just the gemstones that give us the glimpse of being higher-quality. Moreover, the gemstones used by this jewelry company come in the form of clear and dyed crystals.
Here you will get complete information regarding which metals are used by Lia Sophia in their jewelry designing process and what kind of gemstones do they use! We know that is one of the famous jewelry companies but currently, they have closed their operations.
If you have had the experience of wearing Lia Sophia jewelry, then do let us know which metal they use. In this post, we further explore this jewelry brand, so stay tuned with us:
Lia Sophia Jewelry History
Before we jump on the actual piece of the discussion, you should know the history of this jewelry-making brand! So, starting with, it comes in the form of direct sales jewelry company. The overall mission of their collections is to empower women and nothing less than that. In addition, this company runs on the non-profit concept.
This company used to make highly budget-friendly and low-cost jewelry pieces and this was the main thing that brought them into the limelight. It is just the saleswomen who used to do marketing and extensive advertising of Lia Sophia jewelry pieces. They used to give a general overview of the jewelry collections launched by this brand and even give the audience catalogs so that they can have a look at the pictures.

It was right in the time of 1986 that this company started its operations. In addition, it came out as a jewelry division and marked itself as a personal-care product empire. This company got immense fame and popularity because of introducing items like of women's electric shavers as well as men's mustache trimmers.
Note down that when Lady Remington owner named Victor Kiam died in the time of 2001, then his son, Tory took over the operations of this company. He became the boss of this jewelry business company. He was the one who totally and wholly revamped the brand image of this jewelry-making company.
Besides, he relaunched this brand in the time of 2004. He gave it a new name and that was Lia Sophia after his daughter. On the arrival of Tory, this jewelry brand embraced more of the modern and trendy feel it. It was Tory Kiam and also his wife, Elena that managed to run the Chicago-based company and that company includes over 200 jewelry pieces. Both of them were into direct-sales operations so that this brand may appeal to the entire Hollywood community.
What is Lia Sophia Jewelry Made of?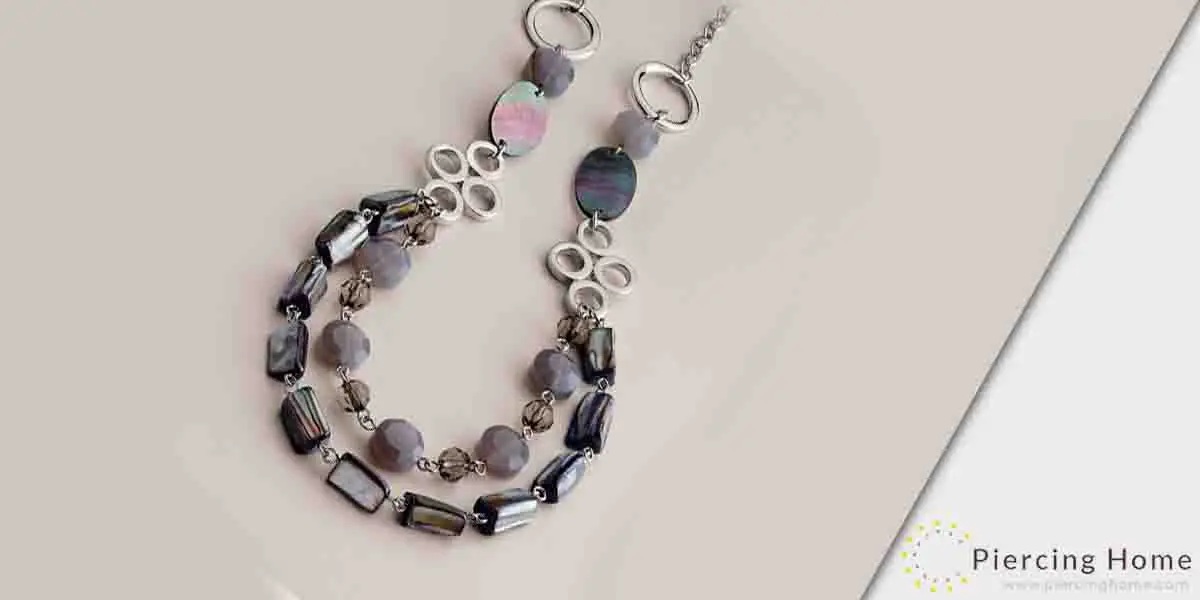 You might be wondering what metal is used by the Lia Sophia brand in their jewelry, here you can check out the details! Keep in mind that all of their jewelry designs are linked to the costume jewelry niche. Their jewelry pieces are affordable and do not cost much. In addition, this respective company does not make use of real and precious metals in their jewelry pieces.
But the main point that is their jewelry is always of high quality because they emboss silver plating and gold plating on their jewelry. If you have invested in the Lia Sophia silver jewelry products, then you will see that they remain anti-tarnish and these silver products are also made of Rhodium. Note down that this one is a precious metal and it belongs to the Platinum family.
On the other hand, if you have planned to buy Lia Sophia gold jewelry products, then they are usually 18K-22K electroplated and remain to stay long-lasting. Their gold-plated jewelry offers lustrous shine and that makes them more impressive looking. Besides, the kind of stones used by them, they are of resin or come in the form of glass beads. At times, the Lia Sophia jewelry collection has crystals and pearls embossed on them. They have even inducted semi-precious stones in a few of their jewelry pieces.
Talking about the collection of this brand earrings collection! We have seen that they use surgical steel material in their earrings so that they can be worn by people having sensitive skin. Most importantly, this brand is possessed with a distinguishable and unique sense of style. We hope that till now you have got a rough idea of the point from which metal is Lia Sophia jewelry made of and for more details, you can check out the content of the below-mentioned post. It will be going to elaborate more on this area.
Is Lia Sophia Real Silver?
Now, you have got the details on the metal type used by Lia Sophia on their jewelry pieces, here you can know whether this brand makes use of real silver or not! We have already told you that this company is a costume jewelry company and their jewelry stuff is of low price.
They do not use real and heavily priced precious metals and gemstones while making jewelry. Besides, they simply gold plate or silver plate their jewelry stuff and that is all! You can now believe that this brand does not use real silver and real gold. They only follow the plating technique to bring an impressive spark to their jewelry collections.
You might have also spotted that their jewelry is composed of materials like micro-plated rhodium and micro-plated silver. All in all, they are known for their electroplated jewelry line of collection. If you have got their gold earrings, gold rings, or gold necklace, then there is a massive chance that they are 14K gold plated or 22K gold-plated.
On the other hand, the backside of all of their earrings is made of stainless surgical steel. Some people have sensitive ears and they could not wear earrings that are made of non-surgical steel. It is because of this reason that the Lia Sophia brand has used surgical steel content at the backside section of their earrings so that people with skin sensitivities can enjoy wearing their jewelry collection.
In the same way, if you will look closely at their earrings, most of them have multicolored gemstones embossed on them. This one is the exclusive specialty and unique selling point shown by the Lia Sophia brand in their earrings collection! Celebs and common people love their multicolored earrings. Do you know that their most popular earrings collection was available in the mint color, yes it is true.
So if you are a fan of wearing multicolored gemstones earrings, do try out their collection if it is available on online shopping sites. Their earrings and rings and even their necklaces are embossed with texture circle designs and that makes them super impressive.
Thus, we can come on the rough and general bottom line that this brand does not use real silver. It is only their practices of electroplating that gives us the vibe and feel that the Lia Sophia jewelry is of real gold or silver but that is not the case. All of their jewelry collections are electroplated and this practice is openly claimed by the owner of this company.
Is Lia Sophia Jewelry Expensive?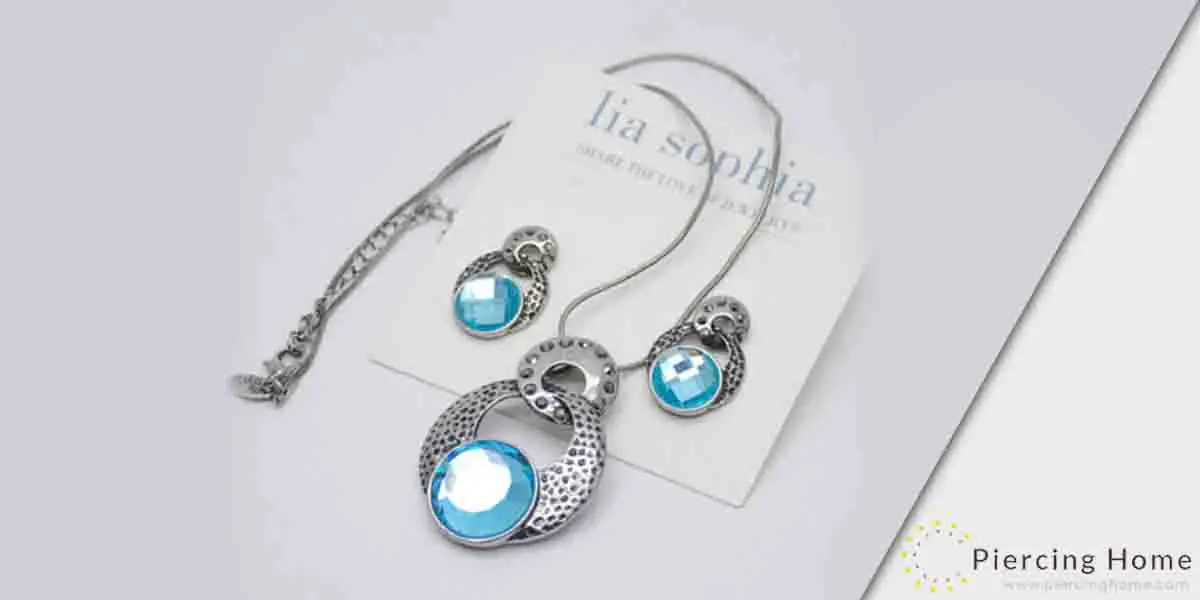 No, the jewelry designed by the Lia Sophia brand is not at all expensive. You can afford each bit of their jewelry range because they come with low and cost-friendly price tags. As no real gold and no real silver is used by this brand, that is why their jewelry collection falls into the inexpensive category.
Unlike Brighton jewelry, We can say that it is one of the most affordable jewelry brands. In addition, it makes high-quality jewelry pieces and demands low prices in return. They announce offers like if you buy two jewelry items, then the third item will be offered at the half-price rate, how amazing it is!
Furthermore, the jewelry designs of the Lia Sophia brand come in all sorts of shapes. They give geometrical shapes to their jewelry collection and end up offering and launching modern-looking jewelry. You might have seen that lots of their jewelry pieces are incorporated with designs like of bubbles, circles, and also angles, triangles. Thus, this brand is known for its key and unique signature characteristics.
What Happened to Lia Sophia Jewelry?
Most of the readers have heard this news that the Lia Sophia jewelry making brand is no longer in its operations, yes it is true! It got shut down in the year 2015 after serving in this jewelry-making niche for 28 years. You have known this brand as the direct sales jewelry company.
But this sad news came in 2015 that they are shutting down their facility. This company was known because of its sales representatives because they worked so much tirelessly and dedicatedly in this company. One of their noticeable sales representatives is Cindy West. They were involved in the direct-sales business, and their other jobs are to do mentoring other junior-level sales representatives.
The news of their shut down operations also came as a heavy blow for many celebs like Jennifer Lawrence. This company was facing lots of challenges, that is why they have to withdraw themselves from this jewelry-making industry.  It was in the time of December 2014 that this bomb was dropped and the fans of Lia Sophia got so much disappointed. The staff has to quit their job and the company did not abide by their lifetime replacement guarantee phase.
They only make this thing clear those customers who bought the jewelry in between the times of June 23, 2011, and also Dec. 1, 2014, can go for settlements and not anyone else. In addition, the suit filed on the Lia Sophia brand was that this company failed to honor its lifetime guarantee aspect.
Some customers have complained that though the company shut down its operations, still they are selling online and not fulfilling their lifetime guarantee service. These figures came on the media sources that on estimated notes, four million customers, 19,000 sales representatives, and 2,700 new sales associates- all of them were marked eligible for settlements.
Is Lia Sophia Jewelry Still in Business?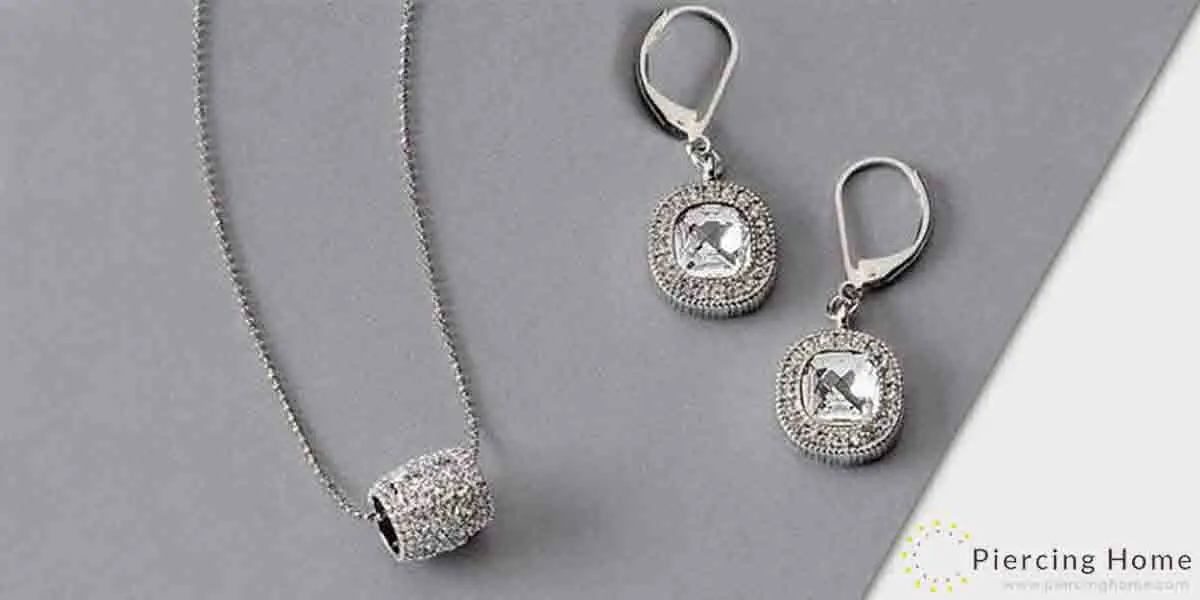 Now, most people have this question that is this jewelry-making brand Lia Sophia still in business? It is not in business, it has shut down its physical facility operations but some of the sales representatives are selling Lia Sophia jewelry collections online. We have mentioned this point to you that this company hired and recruited independent sales reps and currently they have followed this same practice. You might spot Lia Sophia jewelry collections on online shopping sites for sure.
Most noteworthy, this company Lia Sophia did not continue its operations because of the challenging environment. The tough and competitive business environment was not in their favor, for the reason that they had to shut down their operations. Lots of the fans and lovers of this brand present in the USA were of this belief that this was the painful decision taken by the company and they should have opted for some other path instead of withdrawing and quitting themselves from the jewelry industry!
For the information, Victor Kiam manages to buy this direct-sales jewelry company in the year of 1986 and it is also renamed with the title of Lady Remington. Do you know that his son renamed it right after the names of two of his daughters during the time of 2004, yes it is true! In addition, during the year 2008, the company of Lia Sophia had around and about 28,000 independent sales representatives and they used to sell $100 million worth of jewelry in a year.
Though this company has been shut down, its staff used to make massive and earn huge! It is claimed by the official website of Lia Sophia that all of its entry-level advisers used to take 30 percent of their sales, and they manage to make $7,500 annually and this was the time of 2012.  In addition, the zone leader makes around and about $357,000annual income.
All of the sales representatives of the Lia Sophia brand were quite shocked by this decision when they heard that the company is closing down. During this shut-off mode, the company made the decision to sell off all of its jewelry pieces on 50% off. Those staff members who had been associated with this company for years and years got so much shattered. In addition, 900 Lia Sophia sales representatives reported that they got the news during a conference.
Is Lia Sophia Jewelry Worth Anything?
It is quite true that the jewelry made and designed by the Lia Sophia brand is worthy enough. If you are looking for budget-friendly jewelry pieces that look stylish and modern looking as well, then you can on shooing this brand. In addition, their jewelry line is linked with the costume jewelry line niche. It is in just a few of the dollars that you end up buying a high-quality and modern-looking necklace or earring piece. Besides, customers have called and marked their jewelry as extremely valuable and stylish looking from all angles. If you could not invest a ton of money while buying branded and hi-fi jewelry, then choose Lia Sophie because its jewelry designs will not let you down.
Is Lia Sophia Jewelry Sterling Silver?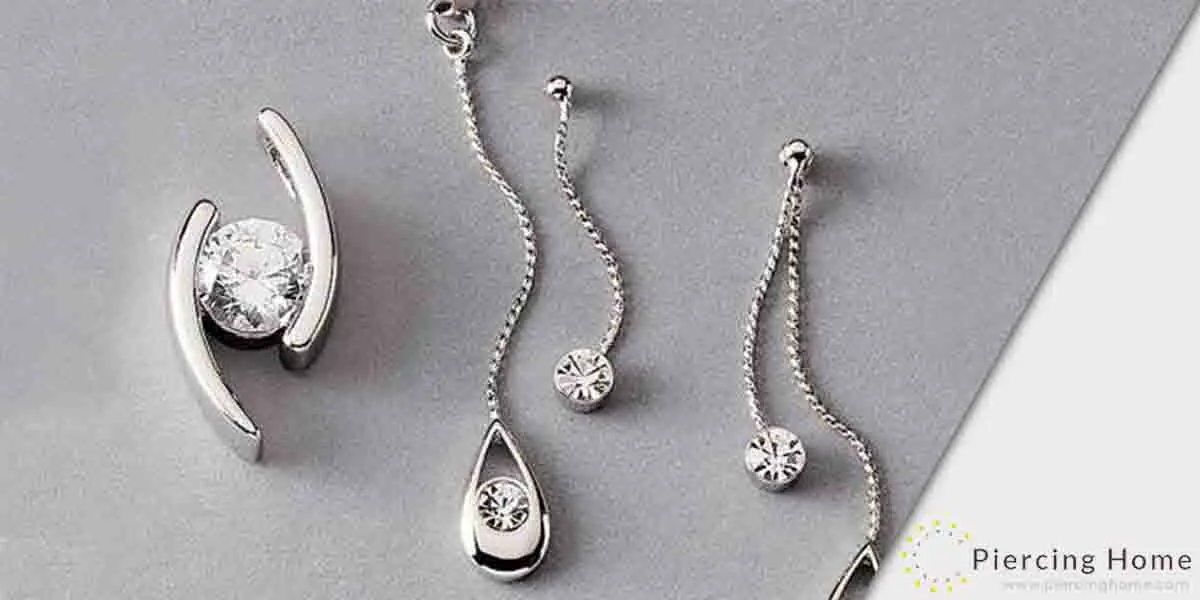 The brand of Lia Sophia does not make use of real sterling silver in its jewelry collections. They just follow the electroplating procedure and give a silver metal look or gold metal look to their jewelry. As it is costume jewelry, that is why they do not use and emboss real metals in any of their jewelry pieces. They have openly stated this fact that real and precious metals are not used by them and they plate the metals simply! Besides, the gemstones used on their sterling silver jewelry, are also not real. They use clear or dyed crystals but the quality offered from their side is impressive. They electroplate their sterling silver jewelry in a way that it looks completely real.
What is Lia Sophia Earrings Made Of?
The earrings by the Lia Sophia brand are either gold-plated or silver-plated. They are not made and are composed of real gold. In addition, the gemstones and crystals inducted on these gemstones belong to the category of dyed and clear crystals. The only reason that this is a budget-friendly and low-cost jewelry brand, it happens because they do not use real gold and real silver. We again like to repeat that they do not make use of real precious metals. Whatever jewelry piece you will find in their catalog or online shopping sites, they are gold plated and silver plated. The gemstones are crafted and extracted from sources like clear or dyed crystals.
Conclusion
You can give us your feedback as well on the topic, what kind of metal is Lia Sophia jewelry made of! If you had been a fan of this direct-sales jewelry company, then do share with us your experience.
Most importantly, you should note down that the Lia Sophia is no longer in operations. They shut down their jewelry-making activities in 2015 because of the tough and competitive business environment. This news came as a shock and a big blow for all of us. The company of Lia Sophia is known for designing high-end and budget-friendly jewelry pieces and now they are gone!
Rest, this company has never and ever used real gold and real silver in their jewelry collection. The plate their jewelry lines and emboss the electroplating effect on them. Like their rings or earrings might be gold plated or silver plated. All of their jewelry pieces come in the form of distinguished pieces and they even offer affordable prices.  The sad part is that you cannot have Lia Sophia's jewelry line in the stores. You will only find them on online shopping sites and nowhere else!
If you have any Lia Sophia jewelry pieces, let us know your feedback on their design, price, and quality. Currently, this company is not operational and as soon as they will reveal any of the news on their comeback, we will let you know. Moreover, you can share with us if you have ever ring, earrings or necklaces from this jewelry-making company.