Earrings
10 Best earrings that toddlers can't take out | Complete Guide
No doubt baby's ear piercing is becoming more trendy, just like the adult's piercing. Earrings like the adults add sparkles to the baby's natural beauty. The babies with elegant shiny earrings in tiny ears look much more beautiful, it enhances the cuteness of babies.
Toddlers like adults can't take in and out their earrings on their own, so they need to have the earrings which toddlers can wear all the time with no irritation. Baby's ears are more sensitive than adults, so we carefully choose the quality and material of earrings used for babies. In most cases, we choose earrings for toddlers that they can wear all the time without infecting ears.
Such earrings are nickel-free, lead-free, and hypoallergenic thus don't cause any harm to the ear. Moreover, the toddlers may damage their earlobes by pulling earrings continuously so they need earrings that they cannot take out on their own.
By keeping all the needs in mind, here's a list of elegant earrings that besides beautiful designs not only enhance the beauty of your baby but also provide a cozy sensation by preventing irritation and infection of the ear. These earrings cannot fall off from your child's ears even after continuous effort.
14K Yellow Gold CZ Small Heart Screw Back Earrings For Baby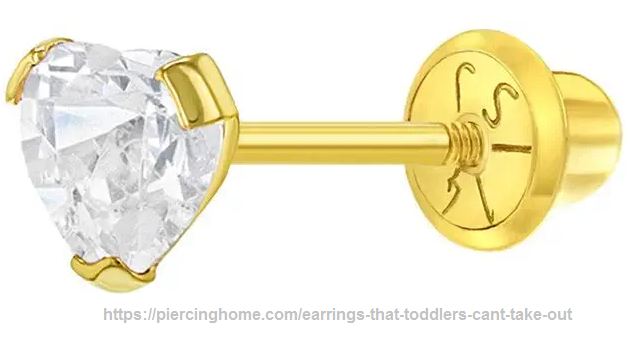 Delicate and classic 14K yellow gold earrings add sparkle to your child's look. We design these lightweight earrings with an eye-catching, heart-shaped cubic zirconia that gives a sparkling look. Screw Backs are also fastened with this pair to ensure comfort and security.
Features
The scratch-resistant studded heart-shaped cubic zirconia is enough for adding glamour and elegance.
14K Yellow Gold ensures the long-lasting durability of the earrings.
Lead-free, Nickel-free and hypoallergenic qualities of these pairs are reliable for sensitive ears.
Screw backs provide a tight backing, thus prevents the earrings from falling out
The lightweight of the earrings prevents dangling and irritation during a nap.
Best Earring Backs for Sensitive Ears
Gold High Polished Shiny Ball Post Stud Screw back Earrings: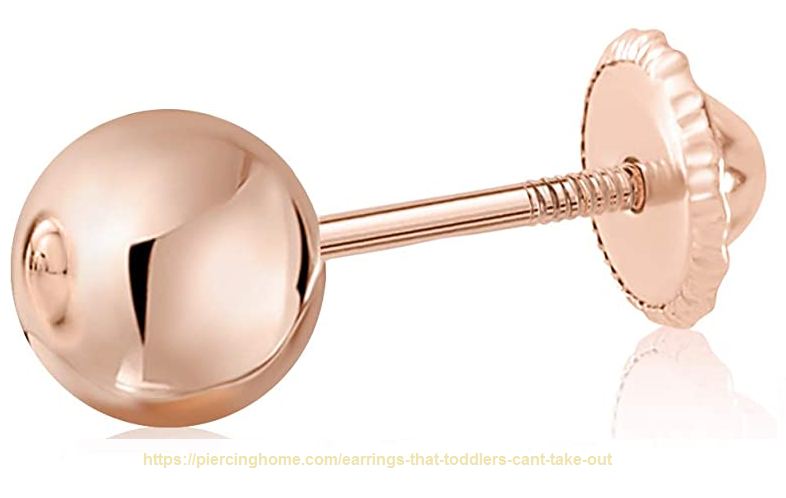 A unique choice of earrings can give your child a captivating look. This pair of earrings are highly polished with gold which gives them a refined look.  We secure these earrings with a screw back to ensure safety.
Features
The gold polished earrings are enough to give an impression of luxury.
The tiny size of earrings enables it to wear it even during the nap without dangling with your child's hair.
This pair of earrings are best for sensitive ears because they are nickel-free, lead-free, and hypoallergenic so prevent any allergic reaction.
The ball post stud screw back prevents this pair from falling off and gives a secure sensation.
Best Earrings for Toddlers with Sensitive Ears
18K Gold Plated Surgical Steel Hypoallergenic Stud Earrings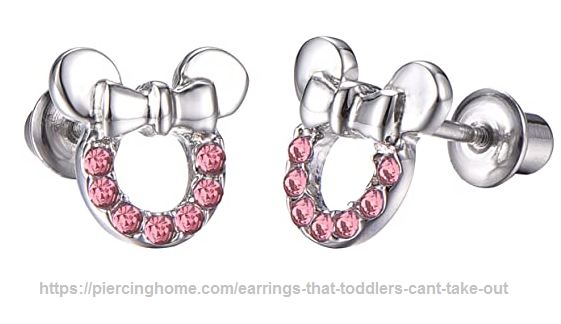 The classy mouse design of these earrings with firmly paved crystals is specifically designed to give a charming style to your child. These are polished with 18K Gold and made with surgical stainless steel These sparkly earrings are available in different brilliant colors Screwback of the stud is highly reliable for constant use.
Features
The dazzling 18K Gold studs add a hint of glamour to the outfit of your child.
Stainless surgical steel prevents any allergic reaction, so it can be used confidently all the time.
These pairs are highly hypoallergenic,  nickel-free, and lead-free, this prevents any allergic reaction and irritation.
The unique mouse shape of the earrings gives them an eye-catching look.
The vibrant crystals in the earrings add elegance to your style at any event.
These lightweight earrings are best for sensitive ears so your child can wear it all the time with no discomfort.
The secure screw back ensures safety and comfort.
Best Earring Material for Sensitive Ears
Esberry 18K Gold Plated 925 Sterling Silver Rose Stud Earrings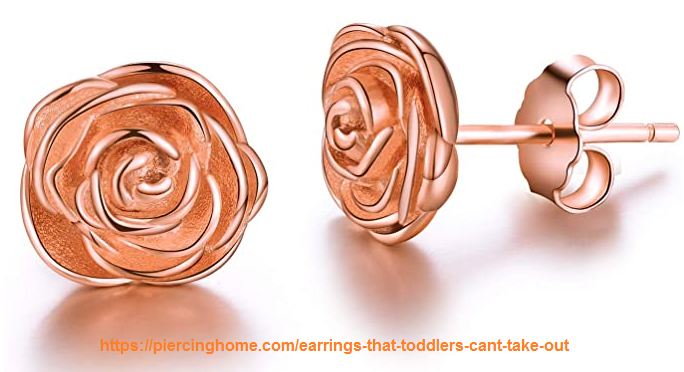 The brilliant floral designed earrings are highly attention-getting These are made of 925 stainless silver and polished with gold, thus these earrings are long-lasting and highly reliable. The rose design of earrings is trendsetting. Screw Back of the studs fit perfectly.
Features
The captivating floral design is the most recommended design for your child and young girls.
These rose earrings can be used at any event, adding glamour to your style.
925 Sterling Silver is suitable;e for sensitive ears thus preventing discomfort.
18K gold makes an unforgettable fashion statement so can perfectly go with any outfit.
Lightweight earrings ensure a comfy sensation to your child, even during a nap.
These are hypoallergenic and free from lead and nickel, thus preventing any allergic reaction.
Screw back prevents the earrings from falling off and dangling with hairs.
Best Earring Hooks for Sensitive Ears
Hypoallergenic Titanium 14K Gold Stainless Steel Earrings: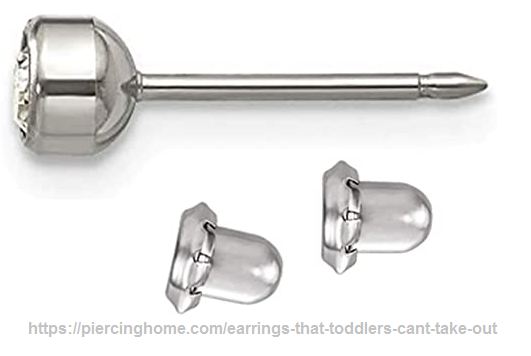 Statement-making Titanium earrings add grace to your style. These pairs of earrings are hypoallergenic, thus nickel-free and lead-free. Sterling silver with plated gold gives a touch of elegance. Different sizes are available for this captivating product. Screw back ensures long-lasting usage.
Feature
Classic Titanium earrings are corrosion resistant so they are comfortable to wear and can be used during a nap.
These are available in different sizes, so can be used by both girls and women giving versatility to their look.
These scratch-resistance earrings are hypoallergenic, thus preventing an allergic reaction.
The lightweight of the earrings is the best option for sensitive ears, providing them with great comfort.
14K Gold plated on platinum gives a graceful touch on any occasion.
Screw back makes this versatile pair to use for a long period.
Expert Advice for Mommies
In the case of choosing earrings for toddlers, coziness should be your priority. The earrings for toddlers should be small-sized hypoallergenic studs that are made of non-toxic metals.
You should select such earrings for toddlers that the toddlers cannot pull out because it may harm their earlobe and may fall off from the ear. The earrings should be lightweight so that your child can wear it all the time without discomfort and dangling. Earrings with screw back should always be preferable for long-term durability.
Should a toddler wear earrings?
Earrings just like adults add grace to the child's look, but it all depends on the size and the quality of earrings you choose for your child. Earrings with inappropriate size and quality can cause irritation and discomfort and may eventually cause harm to your child's earlobe. If you choose small-sized and hypoallergenic earrings for your child, then they will not only prevent earlobe from closing but also add grace to your child's look.
What type of earrings a toddler can't able to pull out?
A wide variety of earrings is used for both young girls and toddlers but earrings for the toddlers must be selective so they don't pull them out and cannot cause harm to their earlobes In this case to most recommended earrings used for a toddler are those having screw backs that prevent the earrings from falling off. Moreover, stud earrings and butterfly back earrings cannot be takeoff by the toddlers.
How to remove toddler earrings?
Removing earrings from your child's ear is not always easy. First, wash your hands thoroughly with soap. Then put your child in a comfort zone. Move the earrings into the earthen hold the front side of the earring with index finger and thumb and carefully rotate the screw back. Keep rotating the screw back until it dispatches from earrings. Put the earrings carefully in a jewelry box.
What are the best earrings for toddlers?
The best earrings for your toddlers are 14K Gold, sterling silver, or surgical stainless steel earrings. These are hypoallergenic, nickel-free, and lead-free thus they are best for sensitive ears and prevent allergy reactions. We highly recommend stud earrings with screw back earrings for toddlers because they prevent the earring from falling off and tiny size prevents them from dangling with hair and creating any discomfort.
What kind of earrings are safe for babies?
Perfect earrings safe for babies are those that contain nontoxic metals. Earrings with toxic metals may cause irritation to the earlobe and may cause allergic reactions. Earrings with 14K Gold, Sterling silver, and Surgical stainless steel are the best choice because they are free from non-toxic metals thus prevent any allergic reaction and discomfort. Moreover small-sized and lightweight earrings are always recommended for toddlers.
What are the best backs for earrings?
In the case of young girls, a large variety of earring's backs are used because they can carry them well and there is no fear of hurting the earlobe by pulling them. Toddlers can hurt their earlobes by pulling the earrings. So, stud earrings with the screw back and butterfly back earrings are the best choices in order to attain comfort and reliability.
Earring Backs That Don't Fall Off
Conclusion
Piercings and using a variety of earrings are common among the girls and the toddlers, but the first choice is choosing the earrings that besides the elegance give a comfy sensation. Young girls can take care of their earrings but in the case of toddlers taking care of earrings is an issue so earrings choose for the toddlers must be selective. So here is a list of various elegant earrings that not only add glamour to your child's look but also prevent them from any irritation and any discomfort.
These earrings do not fall off no matter how many times your child touches them. Your child can also wear them during a nap without dangling and infecting the earlobe. These earrings are provided with a secure screw back, thus there is no risk of falling off the earrings. You can also share these earrings with young girls with guaranteed happiness.