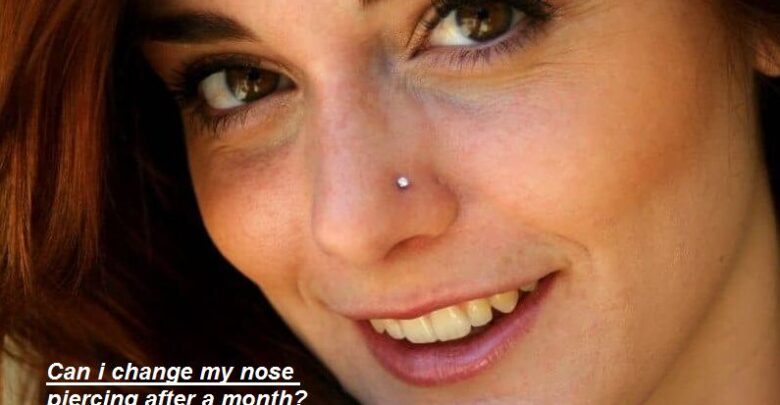 To finding the answer for this question we have to go in whole cycle of piercing, healing and time duration. The first thing you need to do is to go to your piercer and ask about it. There are lots of benefits of going to a piercer. A professional piercer have good guide about it and the second benefit is he will help you to avoid common mistakes that usually people do.
Here are some common questions and doubt that every new face, Hope your answer will be one of them.
When Can I Change My Nose Stud To a Ring

?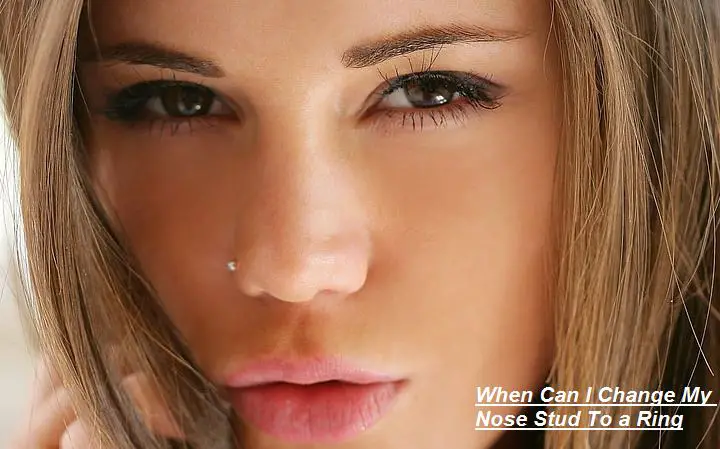 If you are going to get through piercing process then it is most important to know.After piercing the first jewelry for your nose is a nose stud most likely known as nostril stud.Your piercer will help you to buy perfect stud suitable to your type of piercing and your nose. Nose ring has particular structure which helps to make balance on nose.
Now a days we can find a huge Variety of these stud such as L post,pin and so on. Commonly started with 1.5 mm in size.But we cannot hold this for whole life.So there are a prescription which tells us about when to change it.Self examination is very important before you going through this.
For self examination simply stand in front of a mirror and notice your piercing is there any fluffiness or inflammation,Is it itching or burning,is there any yellowish point size small structure then you are not ready to change .
These are the signs of an unhealed or not fully healed piercing. A common healing period is nearly six or less then six months.
When you feel okay and there is no pain and itching then it is right time to pick up your ring .
10 Best Nose Rings That Don't Fall Out Easily at Night | Expert Advice
How to Insert Nose Ring With Ball?
There are two ends of a nose ring . For inserting it all you need to do is to grab its first end then stretch it with second end .Insert it in your piercing hole carefully with light hands from first end then attach the second end with first end inside your nose.
Some people also asked me about How to insert a nose ring with curve?  So I have also shared you with a video from you tube, which will definitely help you to understand the process:
Points to keep in your mind
Wash your hands before changing your stud.
After taking your stud off wash your piercing area with water and wipe it then wait until it turns dry.
Apply organic moisturizer after wearing nose ring.
Make sure your jwellery is made up of skin friendly material or titanium.
Use normal or plane ring instead of twisted.It might be hurt.
Twist your rings everyday.
Best Numbing Cream for Nose Piercing in 2020 | Experts Adivse
Can I Change My Nose Piercing after 4 Weeks?
After getting a piercing it is important to follow complete precautions and wait till four to six months.If you cannot wait so long so it is better to wait for a month minimum. By following proper precautions lots of people get cure easily and earlier than healing time, So they can change their nose piercing.
But before doing it it is better to concern your piercer or you can also notice your nose whether it is healed or not.It is not bad at all.
But again it is depend on kind of jewelry and piercing.For instance A nostril piercing take minimum four months to cure whether septum can be cured in two to three months and Rhino which takes a long time of six to nine months.So most likely it could be treated in case if it is septum.
Best Saline Solution For Ear Piercings in 2020 | Nose & Navel Sterile Spray
Does it hurt changing your nose piercing for the first time?
Well, It is depend on your condition of healing.According to general rule changing your piercing earlier is painful.To avoid pain wait until your piercing get cure.Wash your hands and touch you piercing to check that is there not any inflammation.
After following the instructions and precautions when you feel that your piercing is healed then it's a good deal but the better recommendation is to wait for standard time so that the pain will little.
Try to go to piercer in case if you are begginer. If you cannot go there so better in change yourself with light hands and carefully because when you give it to other it will painful and if the person to whom you choose he or she doesn't have clean or hygiene hands it might be unhealthy and cause some problems.
When Can I Change my Nose Stud to a Ring | Experts Piercing Advise
Can I change my piercing after a month?
Technically your piercing takes around four to six months to cure so it is better not to take decision too hurry. Most likely it could not be treated within the one month But In very less number of cases it is possible so definitely you can change your piercing but if you are getting swelling, itching, inflammation then immediately move to your piercer.
It is up to your healing cycle.Make sure you don't have any signs of Keloid.If you are not sure whether your piercing is cured or not so it's not a big deal to insert anything in it.
How to Prevent Nose Piercing From Falling Out in Sleep at Night?
Nose piercing sore after changing to hoop or stud?
Yes,It is happen but It is depend on how long you have piercing and how long you wait for change. soreness doesn't mean any infection, It is simply happens when you change your stud to twist or Twist to stud.
The level of soreness is also vary from people to people. Some people are delicate so they have high chances of getting infected. But in common cases it is very light and easy to treat.
All you can do is to make a hygiene routine and clear your nose everyday with sea salt and lukewarm water. Avoid touching or rubbing that area.
Why Do Guys Wear Earrings in Their Left Ear?
How do I know if my nose piercing is healed?
Your piercer has suggested you a time period after that your nose piercing will be normal which is around four to six months period so wait for the next stage. After completing your healing cycle if you are not feeling any itching, inflammation, burning, bleeding, swelling or any kind of odor then your nose is healed.But the standard recommendation is to go back to your piercer and discuss about it.
Is there any chance of infection after healing?
Sometimes lots of people think they have cured but after changing jewelry they get keloid. It happens when jewelry material is not suitable to skin or you have go in indecision that your piercing is cured whether it is not.
To avoid this keloid you can see a dermatologist or your piercer. Generally dermatologist give you tubes or gel which help you to get rid of keloid. Make sure you have a good balance between your cleaning routine and moisturizing.
Why is my nose piercing still not healed after a year?
How long until i can change my nose piercing?
Initially when you get pierced you have to wait for cure then you can change your jewelry. It is not necessary to change your stud or ring always but if you are always getting keloids so you have to change them after every week or month depend on your symptoms how often you get interacted with keloid.
But the better way is to put off your nose ring while showering and sleeping because when you take shower the water can harsh your jewelry in case if it is not made up of skin friendly material and the jewelry can give you infection or inflammation so it is better to avoid these daily life mistakes but if you choose skin friendly jewelry they won't.
The other thing is not to put off your ring when your piercing is not healed it is most likely to close the hole.The common Indian method is to put seem streak whenever you remove your jewelry.
How long before I can put a retainer in my nose piercing?
You can put a nose retainer in your nose but the term "before" is quite risky . Usually you have to wait for up to four to six months otherwise it will cause a lot more problems.
The reason why you cannot do it because these retainers are made up of glass,and some other material which can cause infection if you do it before completing healing cycle.It will create problem when you try to reinsert your jewelry.
Mostly nostril piercing is not forgiving one so better in wait for the right time and as soon as you will complete your healing cycle go to your piercer and ask him about it.
Conclusion
We have discussed some most important question and points regarding nose piercing. Apart from these you also have to remember all these things, that Nose piercing is not as toughest as climbing a huge mountain as many people think.It could be treated very easily if you are responsible for it and you are taking care of your nose.
The healing time and the precautions that you need to follow in this period of time is too important as well.A little negligence can build a great infection so make sure you are doing all these things that are mentioned above. Piercer is most important part of whole piercing process till, healing and changing ,so always take a consultancy with your piercer whenever you face these problems.