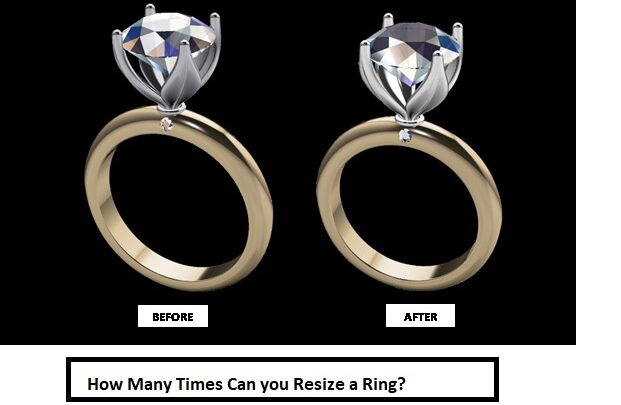 There is no need to get panic and become frustrated if your ring is not according to your size. If it is too large or too small for your finger, then it is now possible to resize it. Here you can know how many times you can resize a ring!
It is all because of the latest advancement made in the jewelry sector that the job of resizing rings has become easier. In addition, it depends on your ring type that how many times it can be resized. In other words, this whole process is dependent on your ring material, design, style, and shape.
Furthermore, it is up to a certain limit that rings are sized up and sized down. Below we have mentioned a complete explanation in this regard. If your wedding or engagement is coming up and your ring is loose or tight, then resize it as soon as possible.
There is no point of wearing that ring that looks insanely and impressively beautiful but it does not get perfectly fit on your finger. Thus, instead of feeling heartbroken, you can check out this guide.
Here you can know what the correct procedure is to resize a ring and which rings should not be resized!
How to Determine the Correct and Exact Ring Size?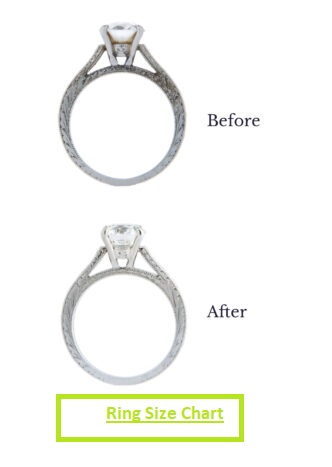 Before you plan to resize your ring, you need to determine and find out your exact ring size yours. If you know your ring size, then you might not have to get involved in the hassle of resizing your ring again and again. Most importantly, the USA ring sizes are all based and dependent on a numerical scale.
Their ring sizes reflect and showcase the millimeter circumference that is present all around the inside section of the ring. Furthermore, this scale starts from a size 3 and then goes up to a size 15. It is seen that the average ring size worn by women, is around and about 6 to 6.5. On the other hand, the average ring size for a man, is size 9 or 10.
Hints That Your Ring Should Be Resized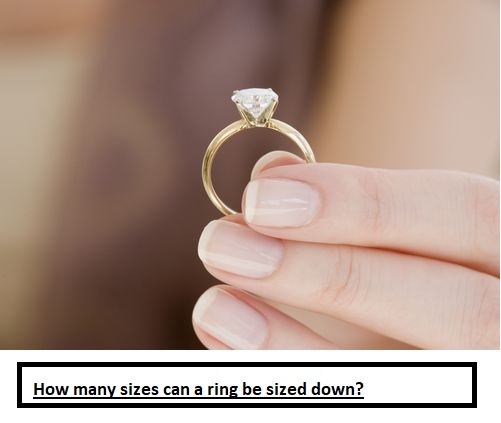 You might be wondering which of those main hints and signs are that tell you that your ring needs a resizing job! To put in the simple words, if you notice that your ring is way too smaller and way too larger for your finger, then it needs to be resized. Too small rings do not come off from your finger easily.
You cannot turn such signs. In addition, tight and too small rings may give you pale fingers. Or you get a tingly feeling upon wearing them!
A perfectly fitted ring is able to slide on your fingers conveniently and easily! It neither slides off from your finger nor does it give you a tight feel. A well-fitted ring remains resistant when it comes to sliding or falling off. You no longer feel the risk of wearing such rings.
To check whether you have worn a perfect and ideal fitted ring, you can do a few of the tests. Simple wear the ring and take it off a few times. If it slides off easily and gets back on your finger easily, it means you have got the ring size. Moreover, that ring should not put any pressure on your knuckles.
Thus, determine that ring size accurately so that you remain comfortable while wearing that ring. Incorrect ring size always gives you obvious squeezing and also a huge amount of discomfort.
What To Do If Your Ring is too Small or too Big? Resize it!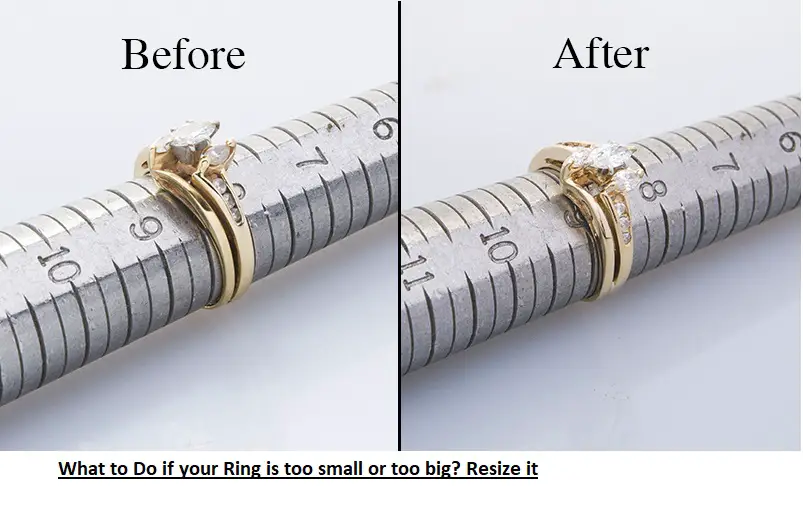 The simple procedure and technique that one can go for is the resizing if their rings are too small or large. This technique is backed and supported by celebs as well like Halle Berry. It is best to professionally resize it, this is how you can end up getting a perfectly fitted ring. Moreover, an improperly fitted ring may fall off your hands and you may lose it eventually.
For those who do not have much money to professionally resize their rings, there is a trick for them. If your ring is too large or small, you can wear it on some other finger of yours.
There is no need to considerable push and tug that ring on the same finger again and again. Some like to make use of a ring guard. This element secures your improperly fitted ring. But this trick can only be opted for and used for a short time duration.
All in all, it is definitely and for sure recommended to take your ring to an expert jeweler and ask him to resize it. The ring is an expensive investment and there is no need to ruin and damage it by resizing it on your own.
How Many Times and Frequently Can You Resize a Ring?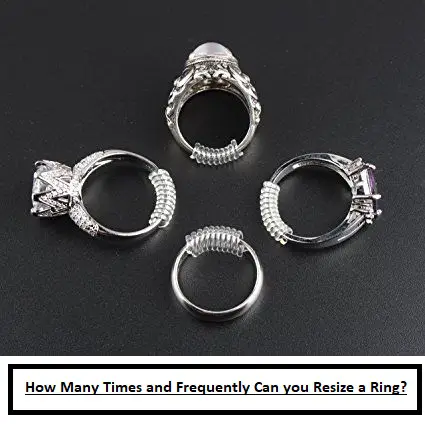 Keep in mind that there is a limit and restriction if you want to resize a ring. If you keep on resizing your ring, it may lose its original shape, texture, quality, and design. So, remain aware of this point.
Most importantly, some like to go for the size up technique or the size down technique when resizing their rings.
Besides, if your ring is durable, thick as well as heavy, you can perform this resizing job as many times as you want to! But if your ring is already delicate, then avoid resizing it multiple times.
The Process to Resize a Ring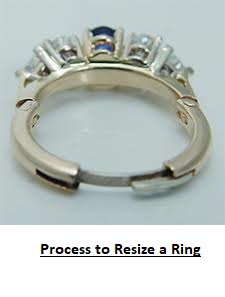 Below you can see the details and exact procedure of resizing a ring. We have mentioned both of the methods of resizing a larger ring and also a smaller ring. If your engagement is on 08-08-2021, and your ring is not up to the exact size, then follow this guide and wear a properly fitted ring on your special day.
 So, let us have a look at the details. And if you have gone through this same experience and phase, then share your feedback with us: 
Method to Resize a Ring Larger
For resizing a ring and to make it larger, the jeweler usually and generally got for stretching technique. In other words, the jeweler stretches the ring band just to make it larger enough. There is a drawback and negative aspect associated with this technique.
If you keep on stretching your ring band, then there is a chance that your ring will lose its shape. Furthermore, this technique may go to loosen and weaken its structural integrity. The recommended technique that you can go for regarding enlarging your ring size is to add metal to it.
In this manner, you can significantly increase the circumference of your ring band. The jeweler just snips the ring's band or you can ring shank. And then he is going to insert the small metal piece right in between the two cut ends.
This is how you can expand the ring size of yours and make it larger enough. Once the resizing procedure is done, the jeweler polish and further smoothes the ring so that a perfect finished look can come on it.
Method to Resize a Ring Smaller
To make your ring smaller in size, there is this technique that you can follow! The first step that the jeweler pursues that he snips the ring's shank! After that, he cut out a small piece section right from the band. Once this band section is removed and taken off, then two ends of that ring are going to be soldered and connected back together.
What Specifically and Primarily Affects a Ring Resizing Process?
Most importantly, there are several and a bunch number of factors that affect this whole ring resizing procedure. You have to understand that the design of your ring, shanks, and stones finalize concerning how many times you can resize a ring:
The Design affect Ring Resizing Process
It is your overall ring design that determines and plans out how your ring will be able to get resized. This procedure is dependent on the fact whether your ring is a simple solitaire.
Or whether there is any channel-set kind of baguettes on it! If your ring design is complex and technical enough, it means the resizing job will also become tougher. Furthermore, it is comparatively easy to resize ring bands.
As they are plain and simple in design, for the reason that they are easy and hassle-free to work with.  If you have got a plain band, then you can size up or down it up to six or seven sizes.
In addition, for sizing up and down solitaire-style rings, they can significantly be resized from 4 to 5 sizes. If these rings do not have complicated and tougher shoulder designs, it means you can resize them with ease.
For resizing eternity rings, this job is all and completely done on a case-by-case basis. If you have decided to resize your eternity ring, then keep in mind that its original design is going to be lost once you size up it.
Lastly, resizing any kind of class rings and also signet rings, this job is challenging enough to do. We know that signet rings look quite plain. In addition, they have no stones and look flat. But it is actually their flat design that makes them not so suitable for this resizing job.
The Shank Affect Ring Resizing Process
For the information, the back section of the ring is given the name of the shank. It depends on your ring shank regarding how many resizing jobs it can well tolerate and withstand. For increasing the size of the ring, the jeweler adds up a small metal portion right on the shank.
Moreover, if it is a thin shank, then you cannot resize it as this job will weaken it structurally. It is better to go with the option of half-shank replacement.
This technique helps out the jeweler to size up the ring in between 4 to 6 sizes larger. In addition, this technique strengthens and intensifies the durability aspect of your ring.
The Stone Affect Ring Resizing Process
Lastly, stones injected and infused on your ring determine how many times it can be resized! If your ring stones are brittle and weak, it clearly means that your resizing job may become difficult. In addition, there are some ring stones that are highly and immensely sensitive in nature.
Like, it is tough to resize a ring that has opals and emeralds on it. Furthermore, pearls and turquoise are sensitive stones as well.
For those rings whose stones are placed in a prong-set format, such rings can easily be resized. You need to avoid resizing those rings whose stones are position in a bezel set format or channel set format.
What Rings Cannot Be Resized?
It is not possible to resize all kinds of rings. There are certain kinds of rings that cannot be resized. You can only resize those rings that are made of metal like that of silver or gold or made of platinum. However, if your rings are made of wood, quartz, it means you should not resize them at all.
Firstly, one should not resize their full eternity bands. These kinds of bands or rings come with gemstones. They cover your whole band and fail to resize your ring. You can say that it is next to impossible to resize these rings or bands. No matter, you take this ring type to an expert jeweler, he will not be able to resize it.
Secondly, you should not resize your tungsten rings of yours. You need to understand that this metal type is comparatively harder. If you cut a tungsten ring, then your whole ring structure is going to eventually break.
Thirdly, you need to avoid resizing your rose gold rings. Most importantly, this is a temperamental alloy and it just manages to get cracked so much easier. You may unlikely to resize your ring if it is made of rose gold.
In the same way and manner, there are lots of jewelers who do not resize titanium rings. This happens because of the fact that ring material is difficult to tackle and manage!
Cost to Resize a Ring
One should know that there is no specific and exact cost figure is that is linked to the ring resizing procedure. This cost ranges depending on the type of ring metal, the amount of metal need to cut and add, and also other important factors. All in all, a simple and basic ring resizing job may cost you 20 dollars. And if the resizing job is tough, then it may cost you hundreds of dollars.
This cost factor depends on the fact what type of metal your ring is made of! If your ring is made of precious metal, then the cost gets higher. Furthermore, yellow gold is easy and convenient to resize.
Resizing this metal is inexpensive. In addition, sterling silver material is easy and simple to resize as well. For resizing while gold, you need to refinish and also re-plate it with rhodium.
Moreover, the cost of resizing a ring depends on how many sizes it requires. If fewer sizes are needed, it means you need to pay a fewer price for this job. However, if your ring needs more sizes up or down, then a bigger price has to be paid by you.
The thickness part of your ring even determines the cost of this resizing process. Thicker rings are expensive and not budget-friendly to resize. On the other hand, thinner rings are cheaper to resize.
Lastly, the number of changes and revisions made in your ring's design determines the final price of your ring resizing process. As an example, if more adjustments and revisions are needed, then you may have to see a higher resizing cost.
How Long Does it Take to Resize a Ring?
It is generally seen that a basic ring resizing process takes two to three weeks time. Besides, if your ring has any kind of intricate detailing on it, then resizing it may take a little bit longer.
A specific time frame is given by the expert jewelers and during this duration, they resize your ring. Furthermore, you need to look for a trustworthy jeweler so that he or she can resize your ring with perfection.
The rest of the factors that may affect your ring resizing process! It is your ring's thickness and the overall placement of the gemstones. The time duration even depends on the fact whether your rings need to be sized up or it requires a size down the job.
Frequently Asked Question And Answers
Question: Does Resizing a Ring Damage it?
Answer: It is generally believed that resizing a ring weakens its overall setting and structural integrity. Individuals go for this process so that they can wear the perfectly fitted ring on their fingers. But improperly fitted rings push them to go and opt for this resizing process.
Resizing only damage your ring in a case if it is made of thin and not so sturdy metal and if it consists of thin shanks! Even more, if your rings have intricate gemstones and pearls embellished on them, then this whole resizing job may ruin the look of your ring.
Question: Can you Resize a Ring More than Once?
Answer: It is up to two times that you can resize a ring and not more than that. In other words, it is over their lifetime that you can resize your rings two times. This number even depends on the fact that what your ring style and setting is! Moreover, if your rings have simpler bands, styles, and settings, you can resize them more than two times. And avoid resizing a ring for more than two times that are already infused with intricate details, stones, and gemstones.
Question: How Many Sizes Can a Ring Be Sized Down?
Answer: It is up to two sizes that a ring can be sized down. Keep in mind that this is a general rule of thumb that you have to follow. If you resize your ring up to two sizes down, it means that they will not get damaged. And if you cross this limit, then there is a chance and probability that your ring will get damaged.
Just keep in mind your ring design and see how many sizes it allows and permits you. You can seek advice from professional jewelers, they can guide you on how many sizes rings can be sized down, and then you can make your final decision.
Question: Can I Resize a Ring at Home?
Answer: It is not advised to resize a ring at home. This job needs lots of expertise and professional knowledge. Instead of opting for DIY procedures, it is suggested to take your ring to an expert jeweler and ask him to resize your ring according to your requirements. No matter, your ring falls on the expensive or inexpensive side; you need to professionally resize it by seeking and taking services from a professional jeweler.
Question: How Can I Make My Ring Smaller Without Resizing?
Answer: Without resizing, there are various techniques that help you make your ring smaller. Like, you can make use of sizing beads. With the help of them, you can transform your larger ring into a smaller ring. In this technique, the jeweler uses these sizing beads and he adds two small metal balls right on the back and inside section of your ring. Hence, this is an economical and budget-friendly way to make your ring smaller without actually resizing it.
Conclusion
Now, you know how many times you can resize a ring! This is the basic guide that we have penned down and searched for you. Moreover, you have come to know which rings can be resized and which ones cannot. And cost and time frame to resize a ring vary depending on a large number of factors.
The advancement in the jewelry industry has brought this really and good happy news that resizing a ring smaller or larger is possible to do. The latest techniques bring no damage to your rings and thus resize them successfully.
So, if you have put on or lose weight and your rings do not get fit on your fingers properly, then take help from this guide and see how you can resize your rings. All flexible solutions are mentioned in this guide. You can keep tuned with us so that more of the helpful guide on the basics of ring resizing can be shared with you.
Besides, you can share with us your experience how many times you have resized your rings and what results you got! Keep connected with us always.