You do not have to go anywhere to look for the details about the answer, how long does Swarovski jewelry last! If you take care of Swarovski in the right and correct manner, then they can last for a lifetime. In addition, it is one of the valuable jewelry collections that you can have in your closet. These pieces are generally rhodium and gold plated and hardly get tarnished and fade their color.
The brand has also come up with cleaning and care instructions so that you can keep on wearing their jewelry for the longest time. All in all, we can say that buying, and wearing Swarovski is definitely worth it for you. It does not tarnish and corrode and looks definitely amazing on you. If you keep them away from water, sweaty sites, and harsh chemicals, then you can surely prolong their lifespan.
Thus, it all depends on you how you take care of them and how well you treat them. Below you can check out more of the details on this topic. You can get hold of the Swarovski jewelry and share with us how you take care of it:
All About Swarovski
First of all, the readers should get basic historical information on Swarovski. It is one of the top-notch brands and people love to get accessories from them. In addition, it was founded in the year of 1895. Note down that it is an Austrian brand and the people of Austria have indeed become a die-hard fans of it.
The founder of this company is Daniel Swarovski. He was the one who created an electric cutting machine and that machine managed to take the crystal glass production process right to another level. The company is known for making excellent pieces of jewelry and accessories and also lead glass crystals. Moreover, they have gained an extensive repute in making optical instruments and high-end-looking heavy-duty tools. Their manufactured tools are linked with the categories like sawing, grinding, and even drilling.
This brand has constantly received praise and love for making high-end and the most stylish-looking jewelry. You can say that the Swarovski company name is synonymous with style and quality. If you have been the biggest fan of the Louis Vuitton and Dior brand, then you will love this brand as well. It is their elegant and stunning accessories collection that has captured our attention every single time.
Most importantly, their jewelry manages to stay durable and shiny enough for years and years. The brand has claimed and promised that they always induct high-quality and impressive crystals! It is all because of the balanced ratio of quartz and sand, lead, as well as minerals that end up making these crystals near and almost perfect crystal pieces.
You will eventually get the feel as if you have worn a real crystal accessory, how amazing it is! Do you know that the brand has become much famous among celebs as well like Jennifer Lopez, yes it is true! Thus, their accessories, and jewelry pieces, and even their crystals are known for their durability but there lies one condition that you have to take extra care of them.
We have seen that it is largely because of the 32 percent lead presence that their stuff remains long-lasting. The inclusion and induction of lead increase the refraction of the crystals and makes them long-lasting and eventually durable.
Can You Wear A Swarovski Necklace In The Shower?
Lots of women have this question that is it ok to wear a Swarovski necklace in the shower? We recommend you not to follow this practice at all. If you do so, then the chance and probability of having tarnishing will become double and your necklace will lose its original shine, sparkle, and quality. Before taking a shower, take off this piece and retain its shine and sparkle for as much longer time as you can.
Experts have advised all women out there not to shower with any jewelry on. If you keep on doing so, the gemstones inducted on it might fall off. Your necklace or bracelet piece will lose it shine. Even if you have worn a simple and dainty chain, you have to take it off before taking a shower.
Moreover, dry your skin and then wear the necklace. This is another handy tip given by the expert team of this brand. If your skin is still wet and you have worn the chain or necklace piece, then it means you are damaging the shine and quality of it with your own hands. Keep it away from the lotion, perfume, and other liquids reach. In addition, avoid its contact with water on the best possible notes.
While you are on the beach, swimming pool, or at the humidity-filled site, take off the necklace or any piece first of all and keep it in your bag. If the jewelry of this brand claims to call itself durable, long-lasting, and tarnishing-free, then you have to show extra effort as well from your side. Whenever you see that any liquid and wet content is present on the necklace, wipe off that liquid as soon as possible and make it dry.
Is Swarovski Pawnable?
There is this common question that you might have been asked, is Swarovski pawnable, below you can check out the details about if it. If you have bought this brand accessory on 05-11-2021 and you feel like selling and pawning it, then keep in mind these details as well.
Pawning the jewelry pieces made of real gold and diamond are easy to pawn but it gets somewhat tougher and challenging if you feel like selling the Swarovski stuff. We know that it is a legitimate brand and all of its accessories and collections are legitimate too. But when it comes to selling them, you will not get the ideal value in return for them. Their accessories, rings, necklaces, and bracelets are bought at a high price, but they are eventually sold out at a low price range.
If you have got the ring from this brand and it is made of 14k plated gold, its selling value will not be the same if you go out to sell out a real 14k gold ring. Swarovski rings selling value is a bit low as compared to the gold rings comprising and consisting of a similar setting. There is a chance that you might get a high price because this brand collection is believed to be a limited edition jewelry collection. Thus, we suggest you not pawn and sell this collection of yours. Keep it with you and avoid selling them.
Does Swarovski Rose Gold Fade?
We have already told you that if you take extra and additional care of Swarovski stuff, then their quality and overall shine will not at all fade. Most importantly, they go with the gold plating technique on their rings, bracelets, and necklaces. Proper care and ensuring proper cleaning procedures do not fade the rose gold.
All of you might have become aware of this point that it is one of the biggest fashion jewelry companies. They never compromise on quality and make sure that their accessories never fade and lose their shine. No matter you have got the gold-plated ring or you have invested in the rhodium plated necklace, they will not get fade and weaken their quality aspect. However, if you give careless attention, then they will show a certain range of wear and tear issues.
We have seen that this company follows some of the strictest and the highest plating standards. If you wear their accessories under normal circumstances, then they will surely enjoy having the longest life span. It is recommended that you should not use sonic cleaner on their bracelets and rings. Moreover, avoid cleaning them with boiling water or with any of the commercial jewelry cleaners. If you will keep in mind these points, your Swarovski collection will not fade away.
Along with that, you should not be using those cleaners that accompany the traces of ammonia or alcohol. These elements just bring a damaging effect and the whole gold and rhodium plating technique get disturbed. In addition, they use high-quality crystals claimed by this company has guaranteed that their accessories will hardly or never lose their shine and color.
The chemical coating is generally present on their collections and it is time again and again advised by the team of experts to take care of that coating and maintain, clean it regularly so that it does not come off! You should not expose their jewelry to too much sweat. Avoid having its contact with the sprays and perfumes and strong detergents.
Thus, we can say that their jewelry, accessories, or their crystals do not get cloudy at all. They are known to retain and maintain their brilliance but a few of the caring steps are also expected from your side.
Does Swarovski Use Real Gold?
This company does not use real gold; instead, they make use of rhodium and gold plating technique. The only thing that makes this company such a high-end and top-rated company is the fact they use high-quality crystals and not artificial ones. If someone has said to you that this company uses real gold, then you have been misguided for sure. You have to correct this stat now.
It is claimed by the brand that they only employ rhodium and gold plating techniques and infuse diamond-like crystals. That is all! Furthermore, they use such crystals so that a good and better amount of light reflection process gets carried out. You can get in touch with the experts and further enquire from them what kind of plating technique and crystals are used at their end. Besides, this company uses rose gold and white gold as well. They have even inducted yellow gold so that the whole piece comes out to be super bright, attractive, and end up giving out a lustrous shine.
Does Swarovski Turn Green?
The kind of plating technique followed by this company guarantees the fact that their jewelry will not turn green. All of their plated items retain their shine for the longest time and do not make your skin look green. Every single collection has been remained to stay highly resistant when it comes to corrosion and oxidation. Besides, the common metal used by them is gold, silver, and also palladium, or ruthenium. The base metal utilized by them is of white alloy or at times, they make use of brass. So, it is all concluded that their jewelry does not turn your skin green and retains its shine and quality.
Does Swarovski Metal Tarnish?
It is somewhat believed that their metals do not tarnish and discolor. We have mentioned this important point to you that they use gold and silver and also palladium metals for plating and they hardly get discolor at all. It is promised that their collections are indestructible. They do not show situations like wear and tear and you can make their accessories wear for years and years.
However, you have to make sure that you protect their rings and necklaces from harmful and damaging environments. Avoid physically damaging them, keep them away from humid-filled sites, clean and polish them regularly. You have to place them away from direct sunlight and keep them at the safest location when not in use.
Does Swarovski Have Resale Value?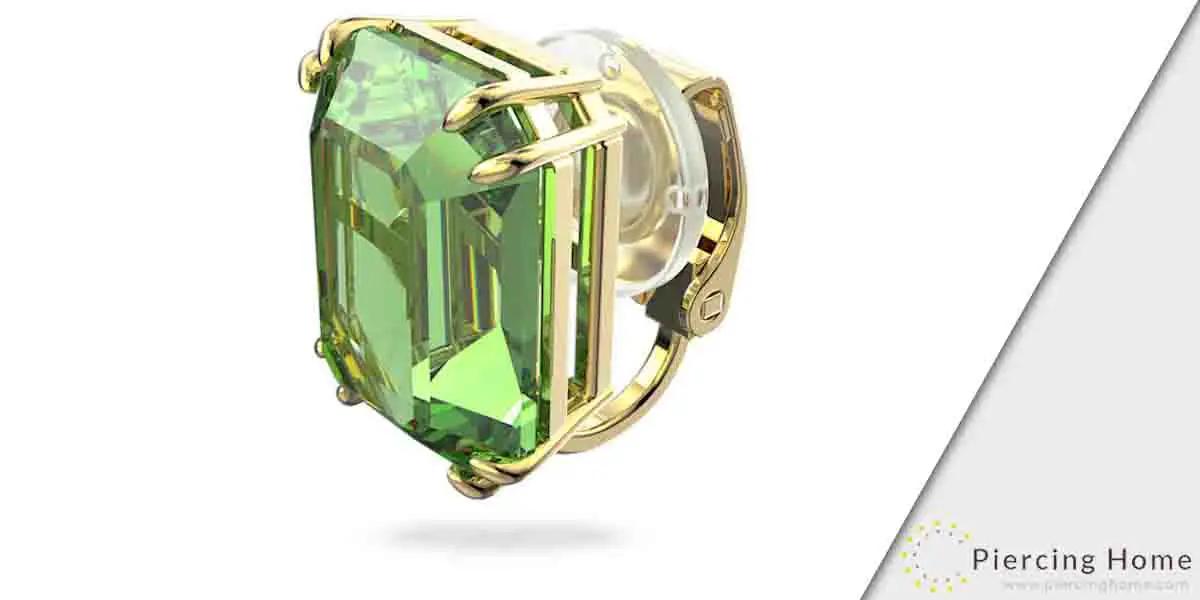 The resale value of Swarovski jewelry is not that high. They do not use real gold and diamond on their accessories that is why you cannot expect a higher resale value. Though their designs and color schemes and the kind of crystal settings infused on them look stunning, the reselling value is a bit low and you do not get a higher price if you have planned to sell them out.
Thus, their jewelry is not of that much worth because the glass crystals are simply not at all inherently valuable. You have to understand this point that their used crystals are artificial and you should not be counting them as precious gemstones. The only selling value that you will get in return is because of their revolutionary aspect and top-notch designs that make them distinguished from the rest of the brands.
You can share with us your feedback if you have got a chance to sell the Swarovski ring and what reselling value you got in return for it! We know that it is not going to be definitely higher or according to your expectations. Though this company makes use of crystals, gemstone, gold, and rhodium plating, the reselling value is not up to the mark and desired expectations. So, it is better and suggested not to sell out this classic and timeless jewelry. Keep it with you forever as it shows excellent craftsmanship.
Does Swarovski Clean Jewelry?
The last part of this piece of writing will tell you does this company cleans jewelry! Though they do not offer cleaning services, they have penned down a few of the cleaning and caring instructions for their customers:
It is recommended from this company side that you should be polishing the Swarovski crystals regularly. Get hold of the high-quality polishing cloth and perform this job. To wash the crystals, it is advised to make use of a soft brush. Use lukewarm water and add a mild detergent to it. After that, you can rinse those crystals under the tap running water. Make sure to dry that jewelry piece as well. Take a soft and lint-free towel and dry it up.
You should also wear gloves when cleaning these gemstones so that your fingerprints may not come on them. This is an important tip that you have to keep in mind. In addition, if your ring or necklace has become extremely dirty, then you have to wash it by using warm water. Use a good-quality mild dish detergent, rinse it thoroughly later on and dry it with the help of a soft lint-free cloth.
You have to keep your Swarovski collection away from the presence of hand creams, perfumes, and hair sprays. Keep it away from the locations like bath, doing dishes, or while you are exercising. If you do not take these measures, then your rings and bracelets will show wear and tear.
You should be storing and keeping them in the original packaging. As an alternative, you can use a soft pouch and keep your rings and necklaces in it just to avoid scratches.
You need to be polishing your rings Do that with the help of a soft cloth and try managing and retaining their original quality and lustrous finish.
Conclusion
We hope that you have understood enough details on how long does Swarovski's jewelry lasts! No doubt, this is a highly reputed company. They are quite known and popular enough in making fabulous-looking jewelry collections. In addition, it is claimed by the brand that their rings or necklaces do not fade away or get discolored and corrode or lose their shine, quality, and sparkle. Besides, their collections do not show the tarnishing effect.
They are known and famous enough for making and producing high-quality products, you can surely call them synonymous with quality. Beyond, this company is giving tough competition to brands like Louis Vuitton and Christian Dior.
Their impressive use of crystals, high-quality gold, and rhodium plating technique makes their jewelry collection long-lasting. They use the right ratio of quartz and sand, lead, and even other minerals so that a near-perfect piece comes out. If you have ever tried out their rings and necklaces or their bracelets, then let us know your reviews and experience.
The only effort that you have to show is to take care of Swarovski jewelry on the extensive notes. You have to protect, clean, wash and polish it regularly. In addition, take it off before taking a shower, or going in the pool or at the beach site. Avoid exposing them to humid situations and avoid their contact with water, sweat, sprays, and perfumes.
Thus, this is how they can last for a lifetime. What else do you want to know about their necklaces, rings, and bracelets? Forward your queries on this web page and will clear out your confusion.