Earrings
8 Types of Earrings That Won't Turn Your Ears Green in 2021| Complete Guide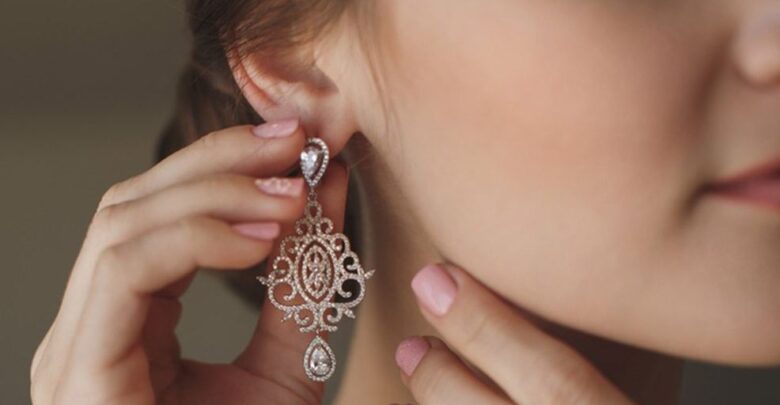 Any person who bought fun and cheap jewelry for themselves will know the heartbreak of having their skin turn green just after few hours of wearing it.  Why is it so? 
Finding your skin turning green is very much common for the ears and this probably happens if you are wearing earrings with a harmful material. While you are shopping for earrings that won't turn your ears green, you need to know a little chemistry.
Naturally occurring acids in your perfume, skin, or lotion will interact with the specific metals that you wear. This is the main reason that some of the jewelry pieces will turn your skin green.
Some of us have lesser acids due to which the earrings will not trigger the skin so much. They probably leave a stain behind or cause redness. In short, this greenish coloring is generally harmless and yet goes away on its own. Although that doesn't mean that it is not irritating to deal with.
Right through this article, we will let you know about those earrings which won't turn your ears green. Plus we have a small guide after the earrings review, to inform you more about the types of materials in earrings that are harmful to your skin.
Different Type of Earrings that Won't Turn Your Ears Green
Facing skin irritation due to wrong earrings can cause skin infection or ear irritation. If you are having sensitive skin, you have to consider the mentioned 6 types of earrings for your skin safety.
These earrings which we are mentioning below are made up of different materials that are known for their hypoallergenic nature. Under each category, we have presented two examples that can let you know what exactly is available in the market. Let's have a look:
Titanium Earrings
Titanium is quite commonly used in piercing jewelry where it is durable and stronger as compared to surgical steel. It is hypoallergenic. Like platinum, titanium earrings can eventually hold up to your everyday wear. There is a wide range of earrings that are made out of titanium material for an extra splash of beauty.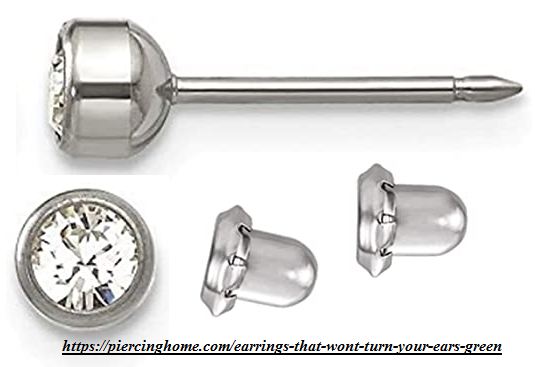 First of all, we have gold plated titanium steel stud earrings which are by nature both hypoallergenic. It is also attached to the metal stamp which shows great authenticity. They are gorgeous looking available in heart shape.
Features
These earrings are designed to be used with or without the piercing gun. It has sharper posts and tighter-fitting backs than normal earrings.
It also features dainty round ball studs to add your personality with chic touch for casual wear.
These are the medical-grade, hypoallergenic piercing earrings where it features ultra-thin piercing posts with the finely honed tip.
Final Verdict
All in all, you will be assured to have this quality product because it is available with three layers of thick gold plating made in a vacuum furnace. This is a perfect gift item for your loved ones or mother at a celebration.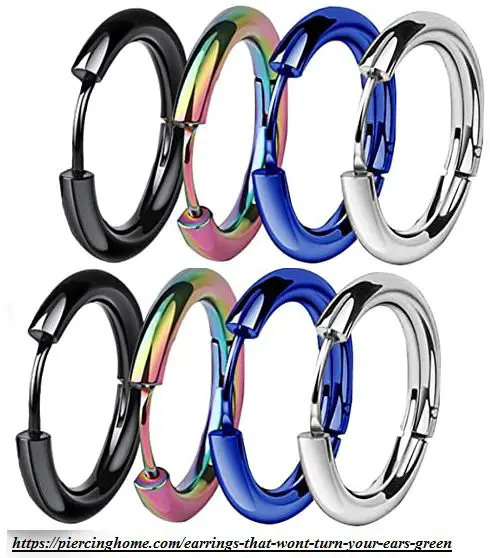 These are trendy earrings that work for both men and women. They are made out of hypoallergenic titanium steel which makes it completely safe for sensitive ears and will not be causing your ears to face green hues.
Features
This is the safe earrings for the sensitive ears where it is made out of Hypoallergenic Titanium Steel.
It has lasting color retention where its silver color is the original color.
Suited for both men and women use in a punk dome design.
Final Verdict
On the whole, this earring set is extra gorgeous and so much best to be work for both men and women. It has long-lasting retention and is safe for your sensitive ears.
Earrings That Make you Look Younger
Plastic Earrings
Plastic post earrings are quite a lot safe to let the ears stay protective from any sort of allergic reactions or infections. Before you purchase any plastic earring, make sure that you get medical-grade plastic. With those, you are fully assured that they are hypoallergenic and will hence cause no irritation or harm to your ears.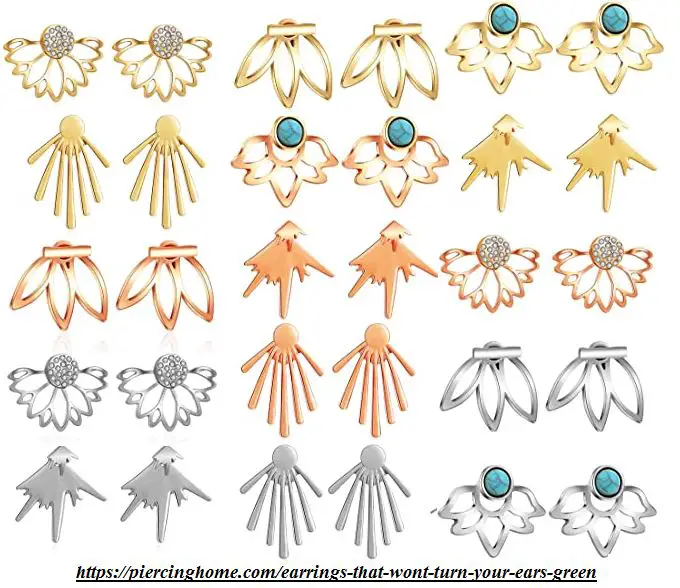 This pair of earrings are hypoallergenic and are quite stylish to wear for everyday wear. They are made out of high-quality plastic, and since it is not a metal, it cannot easily turn your ears green. It suits best for the women to flaunt their ears in everyday wear.
Features
They are nicely polished and are made out of Alloy material.
They are comfortable to wear and are long-lasting.
You can get it in 18 pairs of sets which are different in coloration effects.
It is a perfect gift for your loved ones on Valentine's, birthdays, or anniversary celebrations.
Final Verdict
If you are looking forward to wearing comfortable and stylish earrings, then do purchase these earrings right now and let your ears flaunt awesomely.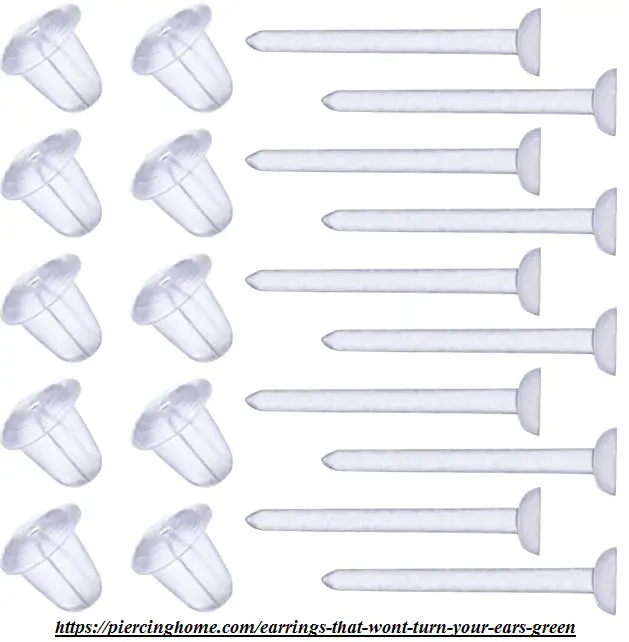 These earrings are the best choices for being the eco-friendly hypoallergenic material. The plastic found in the earrings is resin and epoxy, which make sure that your ears are safe. It is available in a set of 36 earrings with flowers and pearls.
Features
The package is included with 1000 pieces of earring pins and 1000 pieces of earring backs.
It has backs and posts which are simple and plain in design for your everyday wear.
It is comfortable and safe to wear.
Plus they are bendable and lightweight.
Final Verdict
If you are in search of an earring for your kid that is not allergic to them, then this is the best option for you to buy right now. Buy it now!
Stainless Steel Earrings
The stainless steel which is used in jewelry is almost 100% free out of nickel which is the main cause of any infection or skin allergies. Therefore, the usage of stainless steel earrings is generally safe for those people who have sensitive skin. Apart from being hypoallergenic, stainless steel is also rust-resistant, as well as strong, and very durable.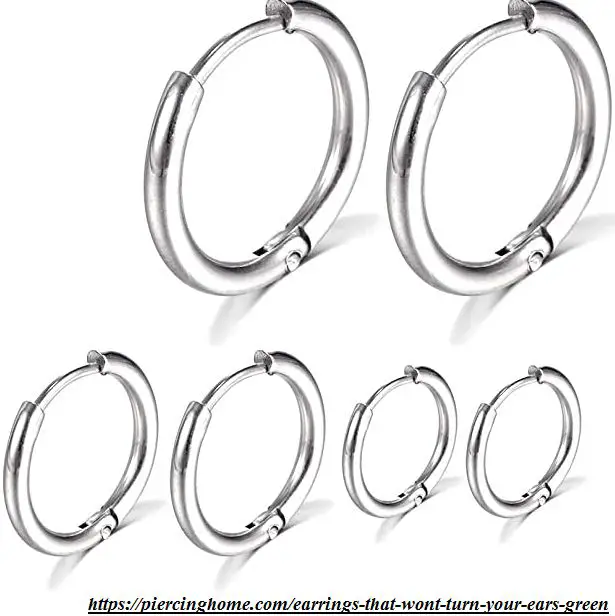 These are the perfect stainless-steel hoop earrings which are available in a set of 4. It is available in different sizes and colors for you to pick your favorite one. They do have a plain nature which makes it so much ideal for everyday wear.
Features
It is available in 4 various colors such as black, gold, silver.
You can get it in different sizes of 8mm, 10mm, 12mm inner diameter and 2.0mm width.
It is made out of 316L surgical stainless steel as being hypoallergenic.
They are perfect for cartilage, nose, and lips piercing which is popular among men.
Final Verdict
These earrings are yet highly polished in finishing and can easily withstand wear and tear. It has clasps that are flexible for your convenience while wearing or taking it off. These earrings are light, so you can wear them all day long.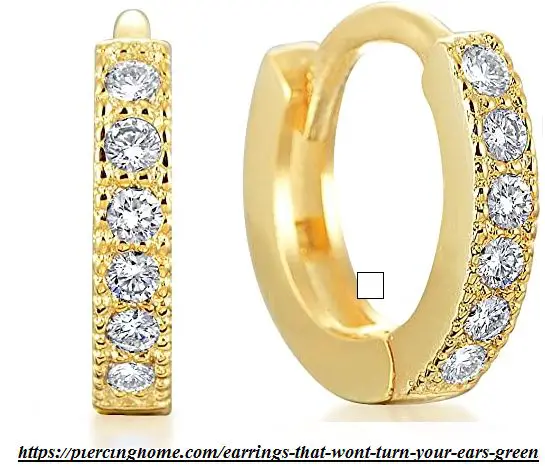 If in case you are looking for something that is et both vintage and retro, then you should never miss choosing these pair of unique stud earrings. It has a Celtic knot over the surgical stainless-steel part, along with the AAA grade Austrian crystal on the setting.
Features
It is made out of solid 925 sterling silver with the presence of 18k gold, rose gold, or rhodium flashed finish.
They are perfect for everyday wear where it completely handcrafted in the shiny and high polishing craft.
Its inner hoop measures 8mm*7.5mm and outer hoop measures 11mm*10.3mm.
Final Verdict
All in all, these earrings are best to be worn for everyday purposes or for occasions to let your ears feel comfortable and easy. They won't cause your ears to face any sort of discomfort, irritation, or skin allergy.
Surgical Steel Earrings
The majority of the earring designs are made out of surgical steel material because it is safe for sensitive ears. Being part of hypoallergenic metal, surgical steel overall reduces the risk of a sort of allergic reaction with some sensitive skin.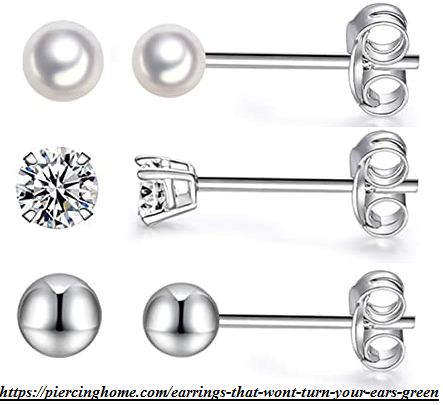 Surgical steel is known to be another material that is popular for its biocompatibility. It is 100% lead-free which means that it does not fade or get rust. They are best for sensitive ears. As you purchase this earring set, you will be getting five different pairs with varying AAA cubic zirconia crystals.
Features
It is available in a set of 3 pairs of silver stud earrings to meet all your daily needs on different occasions.
These are the hypoallergenic earrings that combine classical and extra stylish elements that are suitable for both men and women of all ages.
It is made out of 925 sterling silver, which makes it allergy-free and light-weight.
Final Verdict
On the whole, these earrings are extra stylish and chic to wear for daily purposes to flaunt your beauty. They are not at all harmful for your ears to cause any allergy.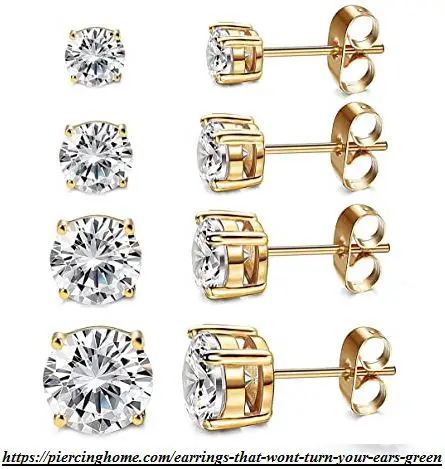 This is a gold plated stud earring that is simulated with a diamond round shape for an extra classiness. The whole beauty of the earring set is falling into the gold plating which makes it look so much fascinating.
Features
These earrings have posts which are Hypoallergenic & Double Notched for extra Security.
It is elegant and classic for women of all age groups.
Available in 5 sets of earring pair which include Stone Size: 3,4, 5, 6, 7 mm Diameter
The round and smooth bottom make these diamond earrings to stand perfect on your ears.
Final Verdict
To gift your loved ones with a wonderful set of earrings pair, then be the first one to purchase it right now for your daily wear.
High Karat Premium Quality Gold Earrings
18 karat gold is made from 75% gold as well as 25% alloy.  This one such type of gold is known as 18 karats. This is all because 18 out of the 24 parts that simply make up the gold are 100% pure gold. 18K gold is although usually known to be the purest form of gold which is used for rings, or watches, and other wearable jewelry.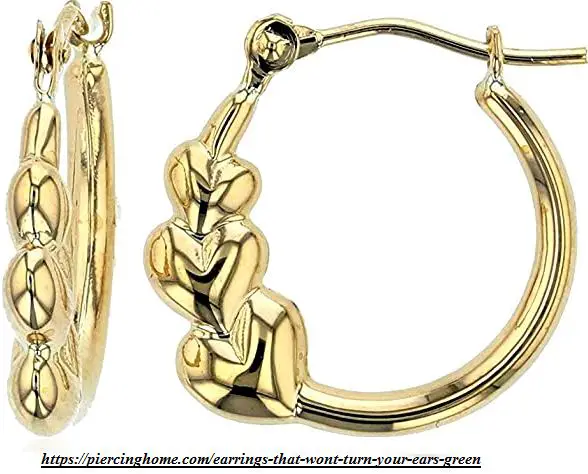 To add your whole personality with glamorous and extra classiness, then you should consider getting these twisted hoop earrings. They have been beautifully crafted from 18k yellow gold and yet they do have a post with an extra snap-down closure.
Features 
It is made from solid 14K gold and every single piece is carefully trademarked through the metal purity for extra certification.
Plus it also offers 14K Yellow Gold Triple Graduated Heart Hoop Earring which is made in Italy.
All metals which have been used are lead-free, nickel-free, as well as hypoallergenic.
Final Verdict
The whole design of the earring is making it stand out differently looking from others due to the goldwork in it. It is comfortable to wear for long hours.
Gold Earrings That Won't Tarnish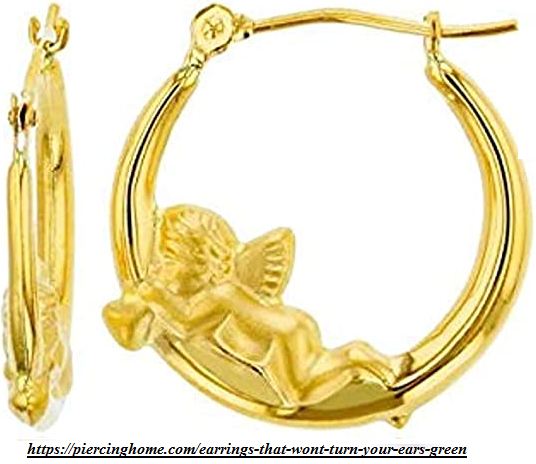 This earring set is extremely stunning and smaller enough. It is made on the metal of 18k yellow gold, where you will also find rose gold and white gold in it. Gems that are used are 0.48-carat diamonds.
Features
You will find these earrings to be made out of solid 14K gold setting,
Each piece has been stamped with the 14Kor 585 and that too guarantees the quality and craft.
All metals used are lead-free, nickel-free, and hypoallergenic.
It is a perfect timeless gift for birthdays, weddings, or anniversaries.
Final Verdict
To gift your loved ones with something really special and unique, buy this earring set right now. It will look so sparkling and stylish for everyday wear.
Diamond Earrings
You can also choose to wear diamond earrings which are completely safe for your sensitive ears. They won't cause your ears to turn green and are hypoallergenic for your ear safety. You can comfortably wear diamond earrings for long hours.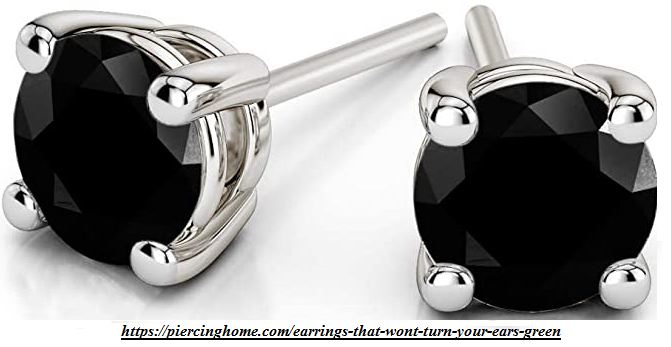 This earring set is completely beautified with the elegance of diamond work being part of it. Its black color effect will make you fall in love with its brilliance and purity.
Features
Stone in the diamond earring will highlight the classic elegance with the claws that grasp and hold the diamond in place.
The black color gives extra purity and white brilliance.
These are 5 x 5 mm diamonds that are the perfect size in carats.
Final Verdict
They are such a brilliant piece of earring set which is superbly elegant looking to wear on parties. It is comfortable to be worn even for long hours.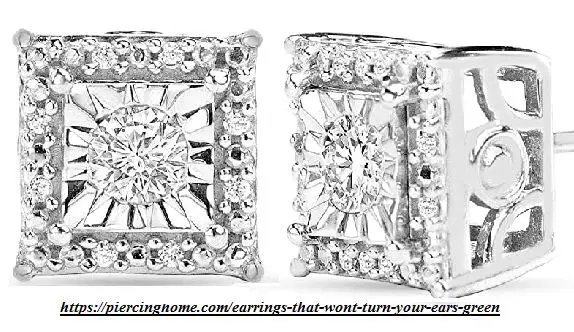 The whole beauty of this earring set has been put together with a diamond and plated sterling silver touch for extra elegance. The white diamond effect had made it best for the ladies with sensitive ears.
Features
It is made out of metal which is Rhodium Plated Sterling Silver
It is a perfect gift for someone on birthdays, weddings, anniversaries and so on.
Its white diamond touch in the middle is extra sparkling and brilliant looking.
Final Verdict
Be the first one to buy this gorgeous piece of earring set and you would love to wear it all the time. Go for it!
Complete Guide on Earrings that won't Turn Your Ears Green
Now let's get into a quick guide to get more idea about which earring materials are responsible to turn your ears green. Have a look below:
What metals to avoid in jewelry?
There are quite a few metals in the category of earrings that can give your skin a green effect. This will include copper which is responsible to turn your skin into notorious green hues.
Silver can even stain your skin into the color of dark green or black being a result of the same chemical reaction. Gold may even turn your skin into green hues just depending on what sort of metal alloy it has been mixed with.
What metals to wear in Earrings?
Those metals which are least likely because your ears turn green are rhodium and platinum. These two metals will do not tarnish at all. Platinum does not need to be replated whereas Rhodium will after a couple of years.
If you want to stay within your budget, then choosing titanium and stainless steel are the best options. You can also look for some studs or hoops for your everyday wear where they won't give your skin enough harm and damage.
Why are my earrings turning my ears Green?
The major reason why your skin has turned green is probably because of the normal reaction from the copper in your ring. Copper is one such common metal that is used for so many rings, especially those which are cheap ones. So, just like any other copper, the metal simply reacts with either the product on top of your fingers or just your fingers themselves.
Will sterling silver earrings turn your ears Green?
That jewelry which is made out of gold of sterling silver will cause some effects of discoloration for a few people. Preventing your skin from simply turning green is not as simple as avoiding less costly jewelry. In case if you are having sensitive skin, then you can choose the options of stainless steel jewelry, platinum, and rhodium-plated jewelry.
Will stainless steel earrings turn my ears Green?
Stainless steel jewelry will never turn green and will not be causing the skin to face any sort of greenish hues. For those who have sensitive skin or the one who wants to have an ear piercing, doctors will always recommend using nickel-free studs and a stainless steel needle.
Will hypoallergenic earrings turn your ears Green?
These, as in particular, are made out of hypoallergenic titanium steel, and this eventually makes them safe for sensitive ears and won't turn them into green hues.
Brass isn't hypoallergenic and it can cause some allergic reactions. Brass is yet made out by mixing alloying copper and zinc, but most of the time nickel is also included in the alloy. The copper inside the brass can eventually turn your skin green hue, but that would not be harmful at all and doesn't mean that you are reacting to this metal.
Conclusion
Well, we are sure that with this guide you would have learned so many facts about the earrings which can cause your ears to turn green and those who won't turn your ears green. You just need to be careful while shopping out for the earrings for the first time.
Consulting your piercer can also help you a lot. They will guide you better about which metals you should avoid and which metals you should wear.
 Are you ready to flaunt your ears in your favorite set of earrings pair?