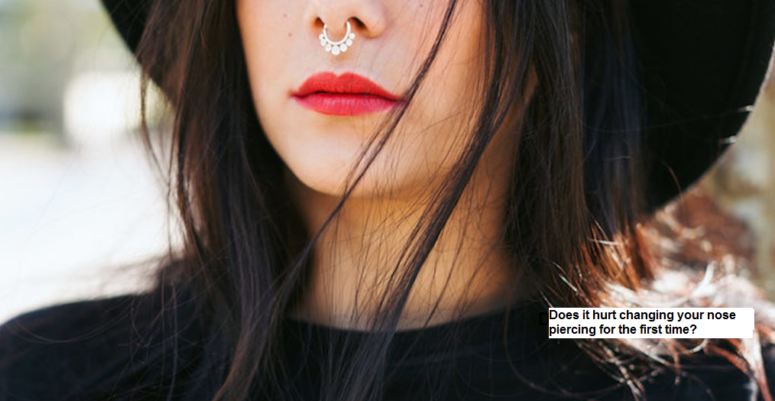 Have you been thinking about doing a nose piercing? Are you curious to know how painful it will be for you as a newbie?
Well, we all know that the whole concept of wearing a nose piercing will bring an edgy look for your personality. It makes you look different and unique while walking in the crowd. The reason why women started following the trend of nose piercing is that it became so extremely famous among celebrities like Miley Cyrus, Scarlett Johansson, and Christina Aguilera.
As we talk about the healing time of nose piercing, it probably takes 8-11 weeks of the period after the piercing procedure is done. But the real hassle comes over at the time when you are changing your piercing for the first time.
Right through this guide, we will explain to you quick information about does it hut changing your nose piercing for the first time.  Plus we will also assist you with some aftercare tips to give away your nose piercing a better outlook and care.
Best Nose Rings That Don't Fall Out Easily at Night
Is it Painful to change your nose piercing for the first time?
If in case your piercing has been completely healed, then you are free much to change your nose jewelry at any hour of the day.  In case you want to use a forever hoop which is having a complete closed hoop, then you can buy a ring from any piercing shop.  This is probably one of the best ways to look for such types of hoops.
Furthermore, at the time of piercing changing, you also need to be careful about the spot angle you are piercing into.  This might give you a feel of little pain and discomfort for the first time.  As the piercing is healed down, you will merely be feeling a little pain which is quite mild. This will go away in just 20 minutes.
Is Nose piercing More Painful than others?
The majority of people do think that nose piercing is one of the most painful piercings to carry out. But you are wrong with this concept! Nose piercing is divided into three main types as mentioned below:
High Nostril Piercing
Traditional nostril piercing
Center placement septum piercings
Normally septum piercing and traditional nostril piercing are quite an easy piercing to do which even takes less time in healing.  But when it comes to high nostrils piercing, it can be a little bit uncomfortable and it can often appear with some swelling for a few days.  Therefore, it is only recommended to those people who have a better idea about the aftercare of body piercing.
Best Numbing Cream for Nose Piercing
How you can minimize the pain while changing nose piercing?

Now the main question is how you can reduce the level of pain which you might experience while changing nose piercing. No matter in whatsoever way you are carrying out your piercing, it will involve minor or major pain.  But there are a few important guidelines which you can keep in mind to reduce your piercing pain.
As a beginner, you should keep yourself away from alcoholic drinks beforehand any piercing. Alcohol can increase your piercing pain to a greater extent.  Another best advice which the majority of the experts will suggest is to stay calm and composed. Take a long deep breath and then go for the piercing. Make sure you listen to your piercer instructions to avoid any sort of hassle in the future.
Best Saline Solution For Ear Piercings
How Long Time you should wait to Change your Nose Piercing?
Once you get your nose piercing done, you get quite curious to keep on changing the nose studs and hoops all the time. Most of the time you like to wear simple hoops and for formal parties, you look for the decorative studs.  You should not be changing your nose rigs until and unless your piercing is not 100% healed.
Nose piercing takes a longer time to heal as compared to different other types of common piercings.  This might be due to your circulatory system where exact blood is not flowing inside your nostrils.  This blood flow can slow down your healing duration.
For the pierced septum, you can expect the healing time of a maximum of 8 weeks.  But as the nostril piercing is mentioned, it can take around 4 months to heal down completely.
Best Antibacterial Soap for Nose Piercing
What are the common risks to have when Changing Nose Piercing?
There are quite a few ordinary risks which you can face at the time of changing your nose piercing.  At the time of healing, you need to be a little careful and conscious because you are taking care of the most sensitive areas of your skin which is quite vulnerable.
Taking the stud out of the nose too soon can even put you at some risk of infection. It can bleed or the piercing area can face some swelling as well.
Soon after your piercing has been completely heal down, you have to show little of your attention and be cautious.  Be careful when you are easing the jewelry because, during this time, the skin area is a little tight.  If it is not fitted comfortably, you should avoid pushing it. Otherwise, it can result in tearing.  You will encounter the same issue if you are trying to insert an earring in the wrong direction.
When Can I Change my Nose Stud to a Ring
Step by Step Guide to Change Nose Piercing
For all the beginners out there, here we have a tutorial guide for you to explain to you about how you can change your nose piercing easily and with less pain:
You have to first of all remove off the original nose stud of your piercing which needs to be done by pulling off the outside area of your stud. Now you have to follow the main curve of ring metal which will enable the stud to stay in one place for a long time so you can gently pull it off.
If you are wearing a ring, you have to be gentle enough to remove off the ring from the inside area of your nose by using fingertips.
Now you have to use a few drops of saline solution with the help of a cotton swab. You need to swab off the area of the original jewelry piece. Make sure you place your stud or nose ring at a clean and safe place.
Now once again you have to take a cotton swab and dip it into the saline solution. Apply it over the new nasal ring or stud so you can disinfect it completely.
One more time soak the cotton swab into the saline solution and apply it over the inside and outside areas of your nose piercing. Make sure you are gentle enough at the time of application.
Now pick the new nose ring and insert it inside the opening gently. You can insert it by keeping the tip of your nose stud in the outside area. Later on push it over the place.
How to Prevent Nose Piercing From Falling Out in Sleep at Night?
Important Tips to Follow
Once the piercing has been completely heal down, now the time has arrived when you can consider replacing your old jewelry with the new one. And for that sake, make sure the nose piercing is clean and free from bacteria.
Wash your hands before inserting any jewelry piece. This step is necessary because it will help your piercing to prevent any sort of disinfection.
Wear disposable or transparent gloves.
Remove off your current nose ring. Nose jewelry is available in different styles and designs. Pick the one which suits your requirements and skin type.
Try to stay at ease and be gentle while inserting any jewelry piece.
Remove off the top bead of your nose ring or you can even pull it open.
You have to carefully slide off the thinnest of the jewelry piece into your piercing area. Hence you should instantly top if you experience any sort of numbness, pain, or bleeding.
You should always consult a professional or expert piercer if you are facing any sort of complications or pain in your nose piercing. Never insert the piercing ring with a force. Hence it is mandatory to stay gentle and composed during the whole procedure.
Will My Nose Piercing Close Up Overnight? Old & New
Conclusion
So this was an end of the discussion about how you can change your nose piercing and how much pain it can be for you during first time.  Although there are no such hard and fast rules which you need to follow when it comes to changing a piercing.
You just need to stay a little careful and alert with your gentle hand movements during insertion.  This will definitely be helpful for you to feel less pain or any side effects! In case of any complications and pain, make sure you consult a professional piercing expert without any delay.