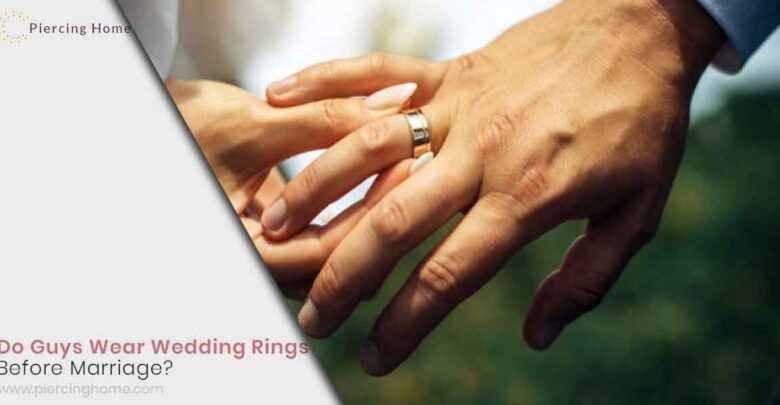 We have this common question that is often pondered in the minds of girls and guys, it is that do guys wear wedding rings before marriage! Here you can check out the explanation of this question. Yes, guys do wear a ring before they get married and that is an indication that they have been engaged. If they follow this practice, it means that they are giving us this clear hint that they are in a committed relationship.
In the past times, just women and engaged girls used to follow this practice of wearing rings but now this custom is opted for and embraced by the boys out there. If you want to show your commitment status, then you can put up a ring on your finger before getting married.
So, in this piece of writing, we are going to further explore details on this topic. You can go through the whole discussion and let us know your thoughts on it. When guys follow this practice and norm before their wedding, it means that they have put up an engagement band or ring and they are in love and in a serious relationship with some other person. Below you can have more details on rings, bands:
The Traditional Custom When It Comes To Men's Wedding Rings
There comes the concept of traditional custom if you have spotted a guy wearing a ring before he gets officially married. We have seen this tradition in countries like the USA. These men follow this practice of wearing engagement of commitment rings before their relationship status gets official. No doubt, such a norm looks more romantic and filled with love, and guys of the current generation do love this trend. In addition, this norm gives us hints that they have been taken.
The Modern Customs When It Comes To Men's Wedding Rings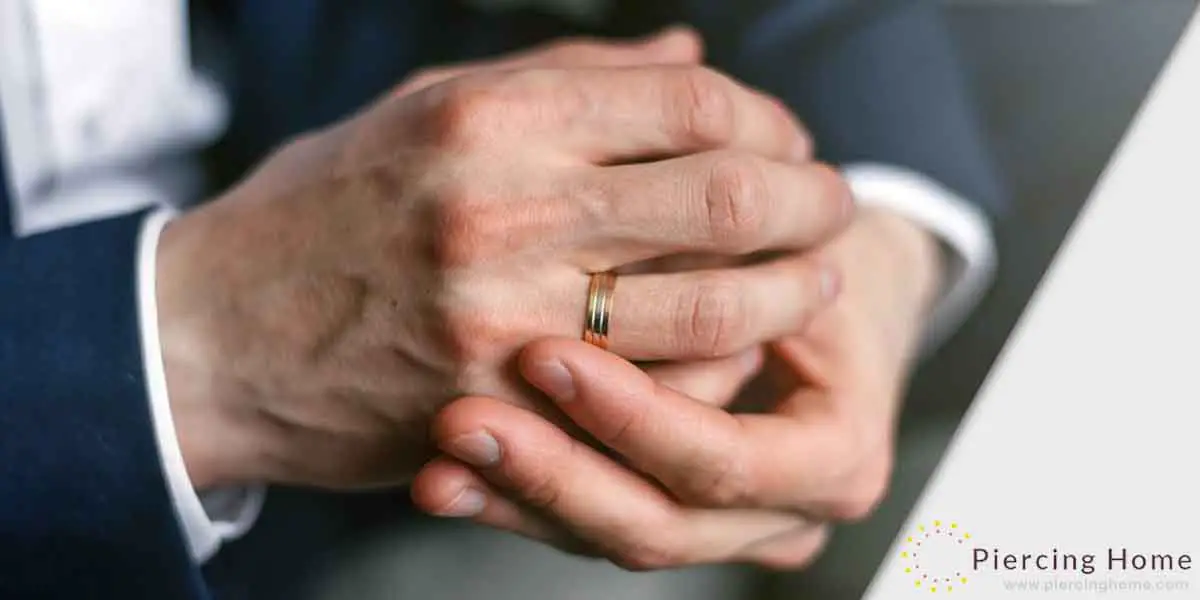 The modern customs and norms are also somewhat the same! Guys and men of the 21st century are spotted a bunch number of times flaunting their engagement rings and bands. Before they get married, they wear a ring to make it clear to the world that they are in love with the girl and their loyalty and honesty are only meant for that girl. In the modern era, the trend of wearing this jewelry on men's fingers is getting higher day by day. It shows the symbol and gesture of unconditional love, passion, honesty, and trust. Celebs like Chris Hemsworth have been spotted embracing this custom.
Do Guys Wear A Ring When They Are Engaged?
So, our answer is yes! We have already told you that guys and all committed men do wear a ring before getting married. Opting for this jewelry piece has become a common and generally accepted norm. They follow and adopt this tradition to show their love, passion, and honesty towards the love of their life. Besides, some like to wear a ring and some like to put on an engagement band, the choice is up to you!
This respective practice is done to show commitment, passion, and honesty towards the relationship.  This one has come out as the appreciating gesture done from the men's side. It has become the symbol of acceptance. If your wedding is on 10-12-2021, then do let us know whether you have been currently wearing a ring or not.
What Do Guys Get For Engagement?
Lots of gifts and presents are given to men on the day of their engagement. You can be as creative and imaginative while thinking of gift ideas that you want to give to your loved one. Like, you can think of giving an Engraved Tie Clip and Personalized Travel Accessories to your guy. In addition, you can give him an Initialed Decanter and Custom Coasters. Some like giving a Monogrammed Knife Kit or "Our Song" Vinyl Wall Art.
You can think of as many excellent and great gift ideas as you can. Just think and brainstorm some of the elegant ideas and your guy will love that present for sure. Get a kind of present for him that keeps on reminding him of the love and commitment that you feel towards him.
When Does The Groom Get His Ring?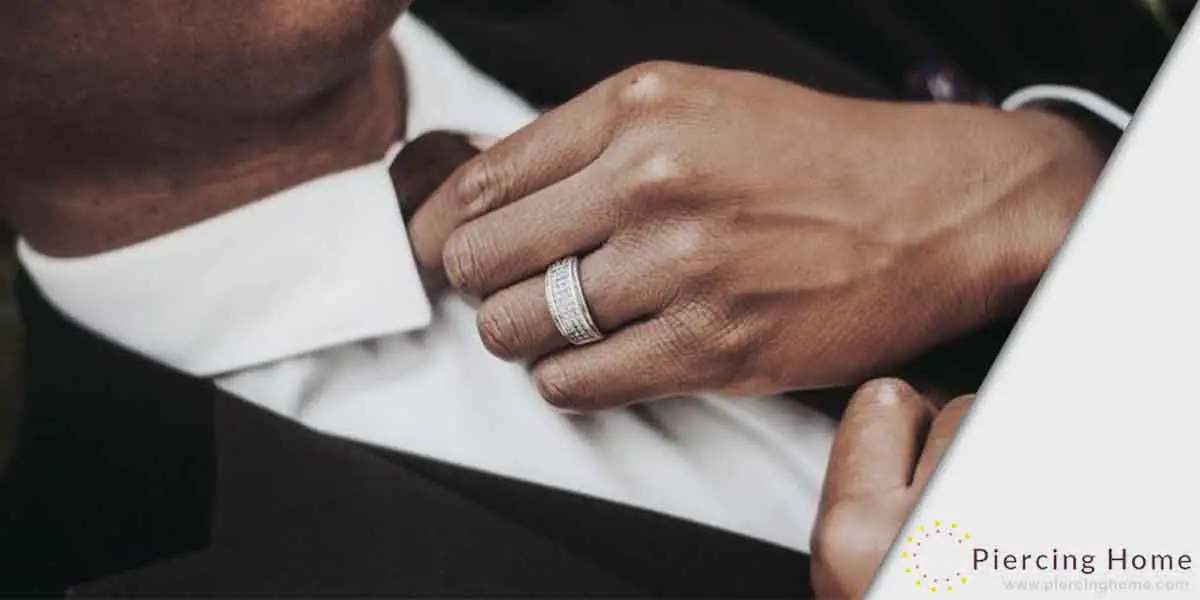 The groom gets the ring right there on the engagement day and also on the wedding day. This has become a widely accepted practice for both girls and buyers who like to buy their engagement or wedding bands on their own. They know their taste, choices, and preferences very well, that is why they love to buy this jewelry piece on their own. It is better to ask the groom to choose the ring rather than some other person picking the design. Furthermore, if the groom does not have time to choose the ring, then you should show him the ring once so that he can give a final decision and final thumbs up.
What Finger Do Guys Wear Engagement Rings?
You might be wondering in which finger do guys wear engagement rings, here we are going to tell you. The engagement band is marked as the promised band. The wedding and engagement jewelry stuff, are worn on the same hands and fingers. Like, if we talk about the ring, then it is seen that it is worn and put up on the fourth finger of your left hand. This is an old custom and tradition that has been followed for centuries.
It does not matter whether it is a bride-to-be or groom to be, they will wear the engagement band or ring on the fourth finger of their left hand. The same practice and norm go for both of the genders. If they wear rings in the fourth finger and that too in their left hand, this gives us the clear-cut hint that they are in a relationship and sooner to be getting married with the love of their life.
Now, this has become clear that engagement rings are worn on the left hand. But we see it as a somewhat different practice when it comes to wearing wedding bands. Some grooms like to put on their wedding bands on the right hand and some wear them on the left hand.
Is It Bad Luck To Wear Your Wedding Band Before Getting Married?
No, this is not at all bad luck if you have planned to wear the band before you have officially got married. You can surely put up the band if you feel like doing so; this idea is all about your emotions and feelings. You might have spotted lots of boys who love wearing bands before their marriage ceremony has officially got started. So, you can follow this norm as well. You should not consider this practice as a sign of bad luck. If wearing engagement bands are fine enough, then there is also no harm and bad luck in flaunting a band before getting married.
Most importantly, there is no fact and reality present in this myth that wearing bands before tying a knot will just bring bad luck in your life. You have to discard and remove these thoughts from your mindset. Instead, you have to start believing that wearing bands before getting married will in fact bring a lot of luck in your lives.
Men's Wedding Bands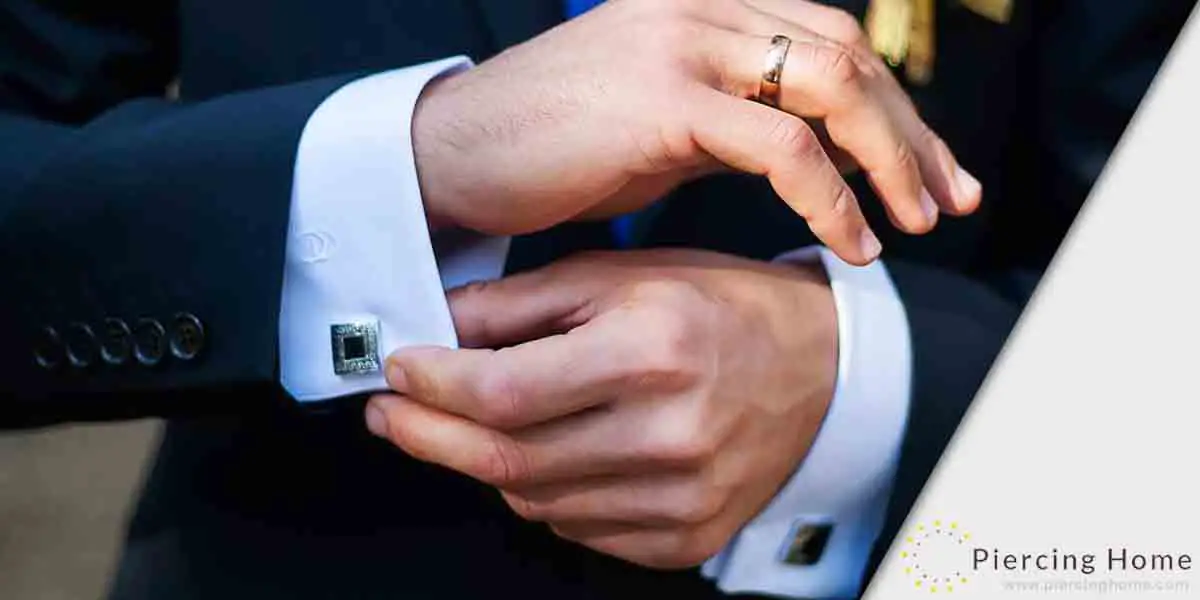 Below you can check out more of the details on men's wedding bands. The below-mentioned details will tell you what kind of variety and collection is possessed in this category:
You need to understand that those days are gone when girls used to be very much conscious when picking and selecting their engagement and marriage ceremony bands. The boys have also jumped on this bandwagon. Guys have become extremely picky when selecting their marriage ceremony band. Some like to get the band made of silver and some prefer having gold bands. In addition, some guys love to emboss and engrave their band with romantic statements. So, it is up to you in what way you want to customize and decorate your wedding band.
First of all, we are going to talk about silver marriage ceremony bands, they have become a popular option among men who are sooner to be getting married. No doubt, such a kind of band looks timeless as well as classic looking. These bands are available in lots of colors and designs. In addition, they have become the topmost preference among grooms. If your guy does not know what kind of wedding band he should go for, then you should suggest to him the band made of silver.
Some boys like to go with the option of brushed marriage ceremony bands. They have become a good fit and excellent idea for them. Such bands are made of stainless steel. Moreover, you can engrave both the inner and outer sides of that band. On that engraving, you can tell your partner how much you love him and that too in an unconditional style.
Besides, we like to suggest that if your engagement ring is of white or some other color, then try picking up the marriage band in the contrasting shade. The ideal of color contrast will oomph the look of both of these jewelry pieces.
There are some boys out there who love to have a marriage band made of gold; you can follow this design trend as well. No doubt, it has become an extensively popular choice among grooms. We all know that gold has become the symbol and sign of wealth but you can even use it for expressing your love and passion. These days, lots of budget-friendly wedding bands made of gold have arrived in the market and they do not break your bank as well.
More Details On Men's Wedding Bands
Now, we have told you some of the basic details on what kind of wedding bands are currently available. Below we have highlighted more of the details; you can have a look at them:
In the current times, guys love wearing a marriage band made of either gold or silver. Both of them have become popular trends so far. Moreover, it is advised to prefer wearing that jewelry piece on your wedding day that looks classic and also thicker. In terms of designs, you can consider both traditional and non-traditional designs. Some like to have their bands or rings available in plain styles and some like having royal kinds of designs.
What you can do is to visit the jewelry shops and markets and try exploring the designs of this jewelry piece more and more. As an example, some grooms think of getting a kind of marriage band that comes with a wooden inlay. This one has become a popular and perfect choice for outdoorsmen. These kinds of designs look classy and subtle. The bands that are injected with a wooden inlay, look unique as well as manage to bring a personal flavor to your whole wedding look. It will be super best if you engrave the inside section of it with some love statement.
Most noteworthy, some men love and prefer adding patterns to their marriage bands. You can follow this trend as well if you love wearing a jewelry piece that is packed with lots of patterns. When your band gets surrounded with a bunch number of styles and textures, then its design will further get oomph!
All in all, you should try getting a kind of band or ring for your special day that reflects and showcases your love and commitment. That jewelry piece has to look special and appealing. In addition, that respective jewelry piece has to give you a constant reminder that your marriage is all centered and based on faith, worship, as well as love.
Engraving Ideas And Top Suggestions For Men's Wedding Rings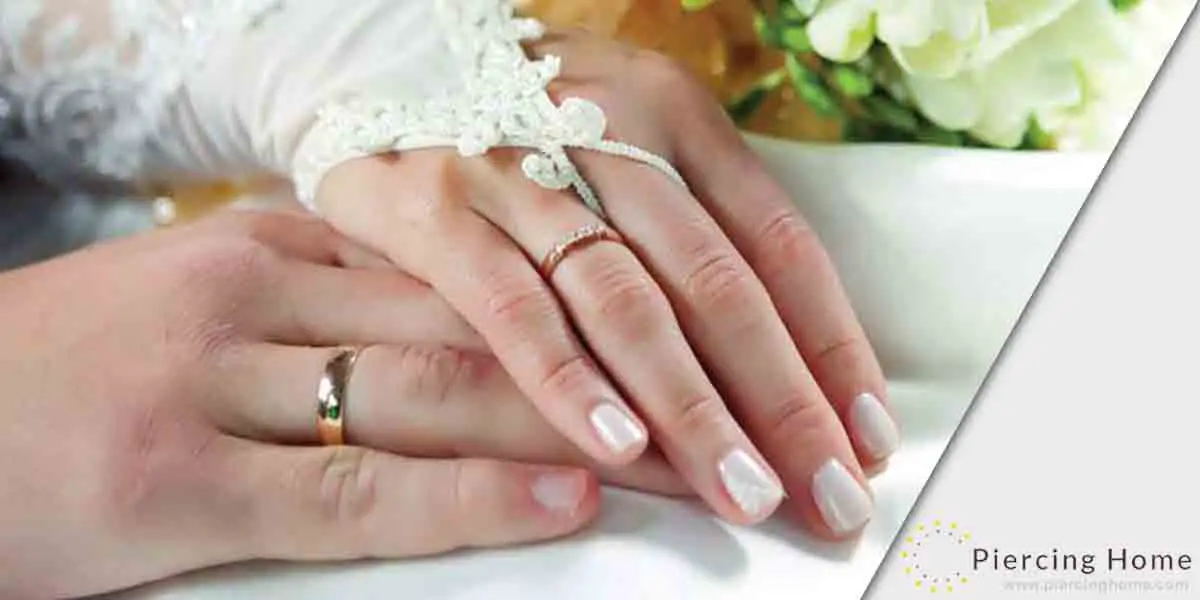 If you are looking for some great engraving ideas that you can emboss and inject into the wedding ring, then do check out the below-mentioned ideas. We hope that with these ideas, you can make your wedding time more special:
Some like to emboss their rings with the statement, "I do."  This one is the short and sweet engraving message idea that you can go for. In addition, it is the sweetest and romantic gesture that you can show to your loved one. Besides, some men like embossing and engraving this statement on their rings, "I do promise to love and cherish you". And some love birds like to inject this engraving "I do want you forever."
We have seen that most of the brides and grooms, engrave the date of their engagement or marriage on their rings. This is another top and highly embraced idea that is loved by the couples of the current generation. You need to bring an intimate spark to your wedding jewelry collection and these are one of the best ideas that might help you out. If you will go with such engravings, then your wedding and engagement moments will become more special.
You should make sure to avoid engraving a long message on your marriage band. It has to look short, simple, and quick. Like, you can go with this message idea, "To have and to hold." We will update you with more of the sweet as well as classic wedding vows that you can emboss on your wedding or promise rings, so keep tuned with us.
Conclusion
This is the current answer to the question of do guys wear wedding rings before marriage! So yes, you can follow this trend. You can surely jump into this bandwagon. There is no sign of bad luck if you will wear the ring or band before your engagement or wedding eve. You have to stop thinking in this manner! If your engagement is coming up or your wedding eve is about to be commenced, you can put on the ring or band to tell your partner how much you love him!
This is not a restriction at all that wedding rings and promise bands can only be worn on special days. To show your faith, loyalty, and love towards the love of your life, you can put on the promise ring and wedding band for sure. Rest, we have also shared with you some of the great engraving ideas that you can inject into your wedding or engagement ring.
Wearing these rings is a symbol of love and a sign of exclusivity. The old customs and current traditions have highlighted the fact that guys do wear rings and bands before their weddings. By doing so, they are giving us the sign that they are in a serious committed relationship.
Whatever else do you want to know about weddings, rings, and bands, do share your queries with us and we will be happy to guide you.