What do guys think of toe rings? This is a repeated question of our society these days. This is just because of the ever-increasing popularity of toe rings for both genders but especially men. With the advancement in the fashion industry, men's jewelry has reached a maximum approach. Guys feel sporty and enjoy wearing jewelry especially rings, earrings, watches, and bracelets. Toe rings are a little controversial as people consider it purely an odd fashion or a fashion only for ladies.
But I think there is no harm in wearing a toe ring for men. They are easy to carry toe rings. There are specialist designs of toe rings for men that many well-known brands are making. Boys who love the sport feel it easy and trendy to have a toe ring. If some men don't like to wear toe rings, it is just because of the old orthodox theologies.
The people with broad scope and wide ideas don't consider wearing toe rings a bad thing. They love to look trendy and sporty. The guys, who love flip-flop and playing near beaches, wear toe rings. Even some men wear a toe ring that is similar to their beloved's toe ring. They think it is the symbol of love and a long-term relationship.
A Brief History of Men's Toe Rings
Toe rings are as old adoption as finger rings are. Toe rings history starts back from centuries B.C. Even the religious book of Hindus Ramayana has mentioned about toe ring that Sita wore. It is originated from Hindu culture. The women of those times wore toe rings to symbolize their marital status. Even they have two matching rings in both of their toes. They wore toe rings on the second toe or the middle finger.
Men also wore toe rings in their big toe or second one. They wore it for some medicinal purposes. They had a theory of getting masculine power by pressing the pressure point on toes. It was the production of Bohemian culture in the sub-continent first. But over time, people loved to wear the toe ring equally.
In 1973, Marjorie Borell thought it an amazing fashion for men and women. He brought it to America and introduced it among the masses. People especially women took it too sexy to wear toe rings. From that time till now toe rings are getting popular day by day. But men also welcomed toe rings as a great fashion accessory. They thought it playful to have toe rings. The men with fashion craze accepted it wholeheartedly. But many conventional people still thought it unsuitable for men. They consider this thing an unnecessary adoption for men.
But now with time being, men have started acknowledging toe rings as jewelry. They think it is too sexy to appeal to women. The men, who love enjoying life near beaches, love adventure, or flip-flop on the sea-side, wear these toe rings. Many famous jewelry brands are producing toe rings in the latest designs. The bands in simple and decent settings are most loveable to the guys.
Today, toe rings are considered men's accessories. Although it is a piece of unisex jewelry, yet boys are now attracted towards it rapidly.
Why It Took Time To Accept Guys' Toe Rings?
Men and women share some common things. Some fashions are unisex too. The jewelry as rings, ear and brow rings, necklaces, and bracelets are commonly worn by both genders. If we take a look at history, we find that men in Bohemian and Indian culture wore toe rings. But its impression is still imprinted in minds as a piece of feminine jewelry.
This theme is still somewhere in our minds. That's why we hesitate to look at guys wearing toe rings. Some men find it quite odd that they have something related to women. They think it is a disgrace to their masculine identity. Our society didn't accept this men's toe ring trend early on. Almost a century took to get the adoption. But now things are getting better. People have forgotten old conventional ideas. They think in broad vision. A thing that had no space in society is being produced in the latest styles. Guys think it is too sexy to attract feminine favor. They style themselves by wearing trendy toe rings whether in the big toe or the second toe.
Things For Guys to Consider While Wearing Toe Rings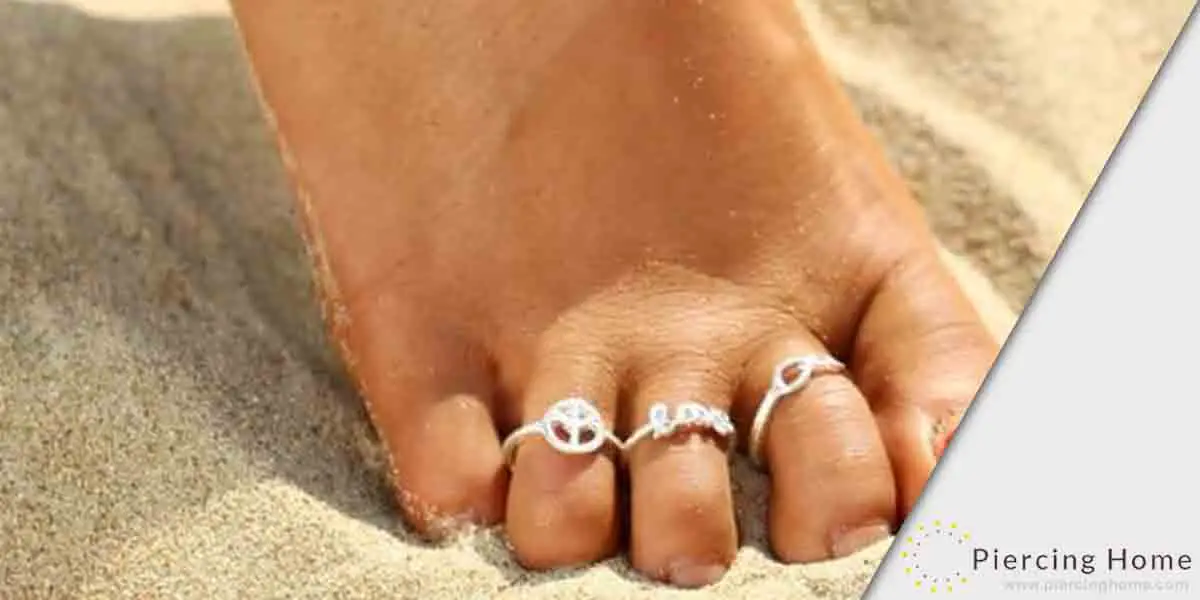 If guys have made their minds to style their feet with toe rings, they have to care about certain things. It will make them not only more trendy and stylish but also they will feel easy to move. The first thing every guy should keep in mind is that they should adopt this fashion wholeheartedly. If they feel shy or nervous in wearing a toe ring, they will remain depressed. This depression will not make them feel at ease at any time. The thing they have adopted for relaxation will become a nightmare.
Let's have an eye on the things every guy should consider while wearing a toe ring.
Trim Your Nails First
If some guy wants to adorn his foot with a toe ring, he has to keep his feet clean. The first and foremost thing you have to do is to clean your nails. It happens generally that we don't focus on the cleanliness of our toes. Instead, it is most necessary to keep our nails trimmed and clean.
If we don't clean our nails and do not trim to shape them, they will give quite a messy look. Anything you wear on your feet to adorn them will lose its attraction. On the other hand, you will feel discomfort and pain in wearing and removing the rings. Cleanliness is half a faith so trim your nail to give a nicer and cleaner look.
Choose the Foot Jewelry Wisely
The choice of foot accessories is too important for guys in special. It is because of the dressing they have to do. They can't wear sleepers or sandals every time. They have to wear boots and shoes while going on jobs. This can be a little uncomfortable for them if they choose the wrong jewelry.
What can be the meaning of wrong jewelry? The toe ring with beads and gems or the rings with intricate styles are the wrong selection of jewelry. All such rings will look cool on foot but can be problematic when we wear them in shoes. Wearing stockings or socks will also be great trouble for your toes. You can hurt your toes.
Choose Comfort Over Style
I know beaded jewelry has a great attraction. Everyone gets attraction to these beads or jeweled toe rings. The brands are also promoting stylish fashion toe rings instead of simple rings. This makes guys select these articles. But what happens afterward? It makes them uncomfortable to move and sleep.
All these stylish beaded foot rings can hurt your toes. It will make you feel difficulty in sleep too. We know that everyone loses his senses while sleeping. These rings can stuck in our beddings or clothes and rip the skin off. So choose decent and comfortable rings that make your feel relaxed in moving around. You can run, play, and dance with these toe rings.
Choose Good Material
Although toe accessories are now becoming very common and every company is producing, yet we should choose good quality rings. The market is full of cheap and low-quality stuff but it is not suitable for our feet. If we don't consider quality products, we can have allergies or infections.
Many famous companies are introducing qualitative feet rings in gold and sterling silver. The rings with stainless steel are also a good choice. Even it will make your skin soothe instead of hurting them. All these quality rings are hypoallergenic and soft. You may wear them all the time during your routine. 
Plan Your Footwear According to Your Rings
 Every guy should make a plan according to his toe rings. If he inclines to wear a ring on his toe, he has to choose his rings according to his rings. The season in which he plans to wear rings can help him decide better. An open soft sandal or softy can solve his problem to a great extent.
Many guys plan to spend their holidays on beaches or hilly areas. They spend much of their time shopping for their jewelry or accessories. But they forget the most important thing of their whole travel. This is the selection of their shoes. A man who is crazy to wear rings for toes must have a good shoe package with him. If he doesn't have soft and comfortable sandals, he is going to spoil his holidays.
So make a combination of toe rings and shoes intelligently that you can wear your favorite jewelry happily.
Do Not Try To Wear Multiple Rings at A Time!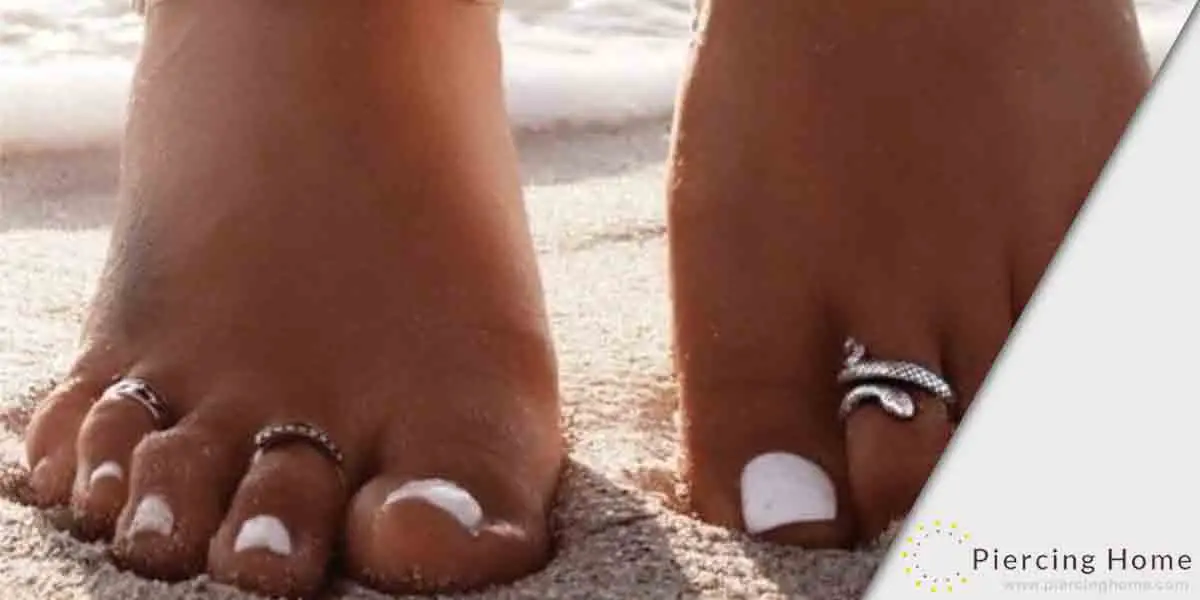 If someone wants to adorn his foot with more than one ring, he will destroy his foot. One thing everyone must clear in their minds is that more than one ring is not good for your feet. It can discomfort your feet. There are chances of friction among these rings that can damage your toes.
Similarly, if men wear multiple rings on their feet, it can make them feel discomfort with shoes and joggers. You have to tie these shoes tightly and consequently, your toes are hurt.
On the other hand, it looks odd and indecent to wear more than one ring. I don't think it is good for men to adopt something unpleasant.
You Have to Spend a Good Amount of Money
Every fashion needs to spend money. Nothing is free of cost now. Our craze to adopt this trend can empty our pockets. The reason behind it is quite simple. If guys are wearing good quality rings, they have to spend money. The market is presenting the latest style toe rings. But if we are reasonable, we will go for good quality things. The minimum amount of money you can spend is 20$. So make your mind that if you are trying to have versatile rings, get ready to spend money.
Match Your Rings With Your Clothes and Shoes
If some guy wants to make his looks more sexy and attractive to impress the girls, he has to match his jewelry with his clothing and shoes. It will directly make girls flat on that guy as she will consider him too elegant and decent. The girls are always attracted towards the boys who have a good sense of dressing along with jewelry.
The gorgeous metals and glittering stones are of no importance if you are lacking in dressing sense. A piece of matching jewelry and dress has a positive impact on our surroundings. Our friends and colleagues will appreciate our choice.
Remove the Toe Rings While On Long Distance Walk or Sleeping
It is heart-melting for girls to look guys have a good sense of jewelry. But that doesn't mean that they keep it wearing all the time. The guys who wear their rings on their toes while sleeping can face trouble. The rings have a chance to stick in the beddings and can tear your skin. There are chances that these rings can become too tight because of the swelling of your feet that it will hurt your toe.
Similarly, when you have to walk a long way or have to spend enough time on foot, remove your rings that time. It will make you relax and you can perform your task comfortably.
Most guys don't want people to look at their toe rings and try to hide them. It is because of their disliking this trend. But if these guys do this practice of hiding their toe ring in socks or shoes, they can create problems for their fingers. The result of this pressure situation can be burns and swollen toes. So don't feel shy to remove or wear your toes. Just think of your comfort and put them off while sleeping or having long-distance travel.
Do Men Ready to Accept This Ever Growing Trend of Toe Rings?
History shows that toe rings were greatly popular among the people of the sub-continent. It was considered unisex jewelry. But when it was brought to America and European countries, it was not accepted. People criticized this fashion badly. They considered it a feminine fashion.
But now it is greatly accepted throughout the world. The men, who once were a thorough opponent of this trend, love to wear it now. There is tight competition between different brands to offer their latest toe ring designs.
From 1973 till now, old and worn-out ideas are buried. People, who flip-flop and thrive for fun every time, consider toe rings too sporty. Many celebrities like BTS Army wear toe rings of many types. This adoption took a long time while people started to think of it as a masculine beauty accessory. Women love to walk barefooted with the guys who are wearing the ring on their toes.
So we can say that men are accepting the ever-growing trend of toe rings. They gradually developed new ideas related to these rings. They understand now fully well that what benefits they can get from wearing these rings. The researches that are being made in the field have proved that it is a reality that there are many hidden health benefits in wearing something tightly on your toes. They find it sexiest for girls o tempt to love and make friendships.
Benefits Guys Consider They Get by Wearing Toe Rings
Hey there! I know that you were the guys once who thought it unethical and odd to wear toe rings. You consider it bad to show your toes to others in embarrassment if you had any ring in it. But now the time has changed. Guys think it is very good to wear toe rings now. They have researched the Sub-continent history and found it quite beneficial for them with many aspects.
Let's discuss some of the benefits guys think of wearing a toe ring
Ayurvedic Benefits
This fashion is not only making guys up-to-date but also giving them health benefits. We have read the Bohemian history where men wear these rings on their toes for the sake of increasing their masculine power. They consider it great for making them physically strong. Now this thig science proves that it has great health benefits.
Similarly, it is also a good technique for women to improve their reproductive system. All these things compel guys to wear these toe rings.
Prohibits the Absorption of Negative Energies
It is a common phenomenon that toe rings are made in silver. Silver is a great conductor of all the positive energies. It can absorb sun energies and repels negative to come near anyone. That's why guys have started to develop an inclination towards rings for toes.
Trendy and Stylish Fashion Accessory
It is a thing that took almost a century to get acceptance, has become too trendy that guys crave to wear it. The men who have a ring on their toe are considered stylish. Women appreciate such men who have good fashion sense.
This stylish fashion accessory is decent and graceful and is a bit sporty. You need not be too much worried about its price and design. The simpler it is, the more graceful you look.
Guys Look Sexy and Smart
It is a common observation that the guys who wear toe rings, have to face lots of jealousy and criticism. Once, it was due to the lack of acceptance. But now it is not so. The case is changed. Now guys feel jealous of the one who is wearing rings in toes because of their stylish looks.
Women automatically feel attraction like a magnet towards the men who have toe rings. They dream to move and walk with them. When boys wearing toe rings play on beach sands, girls miss their heartbeat. It is the reason guys think wearing a toe ring is good for them to win a girlfriend.
Conclusion
The above discussion is not about the toe rings but the views of guys about it. "What do guys think about toe rings?" is the real question. All the debate deliberately shows that toe rings were an old history and are still being worn. But people didn't wear it for the sake of fashion but for the sake of other benefits including health and power.
Now it has become a part of fashion. Every coming day, guys lurk to have a ring in their toe. The guys who are sporty and love to enjoy sunny days on beaches, like to wear toe rings. They consider it quite appealing and fun.
We can assume that every increasing day has a good impact on the fashion industry. People are adopting new trends and love to style them differently. Toe rings are an example of one such trend.
The history that started from centuries B.C before is still surviving because of its benefits and unique looks. All old misconceptions and orthodox theologies are gone now. Guys have the strength to face the questions of society. They think it is their right to adopt what they think is good for them. Toe rings are an example of this adoption.