Ear Piercing
Is Stainless Steel Good For Sensitive Ears? | Expert's Guide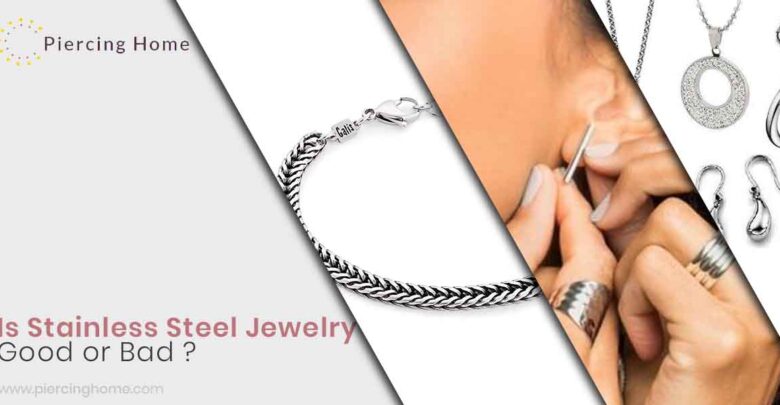 The craze to be most trendy and up-to-date makes us wear different types of clothes, shoes, accessories, and jewelry. Sometimes the things we do for our esthetic satisfaction become a source of pain for us. Instead of being happy and contented, we remain disturbed and depressed. Now The appear is that Is Stainless Steel Good For Sensitive Ears?
The sensitivity of our skin normally causes severe issues like skin irritation, skin soreness, and even skin infections. Our skin doesn't need to be sensitive by birth. It can be so but not everyone has this issue. People who have skin issues should have to be careful while choosing any skin products or jewelry.
Jewelry is special causes many skin allergies. Many kinds of skin allergens can be harmful to our skin. Different metals are considered safe to use in metals as they are considered "hypoallergenic". Stainless steel is among these metals. It is believed to be skin-friendly and can be used by people with sensitive skin.
Is Stainless Steel Hypoallergenic?
Oh my God! I know average women face skin allergies. The sensitivity of their skins causes soreness, itchy skin, inflammation, redness of the skin, and swelling of the skin. It is difficult for them to wear some jewelry items because as early as they put on some jewelry, their skin starts reacting against it.
In such a situation, women try to avoid wearing jewelry and keep simple. But this is not the right solution to the issue. Many metals are "hypoallergenic".
Now what is hypoallergenic, that is the real question. The term "hypoallergenic" basically refers to the things that don't cause any allergy. These metals are skin-friendly and have no side effects. After wearing a piece of jewelry, we start to feel itchy or uncomfortable. The area where we wear any jewelry item tends to become red and swollen. All these signs fairly tell that we have a skin allergy caused by some allergenic metals.
It sometimes is not the fault of any metal that we become itchy or irritated, but our skin itself is too prone to allergies that it instantly accepts all the metallic reactions that take place after we wear any jewelry. And if the jewelry has some allergens in the shape of lead or nickel, the situation worsens.
This is the reason everyone is so conscious about buying a jewelry item purely hypoallergenic. It tends to jewelry products that don't include any allergenic metals like nickel or lead. There are many metals expensive or cheap that are hypoallergenic on their own. The jewelry companies claim that they are offering these metals jewelry and it is purely allergy-free. But still, by wearing these jewelry items, our skin starts burning and itching.
Where is the problem hidden! The problem lies in the metals they have to use in their jewelry as alloys. These alloys can be copper, nickel, or cobalt too. By using these metals these companies try to reduce the cost of their items.
Now stainless steel is a great metal in this regard. It is considered one of the most hypoallergenic metals. Even it is so much trusted that used in surgical items and is called surgical steel. The jewelry made with stainless steel si good for our sensitive ears. We know that earlobes are a much soft part of our body. It is made of flesh and uses different stylish and intricate earrings. We wear dangling and heavy earrings that burden our ears. But if we wear stainless steel earrings, we will be contented enough that it is a hypoallergenic metal and will not spoil our ears.
What Makes Stainless Steel A Trust-Worthy Metal?
The history of stainless steel is far beyond a century in 1913 when Harry Bearley thought it necessary to have a combination of metals that will be stain proof and rustproof. From that time till now stainless steel rules the world to great extent. It is not only used in the airplane industry but also used in making many home appliances. The use of stainless steel in the industry is so reliable that medical equipment and surgical instruments are made with this metal. The dependency shows how hypoallergenic it should be that it is used in the medical field confidently.
Stainless steel is not a pure metal but a combination of iron, chromium, carbon, and titanium. Stainless steel can be called the king of all metals because of its versatility and varied functions. The jewelry items are made in stainless steel look so stunning and elegant that you can't resist its charm.
The appealing thing about stainless steel is its skin-friendliness which makes it commonly used. One of its great features is its rust-free and corrosion-free nature. This thing makes stainless steel a favorite of industrialists and businessmen. The evenings or other jewelry of stainless steel never get corrode and you a use it in water or daily routine. It is scratch-free metal and we can use it in a rough and tough lifestyle.
What Makes Stainless Steel A Trust-Worthy Metal
As far as we understand that sensitivity is not an issue created by some metals or jewelry. It is your body's actions and reactions to some things around you. You can get allergic even by smelling a flower. Similarly, if you get allergic to a metallic jewelry item, it is your body functions that act accordingly.
But it doesn't mean that we become derived of wearing jewelry or looking stylish. Modern science has invented and devised many metals or metallic mixtures that are hypoallergenic and will not cause you any harm.
Stainless steel is one of those admired and appreciated metals worldwide. It is a great metal that won the confidence of the people who were always afraid of wearing jewelry items. Now they not only wear jewelry confidently but also look trendy as the stainless steel jewelry market is the most advanced and trendy in the fashion world.
What makes stainless steel a metal to be trusted and dependent on are its unique features! Let's see them one by one
Free From Allergens
One of the best qualities of stainless steel is its hypoallergenic nature because it doesn't have any allergens. The combination of iron, chromium, carbon, and titanium has no space for lead or nickel. We can surely say that stainless steel is a 100% allergy-free metal. This is why we can use it freely for sensitive ears. We can depend on the jewelry made in stainless steel if we have the issue of sensitivity of the skin. We should have a blind trust in the stainless steel jewelry items.
Stainless Steel Is Rust-Free and Corrosion-Free Metal
The real issue sensitive skin faces is that it instantly reacts to anything. It may bra a jewelry item or a flower. Many skins excrete sweat that is too salty and acidic that it corrodes the metals we wear. This corrosion can also be the reason for allergies and infections.
Stainless steel is a mixture of all great metals that never gets rusty or corroded. It can be used in waters or at any time anywhere. This is a strong metal that can't be affected by any skin salts. We can trust jewelry made of stainless steel.
Chromium and Iron Make Stainless Steel Hypoallergenic
One of the most important points stainless steel wins over other metals is the addition of iron and chromium. Both of these metals are purely hypoallergenic and thus make this metal metal-free from allergens.
Chromium is strongly resistant to the damp and moist environment and helps create chromium oxide all around the stainless steel. This oxide never lets any moisture come into the metal to make it allergenic or corroded. This is the greatest feature of stainless steel that makes people believe in buying its jewelry. It will never damage your sensitive ears whether you wear it inside water or outside.
Stainless Steel Is Strong and Sturdy Metal
Stainless steel is the favorite metal for jewelry makers. It is widely used in jewelry companies and they think it is reliable enough to cast any design. It is a strong metal and is good to carry intricate and difficult designs that a normal metal can't bear.
This is the best choice of companies that want to make a reasonable jewelry item that is not only hypoallergenic but also can be molded in any design. Its strength is its power and it is not that expensive as gold or platinum.
Due to its strength, people use it to fix expensive and valuable stones like diamonds or emeralds in it. The overall look of a stainless steel earring is very elegant and royal.
All the above-described features are enough to make stainless steel a trustworthy metal and we can depend on it for our sensitive ears. It will not create any soreness or redness even. It will make you feel relax even at your sports.
Compare And Contrast Between Sterling Silver Or Stainless Steel For Sensitive Ears
It is a clear fact that stainless steel is one of the best metals concerning sensitive ears. It will even help you soothe your irritating ears after wearing the earrings. If you feel helpless and can't find anything suitable to wear, then stainless steel is here to solve your problem.
As far as sterling silver or 925 sterling silver is concerned, it is also considered a good metal for sensitive ears. It is also given the title of hypoallergenic metal as it doesn't hurt your ears as much. But if we compare and contrast both the metals, stainless steel is a step ahead of sterling silver. It has 92.5% of silver with 7.5% copper as an alloy. It is good to add an alloy to make a metal strong and sturdy. But sometimes the alloy can be allergenic to your sensitive skin. We know that copper is a fast reactant and it starts to react instantly with all the available components in the environment or skin.
At the same time, sterling silver can have the recesses of nickel or lead to a little extent. In normal routine, they can't be that dangerous as they can prove for sensitive ears. They can cause your ears to itch, redness, soreness, and even puss can be formed due to infection.
One more thing I want to tell you guys! The sterling silver that contains 92.5% silver can get oxidize due to the oxidizing properties of silver. As early as it gets in contact with moisture like sweat or water, it starts to make silver oxide. It not only turns your finger green but can also be the reason for some skin allergies. The greenish-black color of this oxidation can sometimes make your sensitive skin itchy and red due to the chemical reaction.
So, as a result, we can safely conclude that if we compare stainless steel and sterling silver to rely upon most concerning sensitive ears, stainless steel is more trustworthy and dependable.
Pros And Cons Of Stainless Steel Jewelry
Hey guys! I know that you always fantasize when you see a celebrity like Margot Robbie wearing some stunningly elegant stainless steel earrings in a red carpet ceremony. This makes you wish for an amazing pair of earrings that will not hurt your sensitive ears. To fulfill your dream, stainless steel can prove the best option. It is considered the best hypoallergenic metal and this is why it is loved by jewelry makers.
Lets' have a short look at the advantages and disadvantages stainless steel jewelry can have.
Pros Of Stainless Steel Jewelry
1-Hypoallergenic
The first and foremost benefit of stainless steel is that it is hypoallergenic and skin-friendly. You need not be afraid while you are buying an earring for your sensitive ears, It will nor=t cause your skin sore or rash. This quality of stainless makes it a prominent metal among many expensive metals. It is still asked and used instead of its reasonable pricing.
2- Looks Expensive On Use
Amazing quality stainless steel earrings or jewelry has that it looks so splendid ad graceful that you can wear it on any occasion fearlessly. Its appearance is o elegant and shiny that no one can differ that whether you are wearing a stainless steel earring or a titanium earring. This is why it is the best choice of the jeweler's companies. It is reasonable in price and looks too valuable like some expensive metal.
3- Low maintenance
A stainless steel earring or wedding band need not be cared for as much as other jewelry items need. It remains shining and elegant on constant use. The jewelry made in stainless steel can be used in our daily routine. We need not be worried about its tarnishing or corrosion. It is corrosion-free and rust-free so can be used anywhere anytime. A little cleaning by mere soap or detergent with help of a cloth can make it shiny again.
4- Lightweight and Easy to carry
Stainless steel jewelry is lightweight and easy to carry. If you want to try big dangling earrings, you can go for it confidently. It is too lightweight that you will not feel them a burden on your ears. This is another quality of stainless steel.
5- Pocket-Friendly
The jewelry made with stainless steel is very affordable and pocket-friendly. It is an amazing property of stainless steel that increases its liking. People boldly wear its jewelry in any event as no one can judge its cost and kind. Its designs and styles are always brilliant that makes them loveable among folks. People wear its wedding bands due to its package of qualities.
7- Environment-Friendly
One of the best qualities of stainless steel jewelry is that it is environment-friendly. It has no harmful excretions or discharges that may destroy the ecosystem. This is why it is well appreciated everywhere. Stainless steel is recyclable and cannot be wasted.
8-Long-Lasting and Durable
Stainless steel jewelry is strong and durable. It is not easily tarnished or faded. This metal is not rusted or corroded which is the reason for its long age. We can fearlessly use it daily in our rough and tough routine.
Cons Of Stainless Steel Jewelry
1-Reaction to Chlorine
One thing you must keep in mind is that stainless steel is prone to chlorine. When it comes in contact with chlorine, it instantly reacts with it and gets tarnished. We have to be very careful while going to swim in a pool. If it is unavoidable to swim in the pool, then we should wear 316 or 304 stainless steel jewelry.
2-Maintenance
As we know that stainless steel is a combination of many metals. So it needs to have cared for well if we want its long life to shine. The constant use can fade its shine and luster. But if we polish it regularly, its lifespan will increase.
3-Easily Deshaped or Get Dent
You can indeed use your stainless steel jewelry regularly but it doesn't mean that it can be striking on some heavy object. Doing this can be harmful to its shape and can deform it badly. The dents or craters will look ugly on your earrings.
4-Difficult To Resize
Stainless steel is a strong metal and can't be resized without special machinery. It is a difficult procedure to get your stainless steel jewelry resized. Normally jewelry stores don't have this type of heavy machinery that can cut or reshape your stainless steel jewelry.
5-Market Is New And Less
Stainless steel history is too old but its jewelry is not old history. This is why its jewelry especially the wedding bands are rarely available in the market as compared to other metals jewelry. But by the time, jewelry companies are taking great interest in designing jewelry made with stainless steel.
6-Nickel Allergy
Sometimes there are some recesses of nickel that can be harmful to the sensitive skins. As we know that nickel has great quality to be molded easily that's why it is used in a very less percentage in stainless steel. But people who have extremely sensitive skin can get skin allergies as soon as they get in contact with stainless steel jewelry.
Conclusion
A long and informative article about the properties of stainless steel proves that it is good for sensitive ears. Normally people don't believe that stainless steel can be so good and useful that we can wear its jewelry, especially for sensitive skin. But it's true that the question that "Is stainless steel good for sensitive ears?" can be answered "yes".
We can trust this metal that it will not harm our skin and there will be no allergies, rashes, or swelling. Doctors like this metal too much that many surgical instruments are made with this stainless steel. It's economical and affordable. Its earrings will not feel you a burden on your ears as it is a lightweight metal.
If we look into its history, we will be astonished by its great usability. It is the love of industrialists and now jewelers are also preferring stainless steel to make unique and intricate style jewelry. It has great strength that's why it can be molded in any design.
I boldly assert that stainless steel is a great hypoallergenic metal with hundreds of benefits.