It is a completely exciting and fun experience to do the ear piercing to add uniqueness to your personality. But if you have been opting to do the ear piercing for the first time, then you need to be extra careful and attentive towards its care.
Piercing can be easy to obtain and is a fun thing to do. But according to the experts for some people, it is so much complicated to carry a perfect ear piercing for the first time. Therefore, it is important to know about what sort of piercing you are looking for and what will be your accurate healing care tips for a successful ending process.
How long do you Leave Earrings in After Piercing?
This is one of the frequent and most common questions which most of the people ask out if they are having the piercing for the first time.  Well, its quick answer will be to leave it for a maximum of 6 weeks for the earlobe piercing and maximum of 12 weeks for the cartilage piercing.
Ear piercing is divided into different types and each one of them is having their steps over the healing process.
Piercing Important Aftercare Maintenance Tips
The whole period of the healing process will depend upon how you will be maintaining your latest piercing area. It is a golden rule of thumb that you should always maintain the new piercing area to stay dry and completely clean all the time.
You should be having your piercing area to get 100% cleaned at least thrice times in one day.  And for that sake, you can make the use of some best solutions such as Inverness Aftercare Solution. Plus, you should be rotating the piercing earrings completely so you should fully prevent the posts from adhering into the ear.  As maximum care you will be giving to your new piercing, the less time it will take to heal down.
No one will want the bacteria to get inside their new piercing. Therefore, you can do some cleansing over the earrings before you insert it into the ears.
10 Best Earrings For Short Curly Hair in 2020 | Long Hair Advise
Selection of New Earrings
As you are all done with the healing, the next most important is to be careful about the selection of safe metal for the earrings.  As your piercing is in the new stages, therefore, your ears won't be able to support heavy or chunky earrings. You should switch yourself to such earrings which are lightweight and they are also easy to wear.
You should keep wearing simple small hoops for a maximum of 6 months until and unless your ear piercing is not completely healed.  Try to pick the earrings with the hypoallergenic metals including medical-grade steel, as well as 14KT gold plate, or even 24KT gold plated medical-grade steel.
Safety & Sterility of Ear Piercing
If you are considering changing your ear piercing, you should try to wait for a maximum of 2 hours until and unless you wear any next earring.  If you will wait for more than 24 hours, then it might be possible that the piercing will close down.  So all in all, a period of 6 months has to be an important element which you should keep in mind.  For a sanitary and proper cleanliness, keep on using the piercing solution.
What happens if you will leave your earrings in for long?
If you are wearing any earring piece for long hours and you are not cleaning it properly, it can eventually cause your ears to face the issue of bacteria. This can even lead to the condition of infection as well. One major sign of infection is redness and itchiness.  You can switch yourself to the latest new pair of earrings after the end of the healing period which needs to be in between 5-6 weeks for the earlobe piercing.
10 Best Earrings For Newly Pierced Ears in 2020 | Type of Time
How you can take out new piercing on your own?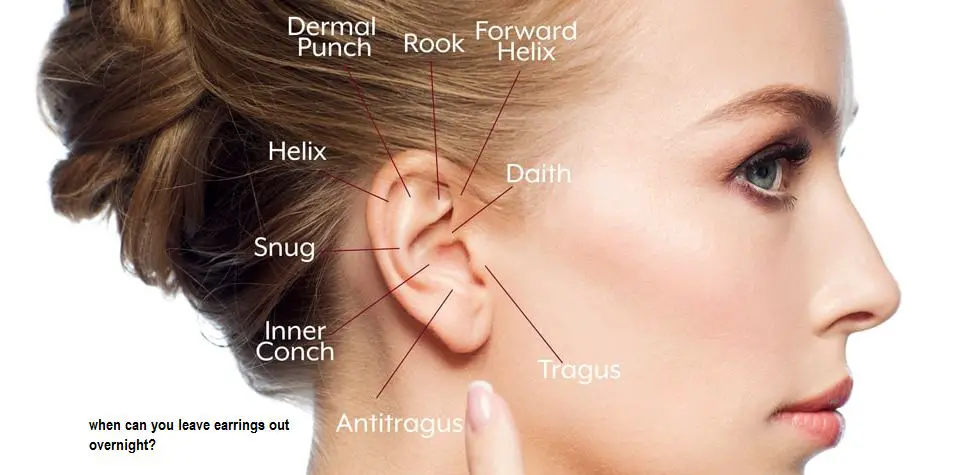 Is it important to visit a piercing expert every single time you want to take out your new piercing? Well, probably not! You can even take out your new piercing on your own at home! Normally new piercings are made out of professional-grade steel material which is 100% hypoallergenic. In this way, you will be able to safely leave the earrings inside the piercing for so many weeks as the piercing gets healed.
You can also take out your new pair of piercings even at the night time because at that time the holes are completely closed.  But if this happens, then you have to wait for a few weeks so that your skin can heal down completely until the area has not been re-pierced yet.
Plus, you should also avoid playing or twisting your jewelry all the time so it can eventually reduce the infection or risk of redness. You just need to touch the jewelry at the time you are cleaning that area by firstly washing your hands.
The majority of the piercers will suggest you wait for a maximum of 6 weeks to change your earrings into new original stud earrings. In case if you feel that your piercing is not being healed properly, you should instantly get in touch with your piercer through an appointment.
Apart from taking care of your piercing on your own, you should instead of all be following the aftercare instructions of your piercing expert.  The common tip which all the piercers will recommend is to clean your skin before inserting any stud. Even if you are not wearing any stud, you should clean the piercing skin at least 3 times in one day with a solution.
Conclusion
Well, we hope that this guide would have helped you a lot to know about how long time you should have your earring in after the piercing task. The healing process of ear piercing might be long and tiring but through aftercare best tips you can reduce your healing time very easily. Follow the guidelines which we mentioned in the above blog for you to get successful results!