Bracelets
Can You Make Pandora Bracelets Smaller? Complete Answer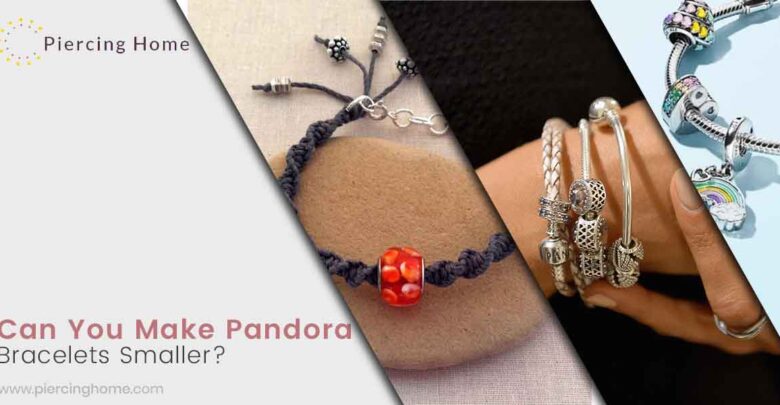 Pandora jewelry is popular worldwide not only because of its unique designs but also because of its reliability. Their bracelets are liked by women and men equally. The bracelet that Pandora offers is normally made with leather or snake chain strips. There is always a chance of stretching the Pandora bracelets. The reason is simple that Pandora's bracelet carries beautiful charms, beads, and stones that can make your Pandora bracelet stretch with time.
But can you make your Pandora bracelet smaller? This is the real query to be answered. Most people complain that their Pandora bracelets got loosen and now they are quite useless. They are wrong in complaining about this. It's true that by the time, Pandora bracelets get loosen or stretched. But it does not mean they can't be made smaller.
Pandora bracelets can be made smaller by taking it to a registered Pandora store but they never mention some free services in case of the stretch of any of their products.
Pandora bracelets are varied in their styles and designs. They carry heavy charms and beads. We know almost every Pandora bracelet has some theme or message that we wear at some special events or normally to show our feelings for certain people or places. This can be the reason for the heaviness of these bracelets.
We must be careful about the selection of a Pandora bracelet. The sizing cart Pandora provides must be studied carefully to avoid any inconvenience.
Take the Exact Size of Your Bracelet to Avoid Stretching of Pandora Bracelet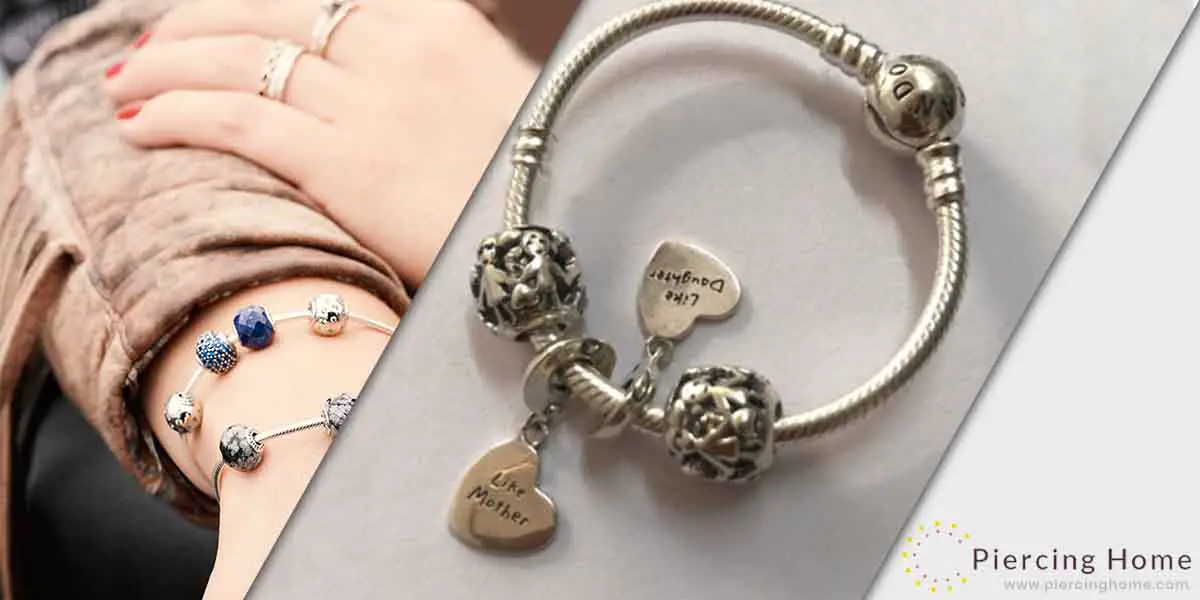 The first and foremost thing we must have to do is taking the correct measurement of our wrist. The problem starts from the time we don't caretake the correct measurement of our wrist. We want a fit-size of bracelet that may not move backward or forwards to cause us irritation. But with this intention, we take a tight size of our bracelet that looks amazing on our wrist at the first.
But with time it starts to loosen because of the tightness of our bracelet. Its charms and beads that make it heavy can't bear the resistance of our wrist. This is why it starts to get loosen. We know that leather and snake chains have the capacity to loosening. The Pandora tells it in detail that their bracelets will loosen a bit after continuous use. But they offer us a great sizing chart that is too helpful to get or exact sizing.
Add Extra Space to Give Your Sizing
But guys! That doesn't mean we stop wearing Pandora bracelets. These bracelets are great to use as they contain our feelings in use if some symbols, some names, any religious engravings, the first letters of our beloveds, the special dates to memorize us of our heartiest feelings, the historical backgrounds of some mystic personalities or any cultural obligations. All these things make the Pandora attractive enough to buy one for us.
Measurement Tape or Ruler Is Perfect Sizing Tools
But the size is still a problem. We take our exact size with the help of a measuring tape. The size should be taken from the widest part of our wrist. When the size is taken, add one and a half inches or 2cm in this measurement. It will make your bracelet move easily and not get stretched due to the striking of charms.
If you are going for a Pandora bangle bracelet, then you need not worry about the stretching of it. As the bangle of Pandora is made with pure metal and can't be stretched. Just take the size of your bangle according to your convenience.
A String, A Woolen Thread Can Help You Measure Your Bracelet Size
If you don't have a measuring tape, don't get panic. Just take the size of your wrist with the help of some string or a woolen thread. The same 1.5 inches should be added to get the perfect size of your Pandora bracelet. It is easy to guess an inch with the help of your index finger.
The Two-Finger Method Is a Blessing in Measuring the Bracelet Size
In case of not getting some measurement tape, ruler, or any string to get an exact measurement of your bracelet, you can take the size by fixing two of your fingers in between your wrist and the bracelet. If the fingers are easily fixed between the wrist and the bracelet, it will be a good judgment about your bracelet size.
It means that the charms that a Pandora bracelet adds have much space to move freely in your writ. This method can prove helpful if you are trying to buy a bracelet from some store or you are given a gift by someone your loved one. There is a chance to replace or alter the Pandora bracelet if you don't find it a comfortable fit for your wrist.
Tips and Techniques You Should Apply to Make Your Pandora Bracelet Smaller
It is quite natural to express our feelings by doing some actions, giving some gestures, wearing something, or waving and dancing in joy. It is an utmost desire of almost everyone especially the women that they may express themselves through the things they wear. This is what Pandora is meant to be.
Pandora was first introduced in Denmark in 1982. It got fame too speedily to reach almost every part of the world. The main reason for its popularity is its customized charms that we can use according to our own choice in bracelets, rings, necklaces, earrings, and even watches.
The main reason that women are crazy about wearing their Pandora bracelets all the time is that they want to express their heartiest feeling through these naming charms, or symbolic beads. And this is the actual reason for Pandora to get a little loose or stretched.
But still, it is not a thing to get depressed as much. If we adopt some tips and tricks on our own then I think we need not get bothered. Even we will need not to go a jeweler's store to get it resized or smaller.
Snake Chain Bracelet Resizing
Cut the Extensive Chain of Your Bracelet As far as the shortening of our bracelet is concerned, we have to be a little conscious as if we do something wrong, we can lose the Pandora bracelet thoroughly. First of all, we should use a good quality cutter to cut the extensive chain or the unnecessary links. We can remove the clasp if we find it bigger or excessive. We can just rejoin the links together or if it is impossible then can add a small clasp. A clasp can be easily available on market.
Jump Rings Will Be Greatly Help to Make Bracelet Smaller
Almost every Pandora bracelet is made with the additional beauty of jump rings. This jump ring is added in the state middle and end of the bracelet. We can make our stretched Pandora bracelet smaller with the help of removing these jump rings.
The jump rings can make your Pandora bracelet not only small but you can add them too to increase the size of your bracelet.
Add Some Additional Charms to Fix the Issue of Stretching
Another most useful thing or DIY we can do at home is to add some additional charms or stones in the bracelet that is making you crazy by hanging them almost in your hand. We have some broken jewelry items or some pearl brooches or clops at home. We can use them to fill the gap in our Pandora bracelet.
The heavy stones, pearls, and charms of your collection or remains can be helpful to create weight in our bracelet. This weight and fullness will make the bracelet stay at its place.
Pliers Are Great Tool to Shorten the Pandora Bracelet Size
Everyone has some tools at home to do little technical works. A plier is normally available at home and it can give a three-in-one function. It can cut rejoin and connect both the ends of our bracelets. But be careful while doing this experiment. Because if the Pandora bracelet is made of hard metal and you can't cut and fix it well, it will destroy your bracelet to nothing.
Use the pliers to cut the extra part of your bracelet from the links and then join it with the other links. It is a great way to reduce the size of your extended bracelet.
Leather Bracelet Resizing
Add a Dongle at the Cut Portion of Leather Pandora Bracelet, Adding a dongle on both sides of the cut portion of a leather bracelet is a good trick but it can't be done by everyone. It is too difficult that we should seek the assistance of an expert jeweler. A dongle can be easily available from a jeweler's shop or some hardware store. If we think ourselves expert enough to do this job, then it is a blessing to make your bracelet smaller.
Do A DIY With Pliers and Crochet Hook
It is quite a risky thing to cut a leather bracelet and then try to rejoin it. Normally it is a failure. But there is still a DIY method to make your Pandora smaller.
We can cut the bracelet with the help of pliers and then weave it with crochet. It is total technical work and should be done nicely and neatly so that the cut part may not look ugly. We can also add a link to hide that weaved portion if it is noticeable.
Make Some Additional Braids to Shorten the Size of Your Bracelet
1-On the other hand, finding no tool no device, or no help you can still do the easiest and free-of-cost remedy. If you try to twist the extended part of your leather bracelet that it will get the shape of a braid. This braided part will not only reduce the size of your bracelet but also will give it a new look. Afterward, press the ends in a way that they can become part of the bracelet.
2-Good pliers can also press the leather without cutting it. If you press the extended part of your leather bracelet in a way that it becomes too thin to accept some additional charms. These charms can help you make smaller the size of your bracelet perfectly.
Removing Charms from Leather Bracelet Can Fix the Issue
In the case of a leather bracelet, it is unavoidable to increase the size of your Pandora bracelet. But we can still be hopeful as there are certain ways to reduce the size and make your Pandora bracelet smaller.
If your leather bracelet is increased in size, remove some charms from it. We know that charms and stones have their weight. They are also responsible for stretching your bracelets with that of constant use. So if we remove one or two charms from our bracelet, it will be a great help in making our Pandora bracelet smaller.
Do Pandora Bracelets Stretch?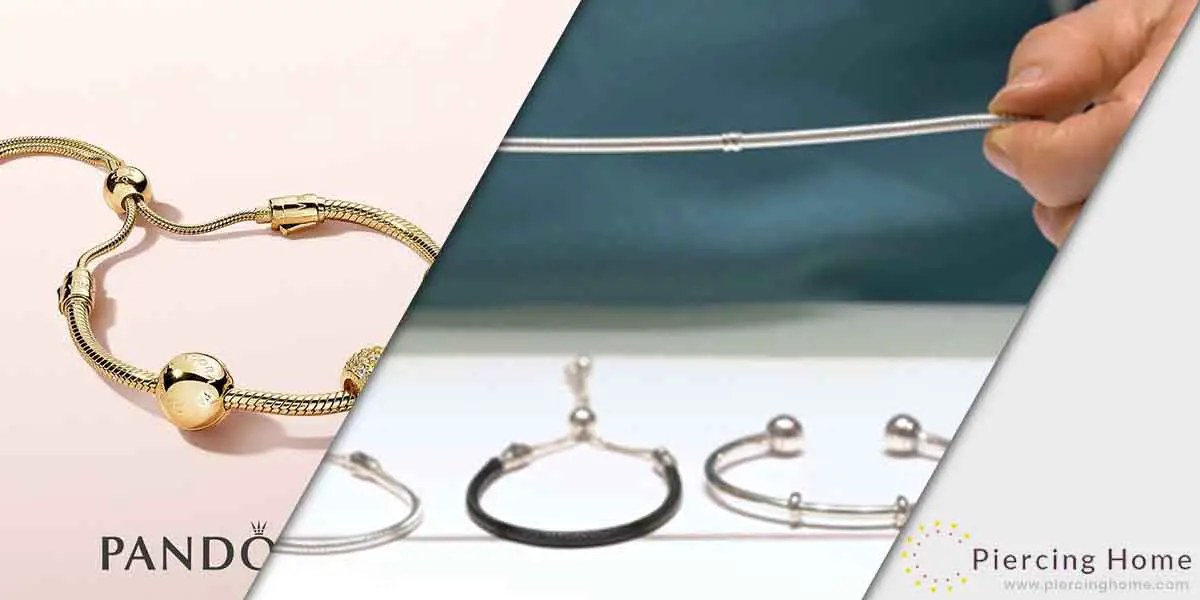 When we go to a Pandora outlet or shop online, we are told by the company policies that its leather or snake charm bracelets will surely stretch to some extent from half to 1.5 inches. When one thing is mentioned and is an obvious fact then we need to be careful in buying a Pandora bracelet. It should be at least 1 to 1.5 inches big than the exact size of our wrist.
Similarly, we should be cautious while choosing some charms for our bracelets. We should avoid using heavy charms and stones more than four. Instead, if it is possible then try to add a few charms as possible. It will not only increase the life of your bracelet but also you can use it in routine.
Can A Clasp Carry Some Importance in A Pandora Bracelet?
We can't deny the importance of a good clasp. If a bracelet does lacking a good clasp, its life will be shortening. A good clasp will tightly hold your leather r chain and will help reduce or increase the size of your bracelet.
It is decided that bracelet life mostly depends on a good clasp. There are different types and sizes of clasps. There are spring clasp, lobster clasp, magnetic clasp, and toggle clasp.
Never choose a big clasp if you want to make your bracelet smaller. You can buy a clasp from the market and can add or remove charms or links from it.
How Much Does It Cost to Get a Pandora Bracelet Resized?
We know that Pandora bracelets are normally made with leather or snake chains. But these snake chains or the charms may be of sterling silver or Palladium. It can be made with 18k gold too. The quality of a Pandora bracelet depends on the metal you want to use in it.
This is why when it comes to the matter of resizing or shortening the bracelet, we should have to estimate it. First, look into its original price and then be ready to spend on it.
A minimum expenditure starts from 15$ to 60$. It can be a little less or more according to the price of the metal in the market currently. The charms or stone shave their value and you have to pay the price of the charms if want to add the length.
A Pandora bracelet with lucky stones or some precious stone will certainly increase the value of the bracelet. The women who are crazy about stone-wearing will never compromise on price and will buy an expensive Pandora bracelet. And when it comes to the matter of resizing that bracelet, it will cost her the maximum according to the stone and metal used.
Conclusion:
So guys! If Kate Middleton can wear a Pandora bracelet then she will face the problem of its stretching. This problem is not a gigantic issue. We can cope with it easily.
It is bad to blame the company as it tells that they never give a guarantee of not loosening their jewelry items especially bracelets. We know leather and snake chain gets loosen by the time. So we should have to be careful in ourselves.
If we are fond of wearing a Pandora bracelet in routine, we must be ready that it not only can oxidize but also can stretch in size. We should clean the bracelet with oil and cleaning cloth regularly to avoid oxidation. Similarly, we should try some size-reducing methods by ourselves or by taking it to some Pandora store or a jeweler.
If we use fewer charms and try to burden the Pandora bracelet less, it will be long-lasting and will not stretch at all.