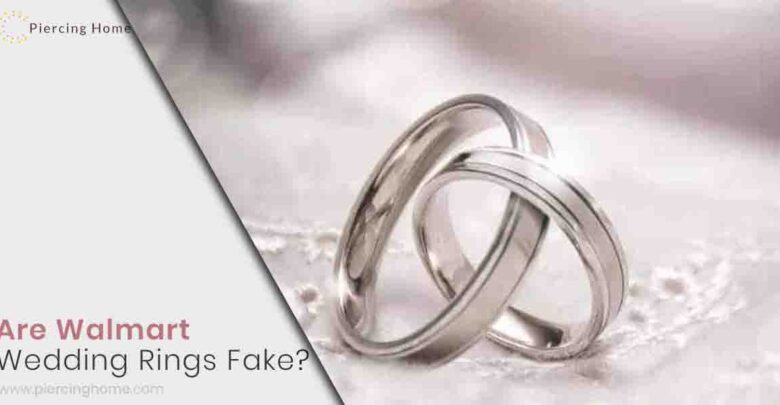 Everyone wants something extraordinary when it is the matter of buying a wedding ring. We have the curiosity to get an amazing thing that may astound all the people around us. A wedding ring with a diamond is more popular than any other thing. Many well-known companies like Walmart, Jeff Cooper, and Tiffany & Co are present in the market to appeal to us with their fascinating wedding rings. But Walmart is not only a jewelry brand but also provides millions of thousands of different accessories from all over the world. Its fashion and jewelry department is too big and has lacs of varieties.
Walmart wedding rings are very elegant and unique in designs and they are available at a too reasonable price. The low prices of a diamond ring catch the attention of customers. But are Walmart wedding rings fake? Its low prices arouse questions in everyone's minds.
Walmart sells its jewelry at too reasonable prices as it is a famous hypermarket where you go to buy cheap products. This internationally famous supermarket specifies that you can have everything under one roof. Many well-known jewelry brands are having collaborations with Walmart. This is the reason Walmart tries to facilitate its customers with low price wedding rings.
But the question of its diamond rings being fake is still unanswered. The gold that Walmart sells is indeed mostly 14k or 18k but its prices are according to its quality. Similarly, the diamonds that are fixed in Walmart wedding rings are good in quality but it is not claimed that they are the finest diamonds in the world.
Are Walmart Diamond Rings Real or Fake?
We know very well that Walmart is not a mere jewelry brand but a multitasking store that provides us with kitchen accessories to home appliances, machinery, and fashion outfits, and jewelry. It promises to facilitate its customers with low prices and a wide range.
Almost 200 jewelry brands have their contract with Walmart. These brands produce good-quality diamond rings. It is a special offer for a common man to get a diamond ring for his wedding or engagement ranging 1500$ to 2000$. It will help you not to empty your pocket. But if you want to get something elegant and special, it can offer you till 15000$ wedding rings too.
It is obvious that the diamonds used for Walmart rings are highly commercial-grade and this is the reason the diamonds are not ultra-high quality. The diamonds of Walmart jewelry or rings are mostly 0.5 to1.3 karats. These types of diamonds look elegant and ravishing but are not that precious to move from generation to generation. The companies which collaborate with Walmart understand the policy of low budget and they support the cause of providence, not the quality.
But that doesn't mean all Walmart diamond rings are cheap. Many of Walmart's partners offer the best quality diamond rings. It can be up to 3 karats that you find a good quality wedding ring from its stores. The decision is yours that which thing you are going to choose. Everything about quality and karatage is mentioned in its description. You can make your own choice according to your budget.
One thing you must know about the grading of Walmart rings is that they never have got the "p" grade that stands for perfect. The normal grade its diamonds or diamond rings get is "I" which means imperfect or "SI" which means small inclusions. It shows that Walmart diamond rings are not claimed the best stones of the world but are special enough to make your day.
Is Walmart Jewelry Real?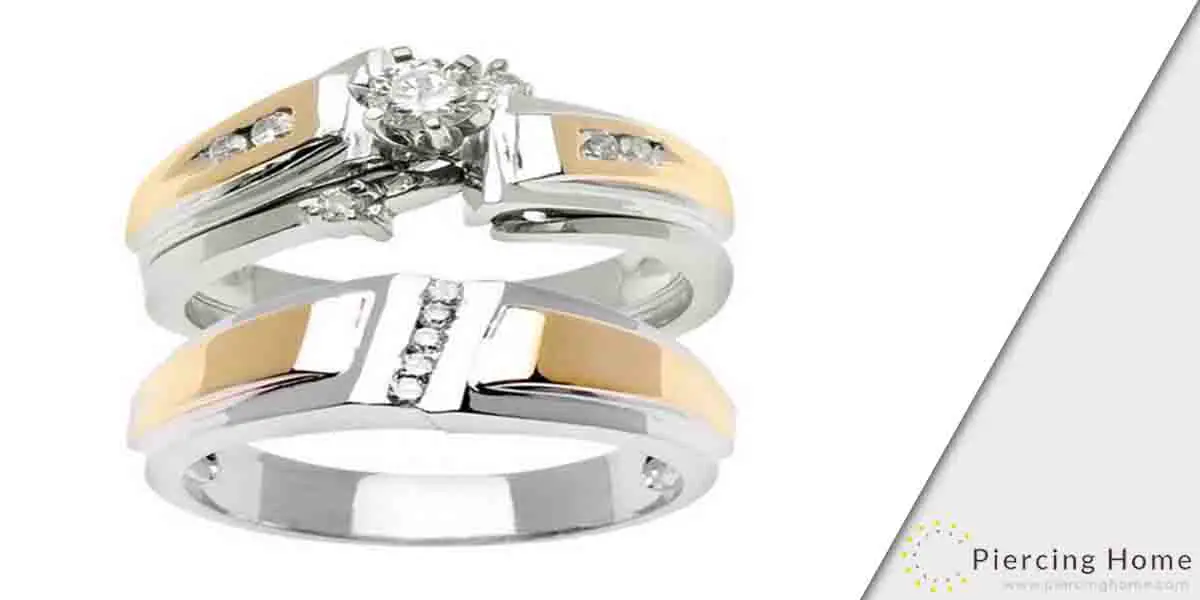 If we want to know the answer to whether Walmart jewelry is real, we should have to look into its brief history to understand its policy and strategy. Walmart is a hyper store that provides its customers with low price products. It tries to facilitate the world with everything under the same roof.
This service enables many new and old brands to work under its flagship. Its low-graded products especially jewelry fulfill the needs of everyone high or low. But we must be satisfied with this reason that it does not sell quality but the quantity. The designs, the make, and the finishing of every Walmart jewelry article are extraordinary.
The gold of this jewelry store ranges from 10k to 14k which is a reasonable category of gold. White and rose gold is also available in Walmart jewelry. Sterling silver jewelry is readily available at Walmart. So if someone says that its jewelry is not real, he will be wrong. The jewelry on Walmart is indeed low-grade but real. If you complain about the greenish color of its rings after use, or the rings become rusty, it is true. We have noticed that many high-quality rings start being greenish due to atmospheric change or your skin oils that react with it instantly.
The Quality of Walmart Wedding Rings' Gold
The discussion of Walmart jewelry is an unending scenario as it has many complexities and issues to deliver. For a common man, Walmart wedding rings' gold is not real. They consider it fake as the prices Walmart offer are too low that they create doubt in everyone's mind. But if we analyze the gold used in Walmart jewelry technically, we will be convinced that it is genuine. Whether the quality of gold is low, but it can prove itself real.
What makes the Walmart wedding rings' gold questionable? It is the quality of gold that makes it a butt of criticism. Instead of its increasing customers and following, Walmart still faces the uncertainty of being real or fake.
The gold jewelry in Walmart stores is usually of 10k gold in which percentage of gold is a bit low. The mixing of alloys like copper and silver is dominant in this kind of jewelry. 14k jewelry items are a little expensive as compared to 10k gold. It depends on the 58% of the gold present in it. Both 10k and 14k gold rings are available on Walmart excessively and there are chances of these ornaments being tarnished. It doesn't mean that the gold is unreal but its quality is low-graded. If you are in search of a 21k gold ring, you may find a small stock. But 24k gold is difficult to find in Walmart stores.
We can find rose gold jewelry in its stores as rose gold is also a combination of gold and silver. We can assume that in Walmart gold, silver is dominant instead of gold. No one can claim the fakeness of Walmart gold as there are stamps beneath the rings or any jewelry item. It will show you the karats and quality it belongs to.
Why Are Walmart Wedding Rings So Cheap?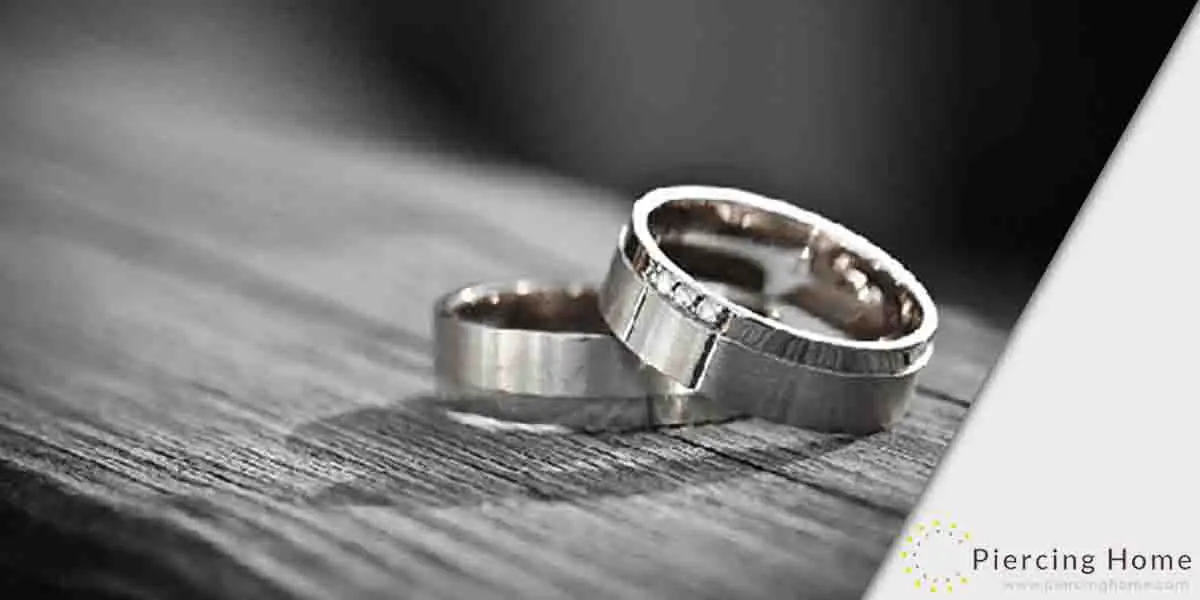 The wedding rings sold by Walmart are considered cheap because almost everyone can afford them easily. They not only follow the trends of the fashion world but also fulfill our desires to wear diamonds. No doubt the quality of Walmart wedding rings is not outstanding, but it is quite compromising. The gold which is more or less 50% in the whole of its jewelry, promises us a stylish and reasonable package.
Walmart wedding rings are 10k generally which may tarnish due to rough use. Silver is used as an alloy in it with that of copper. We can say silver dominates in any wedding ring at Walmart usually. It makes these items cheaper to be in reach of everyone. 14k gold is also available in its stores. But the elegant diamonds we find on these rings are not high quality. They only have the range of 3 karats maximum. All these diamonds are fully synthesized and commercially graded.
International grading units GIA and AGS give their diamond a grade between G-H because of their color and transparency. Their colors are not that crystal clear and have some clarity issues. But it is not easy to catch these issues with a common eye. If you have experience in holding antique and high-quality original diamonds, then you can capture this issue,
But Walmart doesn't consider it an issue instead. It offers such cheap and easily approachable jewelry to everyone. It is a kind of package from Walmart to the masses to enjoy their events with full zeal and zest.
Are Walmart Wedding Rings Considered Good?
It is an interesting fact that Walmart wedding rings are loved and liked throughout the world. These rings have a complete package for the people getting engaged and the people getting married. The specific wedding pattern rings have their specialty and class. No one can resist the charm of these wedding rings. The jewelry store Walmart presents has an outstanding range of rings embedded with commercial-grade diamonds. These diamond rings can fulfill your desire to wear a diamond ring as the designs and styles are too trendy and up-to-date.
The most appealing thing which enhances people's interest in buying Walmart diamond rings is their handsome package. This package enables them to decide without any hesitation as Walmart diamond wedding rings are pocket-friendly, Walmart wedding rings have the best trendy designs, You don't have to bother yourself door to door to buy and choose a ring as it is a one-stop-shop, Walmart not only have their wedding rings but also showcases nearly 200 jewelry brands
All the 10k, 14k, sterling silver, silver, rose gold, and platinum rings are present in its stores to fascinate your senses. You need not worry about quality and perfection. It is only about brightening your celebrations and making your days special. We can say that a large proportion of people love to buy Walmart wedding rings because of their reasonability. So nothing hurdles me to say that Walmart wedding rings are considered good.
How Can You Be Tricky To Buy Wedding Rings From Walmart?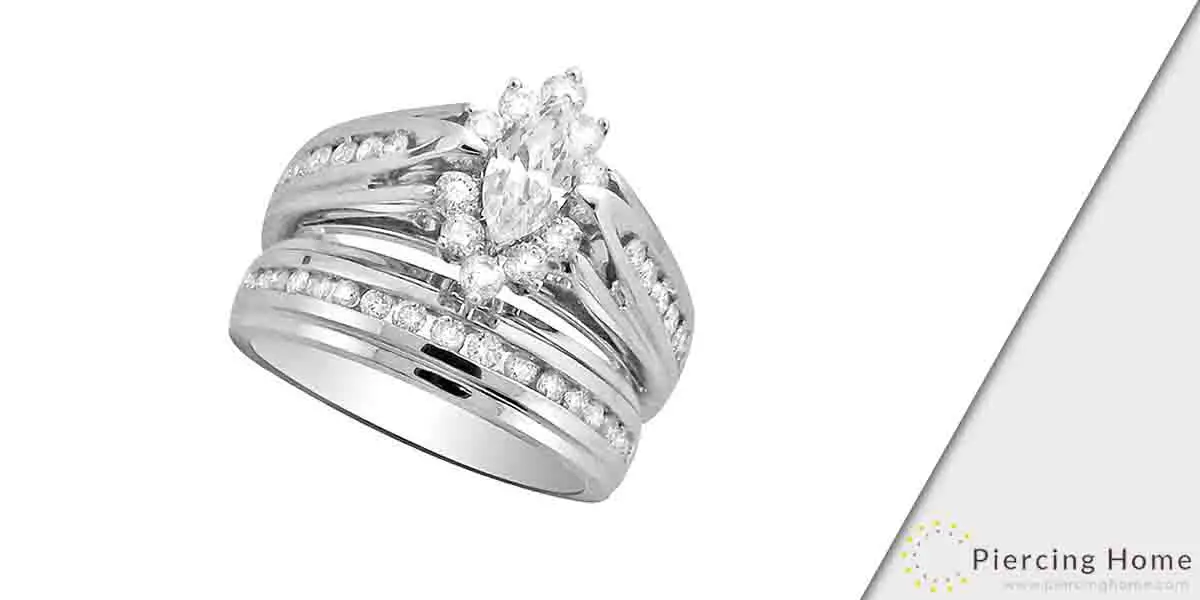 I think guys! If all of us can understand the real nature of Walmart wedding rings or the jewelry we want to buy from Walmart, we can get benefits from it too much. It is a great opportunity to buy rings from Walmart and everyone should avail of this. There are some strategies through which we will make you choose good and sensible. Let's look into them one by one.
Have An Accurate Knowledge About Gold Categories
All of us must be well aware of the gold categories we are trying to buy from the Walmart jewelry shelf. It is an observed fact that Walmart offers 10k and 14k gold wedding rings generally. 10k gold is the best seller at Walmart because it is affordable and good to wear. The designs are trendy and compete with contemporary jewelry fashion vibes.
14k gold wedding rings are good quality rings and they carry specialized synthesized diamonds. They are well-polished and commercially-grades that we can crave for them at any cost. But we should have an accurate knowledge of what 10k and 14k gold are. We can get some knowledge from Google sites to buy a ring from Walmart. We must look carefully at the stamps that are imprinted on the backs or clasps of jewelry. It will greatly help us buy sensibly.
You Need To Know About Diamonds and Their Grades
I know everyone can't know about the diamond's grading and quality. Only an expert can differ between qualitative and normal commercial diamonds. But we must have sufficient know-how of the 4 Cs of any diamond. These 4 Cs define clarity, cut, carat, and color. If we care for all these important points, we may have a good Walmart wedding rings shopping.
Another thing about the diamonds is their grades. If a diamond is above 3 carats, it will be a qualitative diamond. But less than 3 carats does not mean that the diamond is a failure. Instead, from 1.5 to 3.5 carat, diamonds of Walmart are too good and decent. They appeal to a wide public towards their genuine and shine. So we must have a little awareness about the grades and carats of Walmart diamonds too so that we can buy positively.
Read the Certificates Carefully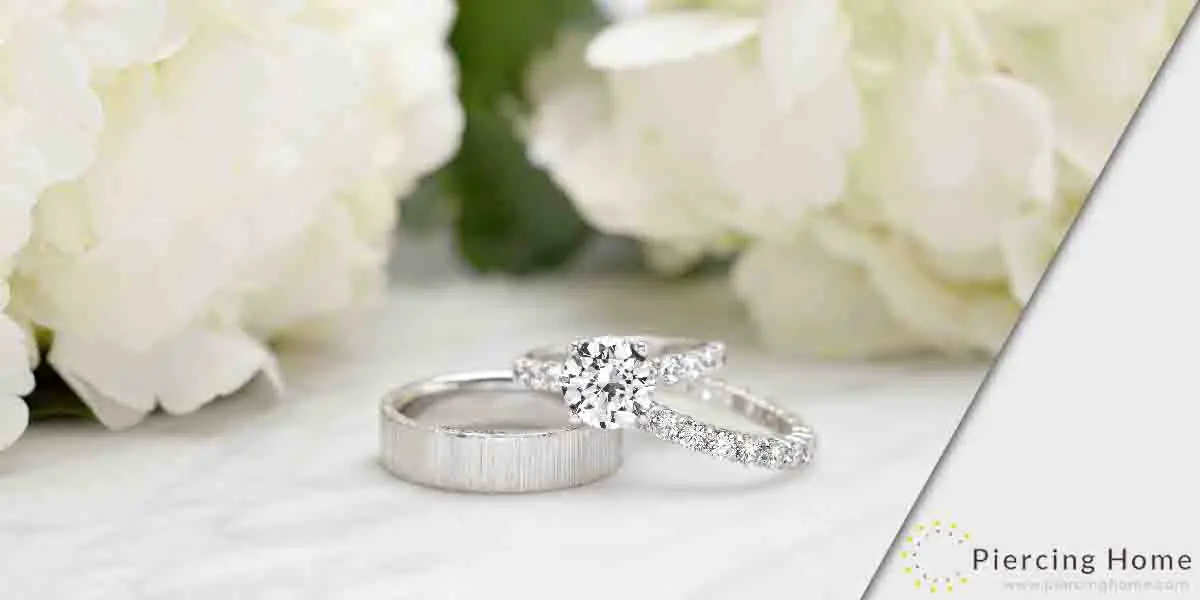 If you have made your mind to buy Walmart wedding rings with diamonds, we should go for it. The thing we have to do is just to read the receipt and the certificates the company is providing you. Never believe in the name of the brand and the apparent shine of any diamond. We know that diamonds at Walmart are mostly displayed by other brands so we must read the documents carefully and judge the quality of diamonds.
It is ethically and legally described that what grade and type of diamonds you are going to purchase. If some company doesn't provide you with such a certificate, it means they are not reliable. You must think about it before going for it.
Don't Expect the Best Quality Diamonds
Walmart tries to facilitate everyone around the world. This is the reason it doesn't have the highest quality diamonds. One of the reasons that why Walmart doesn't keep high-quality diamonds is that it has to give priority to its basic things of daily household. Its priority is not jewelry, especially diamond jewelry. So we must not expect some high-quality graded diamond wedding rings. Its diamonds are commercial and industrially synthesized.
Choose the Diamonds That Have Clarity and Transparency
The market is full of scammers and cheaters. They offer you unclear and low-quality diamonds. But Walmart avoids doing so. Many new brands try to make us fool with their low-graded diamonds. We must be conscious about the quality and clarity of diamonds we are trying to buy. It will greatly help us buy a good ring.
Carefully Choose the Shape and Style of Diamond
If we don't understand that what type of ring and diamond is going to suit our finger, we will get a loss. We must have a keen eye on what type of cut and style will suit our finger instead of just checking its color and design. The first thing which must be perfect is its clarity and the second one is the cut which suits your ring finger.
A wrong shape can mar the beauty of the ring in your hand. You must take a bit of advice from some of your near and dear ones if it is difficult for you to choose.
Don't Wear Big, Wear Perfect
Walmart wedding rings are available in every size and style. You don't need to buy a big diamond to express yourself. Instead important is to look good whatever you are wearing. That's why you should not always wear a big diamond, but wear the diamond that will suit your personality. Some wrong choices can present a negative impact on your personality instead of a positive one.
Follow Your Pocket
The best thing about Walmart Wedding rings is that they are not always heavy on pocket. A variety of diamonds, as well as simple beaded rings in gold and silver, are displayed in Walmart showcases to facilitate their customers of every class and community. You may need not go for an expensive and high-quality ring. There are second and third options you may go for. These will not burden your pocket at all.
Understand Walmart Policies
The very first thing about any company is that it has its policies about its products. Walmart has a small jewelry section it handles itself. But most of its jewelry is collected from different brands of the world. So before buying any ring or other ornament from Walmart, we must be careful about its policies.
It will greatly help us to change, replace or return in case we are not satisfied with anything. The company policies may not match Walmart's company policies. So knowing and understanding them will make us a satisfied customer.
Frequently Asked Question and Answers (FAQs)
Question: How much are wedding rings at Walmart?
Answer: Walmart offers a huge range of wedding rings ranging from 1000$ to 6000$. It is your choice how much money you are going to spend on it. A wedding ring with a diamond can differ in price. Its gold quality and diamond grades will bring the difference. You must carefully examine the clarity of a diamond ring while going to spend 1000$ on it. It is a kind of investment you are doing on your ring. Above than 5 to 7 thousand is nearly impossible to be available at Walmart stores.
Question: Are Walmart diamond earrings real?
Answer: As far as the earrings in Walmart stores are concerned, they are real. The diamonds that are fixed on Walmart earrings are quite ravishing and fantastic. But one thing we must make clear is that the quality of these earrings may not be that high as we expect them to be. We should keep in mind that Walmart doesn't take much from us for the facility of providing gold and diamond earrings. The commercially graded diamonds are good enough to be worn on our auspicious events at any time. They are quite reasonable for everyday use. You need not worry about their being tarnished or rusted.
Question: Does Walmart sell real gold necklaces?
Answer: There is no doubt in claiming that Walmart sells real gold necklaces. It has a wide range of real gold jewelry and necklaces are one of these jewelry items. Its necklaces are liked by everyone because they pace with the high-class trends. As far as the quality and class of gold are concerned, it is not that high as you think it would be. A normal necklace of Walmart is 10k gold but it is made in such an expert way that it sustains its shine and color for a long time. You can rely on the reality of gold but choose wisely after a full study of gold categories.
Question: Are Walmart Tungsten Rings Real?
Answer: Tungsten is a metal that is very high quality for jewelry. If Walmart claims that it has tungsten rings at its stores, it will be true. You can guess it is real or fake with the price and product quality. The price of tungsten rings should be high because of their high quality. If you find a tungsten ring being tarnished or smudges away, it means that it is not real tungsten. It must be carefully examined that whether the ring you are trying to buy from Walmart is real or fake. Walmart does not claim such jewelry as being original because it doesn't belong to Walmart itself but other brands.
Question: What are Walmart rings made of?
Answer: If we are trying to understand the quality or the percentage of gold in Walmart rings, we can say that they are real gold. The gold Walmart use for its rings or ornament is mostly 10k. It is technically sound gold. But usually, the gold which is 10k has 42% of gold and 58% of silver in it. It means silver is dominant in most of the Walmart rings. Similarly rose gold or sterling silver also carries silver as a dominant figure in it. But you cannot consider this gold to be imperfect instead it is quite reasonable and good quality gold.
Conclusion
We have tried to search for the answer to the very question "Are Walmart wedding rings fake"? in this article. It is a fact that Walmart Is a famous superstore with thousands of articles from households to machinery. It has a great dealing in jewelry. Many well-known jewelry brands collaborate with it internationally. The wedding rings of Walmart are too famous to be worn by big celebrities like Angelina Jolie and Shane Warn.
Many people question the reality of Walmart gold and Walmart diamond in its wedding rings. But I think Walmart has made its name due to its genuine things whether the quality is not a high standard. The gold it uses is 10k or 14k which is not liked by many of us. But if we want something to be used casually, we can choose from it easily. Its wedding rings are the best gifts for buddies on their engagements or weddings ceremonies. It has a full package for all of us.
But we must be a little careful while making a choice about the rings or necklaces as the diamonds' quality and grading matter a lot. A keen knowledge about gold categories and diamond grades can help us not to be looted. But Walmart promises to satisfy the wishes of every girl to wear a diamond ring at her wedding easily.