Rings
Why Don't Guys Wear Engagement Rings? Top Secret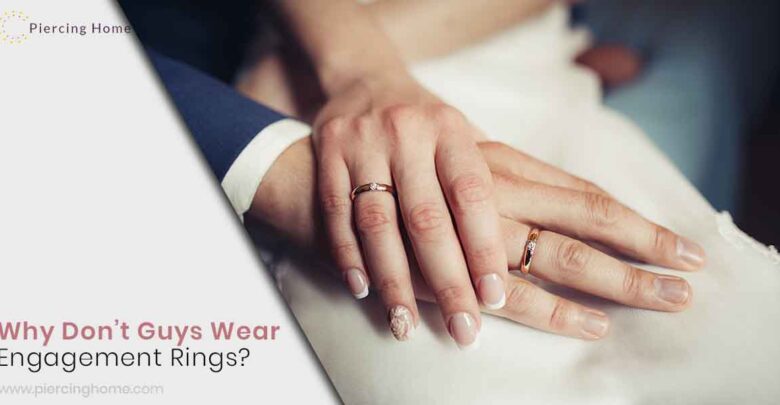 Why don't guys wear engagement rings? This question is now resounding rapidly. It is a tradition for centuries that men propose to women with presenting a ring. The ring symbolizes that this woman or girl is now engaged and committed to a particular man.
It is an auspicious and sacred thing that we consider the beginning of a new and sacred journey. It's a kind of promise that shows "I am giving you my name and my love by binding you with this particular band". So the search for having the best Matching Promise Rings for Couples is desirable.
But the question arises of the commitment, the loyalty, and the engagement a girl shows from her part, why it is missing from men's part. Why guys don't wear engagement rings to show their commitment to particular women.
What makes them stop wearing engagement rings? Is it only the tradition they follow or they don't want to show others that they are engaged? This thing is getting discussed and debated in social circles by the time. Modern men like pop ballad star Ed Sheeran not only proposed his beloved Cherry Seaborn with an engagement ring but also received the same from her.
He is of the view that why society is following the old and stereotypical norm of engagement. If the woman is open to claiming her sincerity and loyalty to his guy then he must show his soft and sincere feelings to his beloved.
The sentiments most modern people want to share are not wrong but still, this concept is not being accepted by men and women equally. We consider it odd if a man wears an engagement ring. Even in many cultures, men don't wear their marriage ring too. They consider it purely a feminine part that women have to play. There is nothing masculine in wearing a ring.
Although many well-known brands are making men engagement and marriage bands that are not only simple but graceful too. What makes our cultures and minds don't accept men wearing an engagement ring? Let's see the history of engagement rings briefly to understand it.
History of Engagement Rings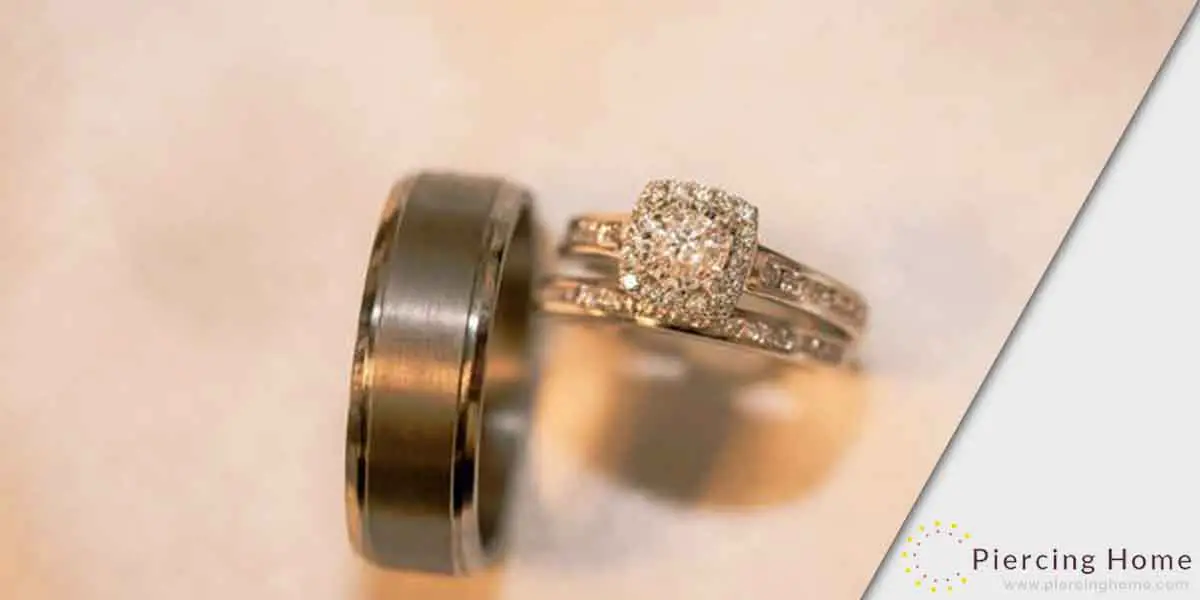 Engagement rings are not a new trend. These rings have an old history from the 2nd century BC when Egyptians started to present a ring to their women to signify their loyalty and devotion to them. At that time the rings were not that adorned or specialized as today. But the simple band's men wore their women to show his commitment to that particular woman.
With time, things changes, and the tradition of giving engagement rings shifted to American culture. Many nations like Muslims and Hindus too presented rings to give women their names. With rings, many gold ornaments and dowry were also given to show the feeling of respect and care. Roman took that culture and instead of giving betrothal rings, they started a proper engagement ring to show that a woman is now the "property" of that man.
Things were going well then suddenly in 1947 an ad "Diamonds Are Forever" changes the whole scenario of wedding rings. From that time till now, engagement rings are thought to be diamonds. Men think it a good sign for their ha[ppy and prosperous life to present or propose their beloved with a diamond ring. From that time, no one thinks to give some other gift as a wedding gift or proposing gift. Brands specially design engagement rings. But all this is done for women, not for men.
Men bend on their knees and propose their girl for acceptance as his suitor. Men think it a disgrace or absurd theology that their girl bends on her knees proposing to him. Society doesn't accept this thing. But now things are getting much better. Men and women do everything based on equality. This makes sense to wear an engagement ring now.
Are Guys Supposed To Wear Engagement Rings?
After having discussed the brief history of engagement rings, we can understand the breach that is not getting filled. This breach of considering men odd to wear an engagement ring has come from society. People don't think it an honorable thing that a man wears an engagement ring by his woman. I don't understand what instinct makes us think so.
When women and men are part and parcel of each other and they have decided to lead their lives together, then why don't they start things together? Why are the guys not supposed to wear engagement rings? Isn't it interesting that girls willfully and happily show their engagement ring to show their commitment but men don't do so? Even sometimes men are found to cheat on women and flirt with them for a long time. When things go serious enough on the girl's part, then they speak the truth that they are engaged to someone else.
History tells us this interesting fact that usually, men don't tell people about their engagement. They try to enjoy their life like an uncommitted man. What makes men do so?
Still, there is positivity and hope. All men don't think this way. They want to be committed and engaged to their beloveds. They even show it proudly that they are engaged. They don't think it absurd or shameful to wear engagement rings. A simple engraved band can be seen in their ring finger that symbolizes their eternal love and respect for their ladies, Let me also share your video from you-tube.
The old conception of ownership that men considered to give a ring to the woman is being vanished. Women now equally share the rights. And this makes men change their conventional thoughts. They feel no harm in adopting new things.
Now men are supposed to bear all these responsibilities that women bore alone. The responsibility to be faithful and engaged by wearing a ring is supposed to be done by men too.
And now they are ready to serve this idea. Even families now enjoy it as fun that both girl and boy are wearing rings in each other's hands. Many decent and graceful bands are launched by jewelry-making companies signifying men.
Secret Reasons That Make Men Not To Wear engagement Rings
Engagement rings are something very special for women. They wait years to be proposed by their beloved. They love to celebrate the engagement with that special diamond or another ring. It is the most memorable time of their life when a guy wears a ring on their index finger. They feel like a princess who is the center of attention of everyone this time.
But stop a while, guys! All this happens as per routine but no one cares for men who don't anything in their hand as a symbol of that integument. He is no doubt happy and sincere about the event. But why he doesn't have the ring for that girl's name.
Certain reasons make men not wear rings. Let's discuss them in detail.
Society Doesn't Accept Men Wear Engagement Rings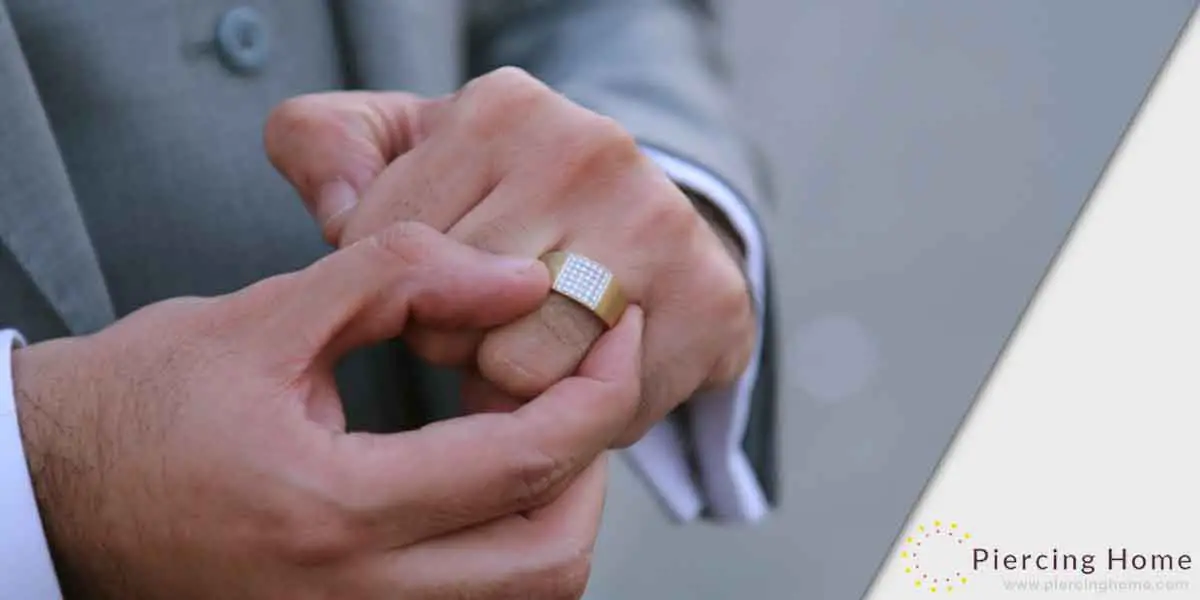 Certain things never change or take centuries to change. The same is the case with an engagement ring that only women wear. Men don't even think to do so. It is considered hateful and shameful that a man wears an engagement ring. Society doesn't accept men who wear or plan to wear engagement rings.
The family and friends make fun of those men who wear engagement rings. This is what makes a man avoid wearing engagement rings.
Men Dislike Jewelry
Indeed, most men don't like wearing jewelry. They consider it purely a feminine business to wear jewelry. It is disgraceful for them to adopt feminine fashion. This situation is very common in many cultures and traditions. It makes men not wear engagement rings. They are loving and caring to their fiancé', but think it is not manly to have any ring or any other ornament. They spend money and buy one of the most beautiful and expensive engagement rings for their girl. But they never think that one of the rings can fit their finger.
The Office Doesn't Allow Them to Wear Rings
With time, people are developing new ideas. They dislike old and worn-out philosophies. Even women are proposing to men now. It is not considered an unwanted and unreasonable thing that women buy a ring for their fiancé as men do. Men happily wear rings but they are not allowed from their office. The rules and regulations strictly prohibit men to wear any jewelry. This is another reason that makes men not wear their engagement rings.
The Type Of Work Is Not Suitable To Wear Rings
Boys don't want them to call old-fashioned or stereotyped. They want to be up-to-date and trendy. The acceptance to wear jewelry has increased greatly. Many of the jewelry items are specially made for boys.
But why still they look empty-handed. The men who are engaged don't wear engagement rigs yet. It is because of the type of work they do. A man who is an electrician, a mechanic, a welder, a plumber, or any other hard worker can't wear a ring because of its delicacy. There are strong chances that the ring can damage during his hard job. This is quite reasonable for the guys not to wear engagement rings. Now there is the possibility that they have a ring but they are compelled to keep home due to their job.
Men Are Careless To Care For Ring
Generally speaking, men are comparatively careless and relaxed-minded than women. They can't keep things as safe as women do. This is why they always fear their rings getting lost. Even in some cases, men lose their rings and it became the reason for their separation.
This is one major cause that men avoid wearing engagement rings even they have one. They try to keep it safe at home as there are 100% chances that it may lose. That's why we see men having no ring instead of being engaged.
Do Guys Wear Wedding Rings Before Marriage?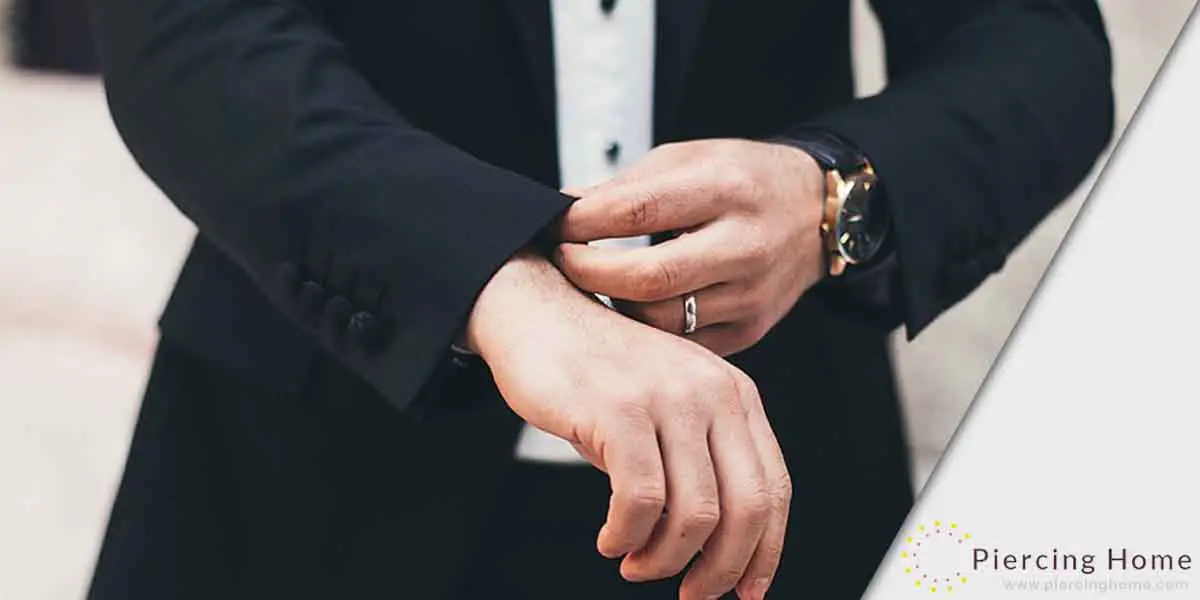 It is obvious men don't like boundaries and barriers. This is the main reason for them not to wear rings. They feel a sense of being bound whenever they look at the engagement ring. They don't need to be equally disloyal or corrupt. But they don't like to tell people about their engagement. They want a sense of liberty till their marriage.
This is a psychological factor we can't neglect. So they don't want to wear the rings they have.
The Couple Decides Together
Now folks! We are aware of the fact that the modern era gives us chance to decide about our future together. We as a couple can choose for ourselves what is good and what is bad. There are no hurdles in deciding the dates, venue, and rings as well. That's why no matter if a couple thinks that guy is not wearing a ring on the engagement day. They can decide other than this.
Sometimes both boys and girls decide according to their budget. Their budget does not allow them to afford the expense of another ring. This time the guy sacrifices his ring.
Men Thinks It His Duty to Provide His Beloved
The most positive and hearty touching thing of this part is that men think it his duty and ability to provide an engagement ring for their fiancé. He considers it his ability that he can do something for his love. This is the sense of his appreciation for his beloved by presenting a gift of a ring. Whenever he looks at the ring, he thinks of himself as able for the lady.
That is why he thinks the wearing ring is not his part, but the part of his lady.
Can A Woman Give A Man An Engagement Ring?
As we have concluded that we can't blame men thoroughly for not wearing an engagement ring. Some many compulsions and needs make them not wear rings. Society has accepted the changes taking place. Old norms are replaced. Men are used to sharing many things with women at home. Women stand side by side with men and share their responsibilities.
This makes a noticeable difference in our thinking. It is not a big deal anymore to hate men's jewelry.
Women show their feelings to men openly now. They decide about their future together. These changes allow a woman to propose to a man and give him a ring. Although it sounds odd, yet it is happening. Many times we see the couple on beaches or in hotels presenting an engagement ring to each other. In some cases, a woman surprises a man by presenting him with a ring.
Can women give the man an engagement ring? Is it acceptable in our society? I think we are adopting many new things that were never acceptable in past. So there is no harm in proposing a man to a woman.
It is a matter of acceptance. The family, friends, and social circle can make it easy for someone to do so. If a woman wants some change and wants to celebrate her most auspicious event in her way, then let her do. Make her feel free to wear her fiancé an engagement ring.
It is the age of women's empowerment. The rotten thought of men's possession over women has gone dead. Now women have their part in every walk of life. She must have the equal right that man shows his loyalty and eternity as she shows. Many celebrities as Britney Spears proposed her beloved Kevin Federline with an engagement ring. It shows that difference has started to bring changes.
What Does A Man's Engagement Ring Look Like?
From 1880 till now, South Africa introduced diamonds that made their mark for an engagement ring. Different changes and development occur but we prefer to present a diamond ring to our beloved. The concept of engagement rings is associated with love, faithfulness, eternal companionship, and sincerity. A small band shows this story very well.
Women in common wear engagement rings. But now we are witnessing a great change in society measures. The outlook is broadened. Jewelry companies are specially designing men engagement rings. This field is getting enormous with time.
Women's rings are specified with a solitaire diamond engraved in gold, silver, or platinum. If we want the ring more luxurious, then we buy a ring with a diamond and some small dainty gems all around the diamond. But generally, the ring is in gold or platinum. The precious diamond needs to be fixed in some valuable metal.
As far as the men's rings are concerned, they are normally simple and round. They are usually banded with an inset stone in them. Sometimes it is a big stone according to their star. Normally men want to be simple and like simple bands.
Sometimes their fiancé makes a diamond ring for them with love. The brands are working on engagement rings now. They keep in mind to prepare custom engagement rings to suit every man equally. There are attractive and simple silicone rings that are affordable and do not bother men to wear.
The last decision is taken by the mutual understanding of the couple. They decide what the man is going to wear on his engagement day. It can be a simple silver band on which the first letter of his fiancé is carved. Now people love to wear the same rings with the date of their first meeting or the engagement date. Some couples wear each other's name or half side of the heart on each ring that completes by joining the rings together.
There are thousands of men ring ideas now so there is no worry about choosing one.
What Are The Cultures Where Men Wear Rings?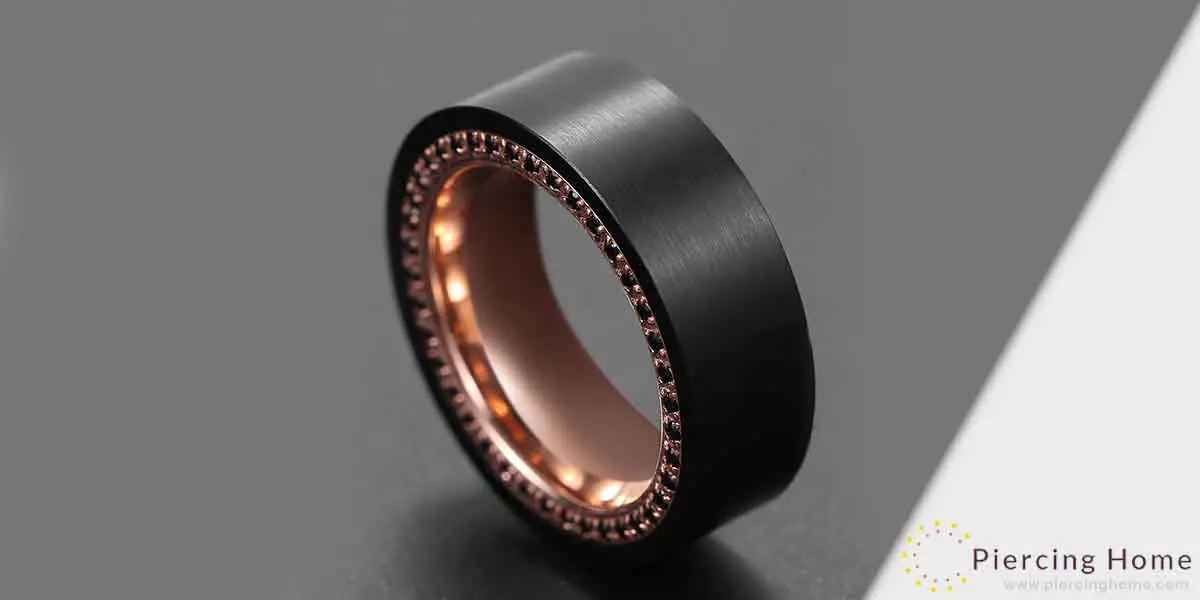 Still, there are cultures in the world like Hindu and Chile where men wear engagement rings from the very beginning of civilization. It shows their commitment to their women. Asian people wear rings but the concept of engagement rings is not that common as in Hinduism and the people of Chile.
With the advancement in science and knowledge, many revolutionary things are happening. Now people don't consider it important to even have an engagement ring. They care for relation, not for appearance. Whether it is a soft feeling to wear a ring of somebody's name on your finger, yet it is not necessary now. It is your own decision to wear it or not. Nobody can force you to do so.
Frequently Asked Question and Answers
Question: What do guys get for an engagement ring?
Answer: Traditionally guys don't get anything for their engagement ring. But now concepts are getting changed. People spend money on their most important time and event of life. Now guys can get a ring in reciprocal of their ring. It can be a simple band or an expensive diamond ring. But now people care for it. They think it is men's responsibility to look engaged and women do. This is the reason men can get an engagement ring for their ring. There are still some nations where it is considered wrong to wear a ring to a man. But now the world has adopted many new and changing ideas.
Question: Do both partners get an engagement ring?
Answer: Yes, both the partners can wear rings. If we look behind in the past, there are rare examples of men who wore rings. It was considered shameful and odd that a man wears an engagement ring. Society didn't accept such guys. Even the family had no soft feelings for those who tried to wear engagement rings. But now things are changing.
The old conventional ideas have flopped now. People love change and evolution. Men have accepted wearing rings broadly. We can see thousands of examples where men and women equally present engagement rings to each other. Both the partners decide what they are wearing even the dress color and venue.
Question: Do straight guys wear engagement rings?
Answer: It is not a big deal that straight guys are wearing rings or not. Sometimes they don't like to wear rings. It is because they don't want to show their friend's circle that they are engaged. But many straight guys think it their duty to wear engagement rings.
Being straight is their natural tendency but they think of the social norms. They also love to celebrate their most honored day. That's why straight guys think it o.k. to wear an engagement ring. Even they choose same rings, same dressing and same hair color on that day. They try to make their day memorable by doing every possible effort.
Question: What hand does a man wear an engagement ring?
Answer: We see people wearing their rings in their left hand usually. It has been a symbol that engagement rings are worn on the left hand's fourth finger. This finger is typically called the ring finger. But it is up to you that where you feel comfortable wearing your ring. If you are not feeling relaxed with your left hand, you can wear it in your right hand too.
Common observation shows that men and women think that wearing the engagement ring in the left hand will increase their love and strengthen their relation. It is due to the presence of the heart on the left side that creates a sentimental attachment with the ring. Although these are theologies, yet applicable. People believe in them and feel happy to act upon them. Otherwise wearing your ring in your left or right hand does not matter. The thing that matters is your loyalty and long-term relation that needs no ring.
Conclusion
A long debate about the question that "why don't guys wear engagement rings?" ends here quite positively. We can assume that guys normally don't wear and don't like to wear engagement rings. They avoid looking committed. They want to enjoy every bit of life free of responsibilities. They don't want to call them an engaged person.
Then comes the culture and traditions that we are following for centuries. A man presents an engagement ring to his lady to show his love and care for her. It is the symbol of his being loyal to her. It also shows that woman has devoted all her sentiments to a particular man. It is amazing culture and has its beauties.
But if men think women are his property and claim their ownership, it is unacceptable now. Women are getting mature now. They are raising their voices against men's unwanted ownership. Women's empowerment makes them share everything with men on an equal level. That is what brings change. This change makes guys they never did before. They start to wear engagement rings. They accepted to be proposed by their women.
So we can say that guys never wear rings and yet it will take time to properly introduce men ring culture in the world. But now guys wear engagement and they care for it too.